Wedding suppliers from all over Quezon Province gathered to showcase their craftsmanship in their chosen fields at the Pacific Mall at Lucena, Quezon last September 16-30, 2008.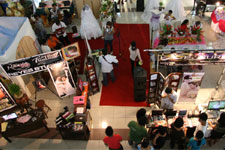 A total of twenty exhibitors from Sariaya, Lucena, Tayabas, and San Pablo, Laguna who are involved in wedding catering, photography, hair and make-up, flower set-up and arrangement, invitations and venue hosting presented their services and offered package deals to to-be wed guests.
During the fair, Revelation Band entertained the crowd with acoustic rendition of popular love songs.
According to Miles Royales, wedding coordinator and events planner for Wave Events Services, the goal is to open up the wedding industry of Quezon, introduce the suppliers to the couples, and offer their services to them. She said that the Quezonians are traditionally 'hands-on' on weddings and at times, it is the locals who organize and plan it themselves.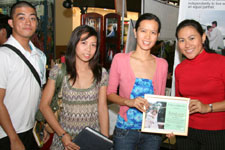 "I'm trying to open up the idea that 'Hey, someone is here to help you on the day of your wedding' and they can choose from the wedding suppliers who are here who can give [them] quality service kasi at times because of pagtitipid… kasi sympre probinsya 'to so all additional expenses parang mahal sa kanila 'yon… We're just trying to give them a beautiful wedding." she adds.
Certificate of participation was given to all those who took part in the said event. The 15-day event was concluded at Graceland Estates and Country Club at Tayabas City where wedding suppliers had the time to mingle, network, and share insights regarding the local wedding business.
List of exhibitors:
Beauty and Fitness
Hair and Make up
Danica Suarez Salon
Skin, Dental Clinics
Dr. Sherwin Llego
Cakes and Deserts
Joel De Los Reyes
Catering
Caza Plaza Catering
Red Carpet, The Caterer
Design and Couture
Bridal Fashion
Threadmark by Buddy Reyes (http://www.discoverquezon.com/buddyreyes.htm)
Paganap by Charmaine Maranan
Flowers and Event Styling
1816 Flowers and Concepts by Tony Sasot
Las Flores de Canales by Gerry Canales
Invitations
Quezon Design Works and Printing
Light and Sound
Big Boy Sounds and Lights
Photo and Video
Photography
Mardio Nadera Photography (http://mardionadera.blogspot.com)
Vinzon Reyes Studio
Teody Reyes Studio
Exposure Photography (http://www.valporras.com.ph) (San Pablo, Laguna)
Reception
Alternative Venues
Balai Sadyaya (Sariaya)
Graceland Estates and Country Club (Tayabas City)
Resorts
Ouans Worth Farm and Resort Gazebo Garden (Lucena)
Restaurants
Max's Restaurant Tayabas
(http://www.maxschicken.com/store_locator_ph.asp?c=ph&loc=QUEZON+PROVINCE#=1)
Wedding Planning
Wave Events Services
Please visit Kasal.com Wedding Resources directory for the complete contact details of the exhibitors.
Comments
comments