Denver Samson and Roselle Torres
by Danielle Sebastian | November 2012
Denver and Roselle's romance started in Singapore. Denver knew deep in his heart that what they had was more than a short fling. So when the time came that Roselle had to go back to the Philippines, he followed and professed his undying love to her and her family. Last February 12, 2012, they said their "I do's" at Fernbrook Gardens, south of Metro Manila.
Love Story
Way back in 2005, Roselle had to go to Singapore for a training she needed for her undergraduate studies. She constantly felt lonely being in a country far away from home. It was when she met another student named Angel when things started to turn around for her. True to her name, Angel was the angel who made her time in Singapore a happier one. It was through her that doors opened for Roselle and Denver to become friends and then lovers.
Denver, on the other hand, was starting a new life in Singapore. He was all set to pursue a career in Mechanical Engineering, make new friends and become more open to what life has to offer. He didn't realize that it would take only a month for his life to change forever.
Denver spotted Roselle's beauty in a Spanish restaurant in Esplanade Marina. He took the chance to chat with Angel in order to get Roselle's mobile number. He got it but Roselle was oblivious to strange men but Angel was persistent in playing matchmaker. One day, she set them up and lo and behold, they had a nice time and decided to see more of each other.
When Roselle's training ended after 6 months, she had to go back to the Philippines. Denver was heartbroken and felt uncertain for their future as a couple. A month later, he followed her and met her mother. He professed his love and commitment to Roselle and Roselle did the same.
On June 11, 2011, Denver proposed and she said yes. After six years of being together, they were finally getting married.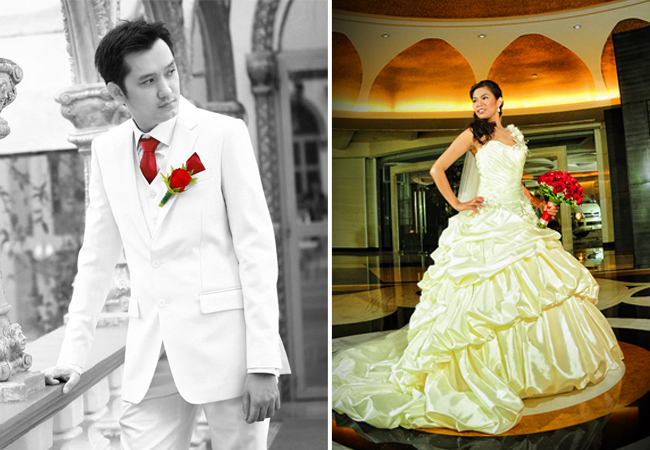 Wedding Planning from Singapore
Working in Singapore, wedding planning for a Manila wedding was a challenge. A year before their wedding, they started looking for suppliers and decided on wedding themes. Roselle admits that it was difficult but enjoyable to think of all the wedding details. Her relatives, mom and aunt, were truly a blessing to her and Denver when it came to assisting them in wedding preparation.
The internet was also a truly useful tool in their wedding planning. They looked for suppliers online and contacted them via email, Facebook or chat. Lucky for them, the suppliers they chose were accommodating and friendly enough to take the time and discuss their expectations and specific details for the wedding.
They chose a Fairy Tale theme because Roselle always wanted her wedding to be a magical and enchanting. It was a dream come true when they were able to book a reception venue on the day of Denver's birth, February 12, 2012. The number 12 also had a special biblical meaning to the couple.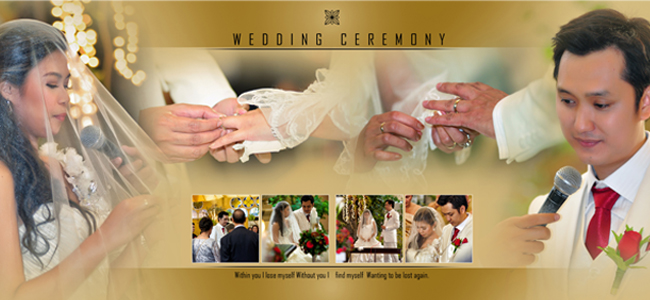 A Fairytale Come True
Right from the start of their wedding planning, Denver and Roselle felt lucky because they were able to book suppliers that exceeded their expectations. Their reception venue, Fernbrook Gardens made their Fairy Tale wedding a reality with their enchanting venue. Solution Events handled their wedding coordination professionally as well. They made sure everything went well especially on their wedding day.
Phases and Faces Photography was able to capture the dream wedding they worked hard for. They loved working with the team who made them feel at ease when they had their prenuptial shoot in Tagaytay and the wedding itself. They could not also stop watching their charming on-site video again and again even after the wedding. They received endless compliments for their photos and video.
Emily Sy of Esy Couture truly pleased Roselle with the execution and design of her wedding gown. There was not a single thing she complained about and she appreciated all the wonderful comments guests made on her wedding gown The detail and fit was just perfect and their service was superb.
Hearts and Bells made them an elegant three-tiered white and red fondant cake with roses.
15-58 Flowers and Styles complemented the bride's beauty with a bridal bouquet of red roses. They also beautified the venue with flower arrangements of white tulips and other beautiful wedding flowers.

For Denver and Roselle, everything that happened to their love has always been a part of God's plan for them. Their Singapore Romance turned into a Fairy Tale wedding celebration of a lifetime because they believed that dreams do come true.
Wedding Suppliers
Venue:
Fernbrook Gardens
Catering:
Center Table Catering
Wedding Planning/Coordination:
Event Solutions
Photo and Video:
Phases & Faces Photography
Cakes:
Hearts & Bells
Flowers:
15-58 Flowers and Styles
Music:
Libante Strings
Bridal Gown and Entourage Dress:
Esy Couture
Invitation:
Inuboss Pte Ltd
Hair and Makeup:
Bambi Fuentes
Visit Kasal.com Supplier Directory for the contact details of these suppliers.
Comments
comments