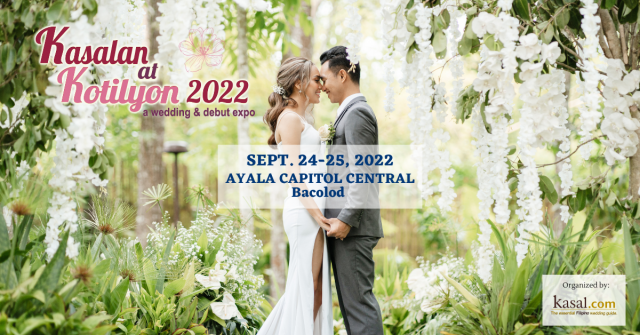 Kasalan at Kotilyon 2022 wedding & tourism expo is back in the Sugarland Capital, Bacolod City, this Sept. 24-25, 2022 for the sweetest comeback of weddings, events and travels in Negros.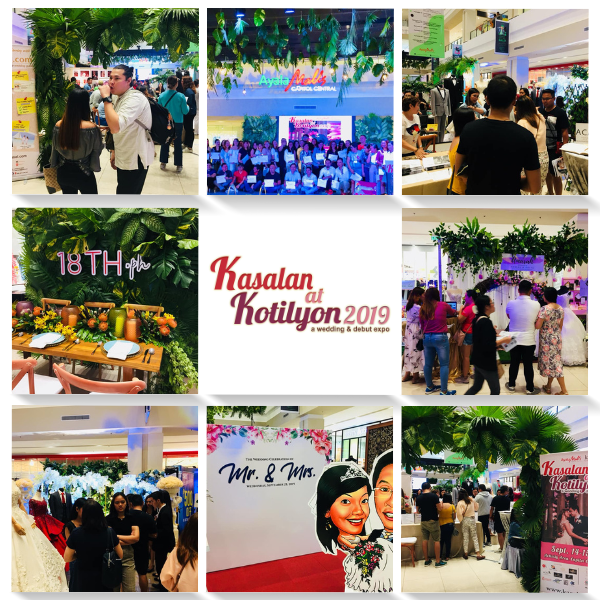 Here are the 5 Sweetest Reasons why you should be in Ayala Malls Capitol Central during these dates.
#BiggestNegrosWeddingExpo
#Kasalan2022 in Negros offers the widest wedding supplier options – whatever your budget is! And because the Visayas Region boasts of some of the best island wedding destinations, we got deluxe resorts not just from Bacolod but from Sicogon, Iloilo, Boracay, and Bohol ready to offer their sweetest deals whether you need prenup, staycation or destination wedding packages!

Deluxe resorts not just in Negros but from other popular island wedding destinations like Sicogon, Boracay and Bohol are supporting #Kasalan2022 in Negros Wedding & Tourism Expo.

#1001WeddingIdeas
This Bacolod Wedding Expo offers many event ideas and inspirations – whatever your event theme or wedding motif is! Participating event suppliers make great effort to level up their products or services and showcase the latest trends In the industry! Don't miss taking a snap or two with their IG-worthy booth designs!

18th.PH by world-renowned event stylist Robert Blancaflor is once again the official event stylist of this year's Kasalan at Kotilyon Wedding & Debut Expo in Negros.

#SweetWeddingSavings
In every #KasalanFair, we always encourage event suppliers to give the best promos, discounts and freebies to make your visit during the Fair truly worth it!

To-be weds, families and guests can choose from a wide array of event supplier options on Sept. 24-25 at the activity center of Ayala Malls Capitol Central.

#SweetestRaffleDraw
#Kasalan2022 in Negros offers the sweetest array of raffle prizes. From wedding rings to prenup shoot to honeymoon packages, any who attend and visit the Fair can be the lucky winner of our #Kasalan2022 RafflePrizes!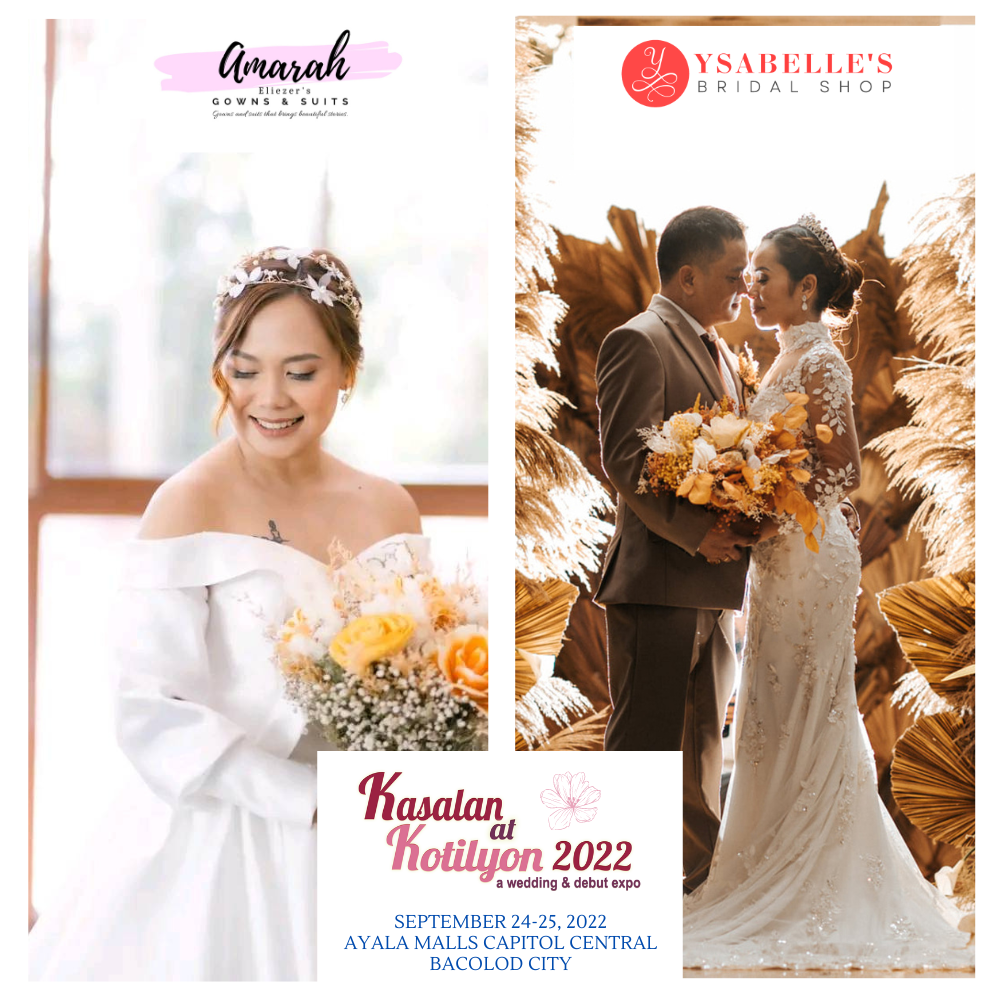 And the best part is..
#FreeEntrance and #OpenToEveryone
So whether you're just planning a small party, a special debut, a grand wedding, or just want to get the best event ideas, drop by anytime from 10am-9pm on Sept. 24-25, 2022 at the activity area of Ayala Malls Capitol Central.
Pre-register now via www.facebook.com/kasal.com or https://tinyurl.com/Kasalan2022 and automatically get 1 raffle coupon when you visit Kasalan at Kotilyon 2022 in Negros Wedding & Debut Expo!
. . . . . . . . . . . . . . . . . . . . . . . . . . . . . . . . . . . . . . . . . . . . . . . . . . . . . . . . . . . . . . . . . . . . . . . . 
Kasalang Filipino, a project of Kasal.com since 2003, is a nationwide wedding & tourism fair road show aimed at tying key Philippine cities with one goal of promoting the local wedding and tourism industry nationally and globally. Since 2018, we've extended the market to include debutants, as we see more and more families investing on beautiful, meaningful celebration.
Each event highlights the different customs and traditions of the region, promotes its local wedding & event products and services, and gives attending couples/debutants the chance to know the latest wedding & event trends.
Kasalan at Kotilyon 2022 Negros Wedding & Debut Expo, now on its 16th year of serving various local wedding industries, is presented by Kasal.com, Ayala Malls Capitol Central, Amarah Eliezer's Gowns & Suits and Ysabelle's Bridals.
This Bacolod Wedding Expo is supported by Larieve's Events Organizing Services, Sugarland Hotel, EP Studios, 1977 Celebrations, Huni Sicogon, L'Fisher Hotel Bacolod, The Bellevue Resort Bohol, Mandala Spa and Resort Villas, LVL9 Studio, Magic Audio System, Sweet 25 Flowers & Decors, and Outdoormaster PH.
 The event's official media partners are BusinessMirror, SKY Bacolod, SunStar Bacolod News, FMR Bacolod 91.1 and When In Manila.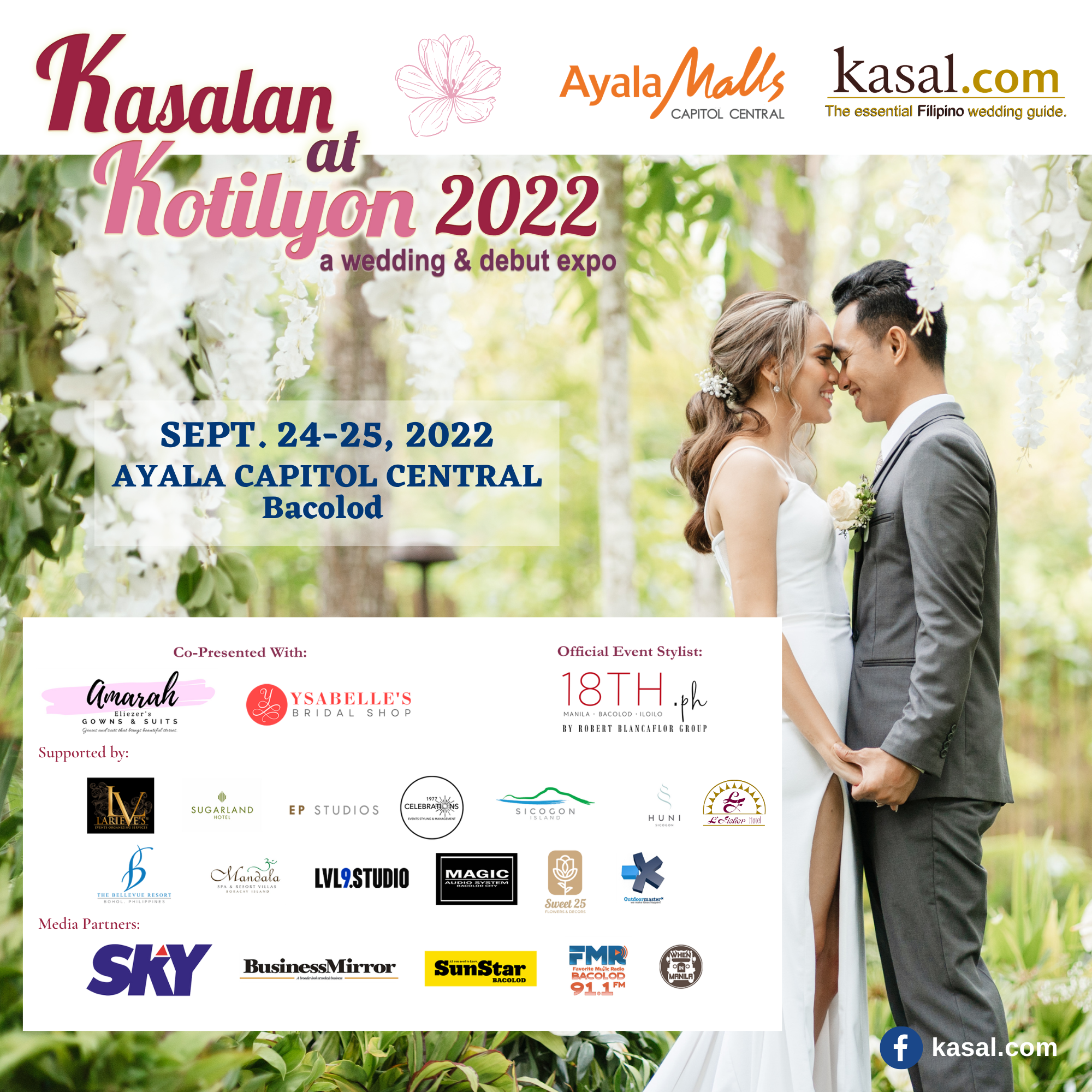 For more information about #Kasalan2022 national wedding & debut fair roadshow, please call (02) 8982-1176, (0917) 160-0382​ or email [email protected].
Comments
comments