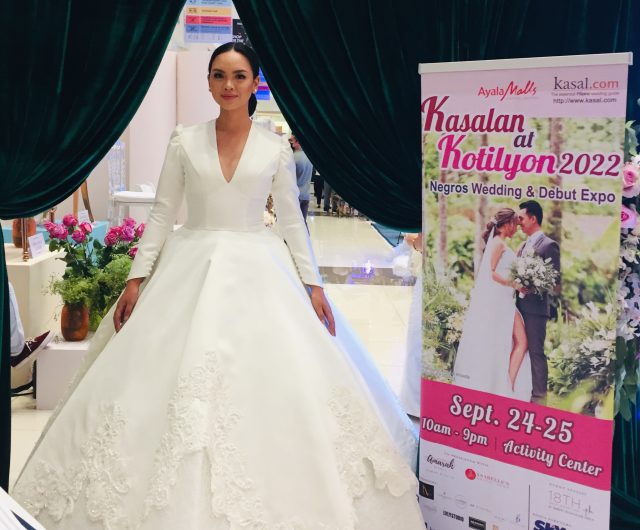 Over 60 event suppliers from all over Bacolod with guest luxe resorts from Roxas, Iloilo, Boracay and Bohol gathered last weekend in the activity center of Ayala Malls Capitol Central, Bacolod City for the biggest comeback of the local wedding and events industry in Negros.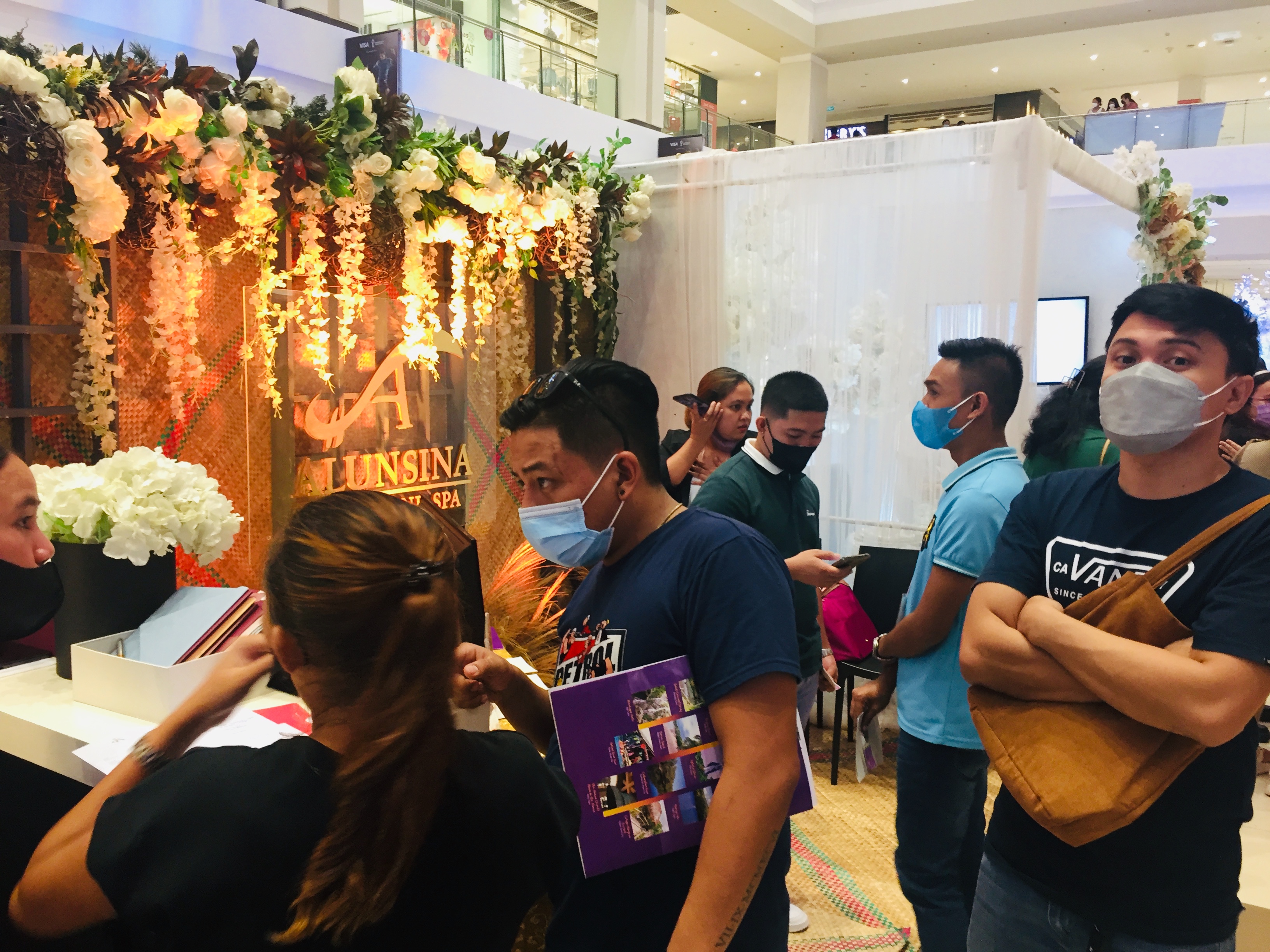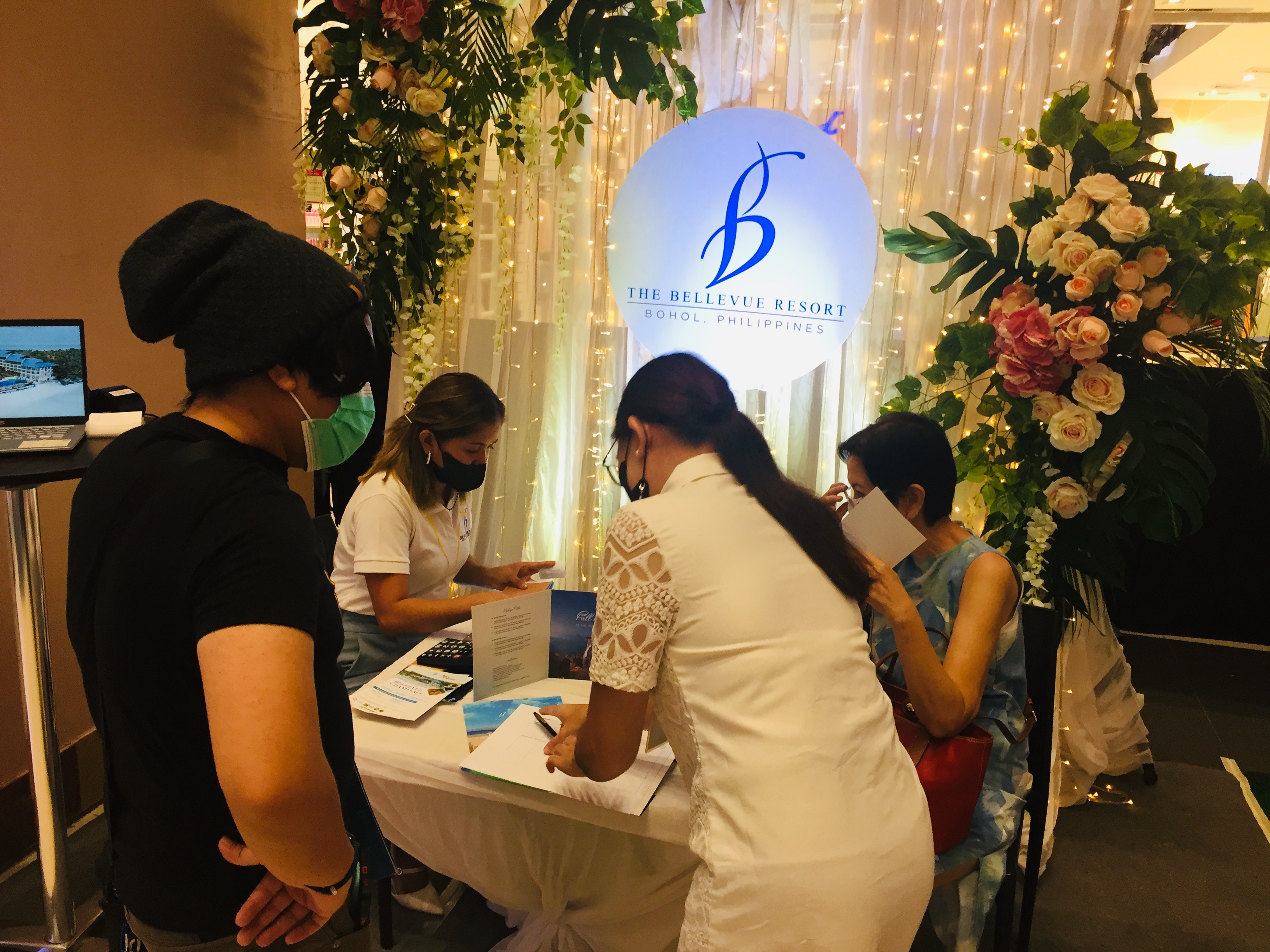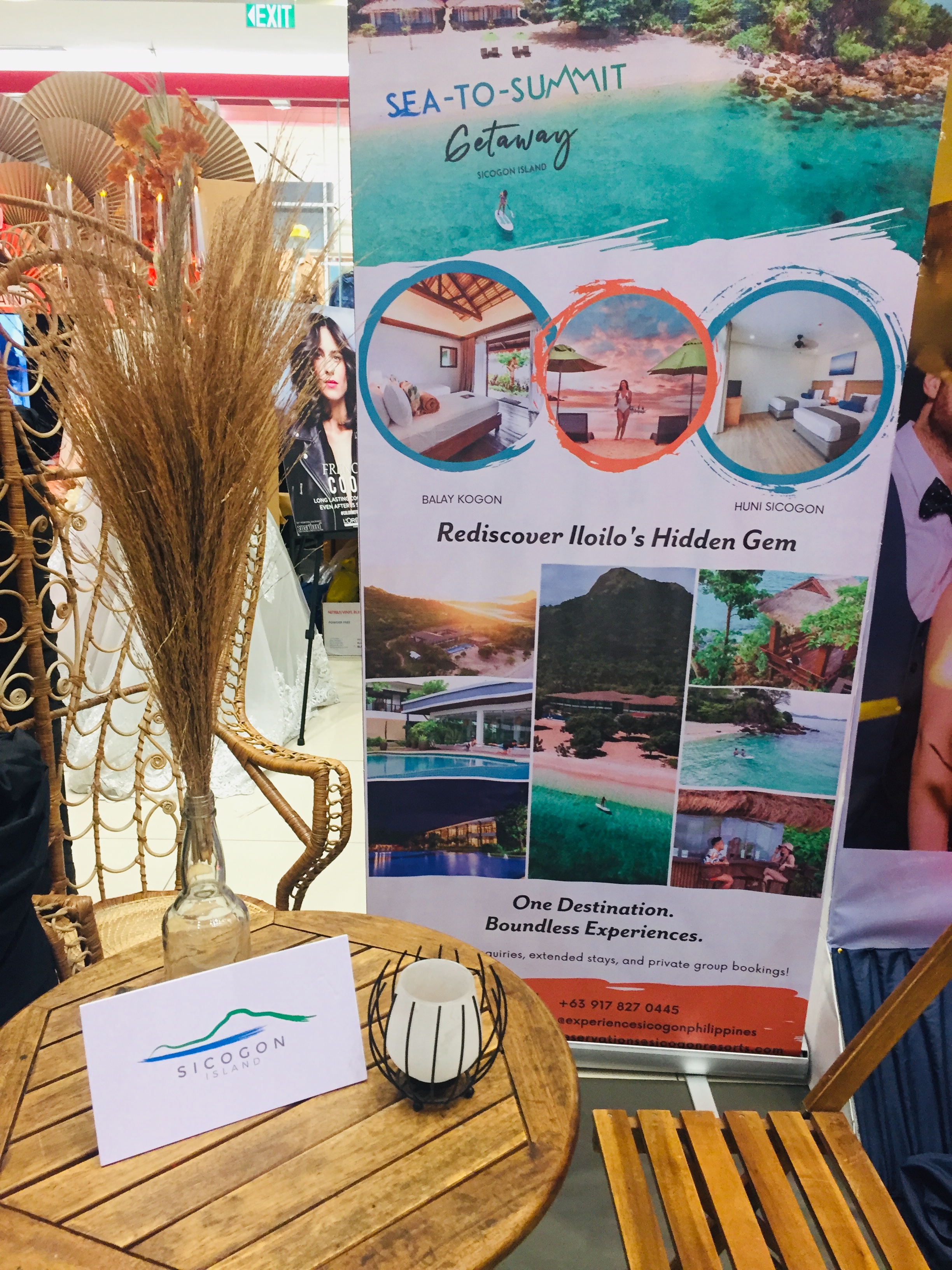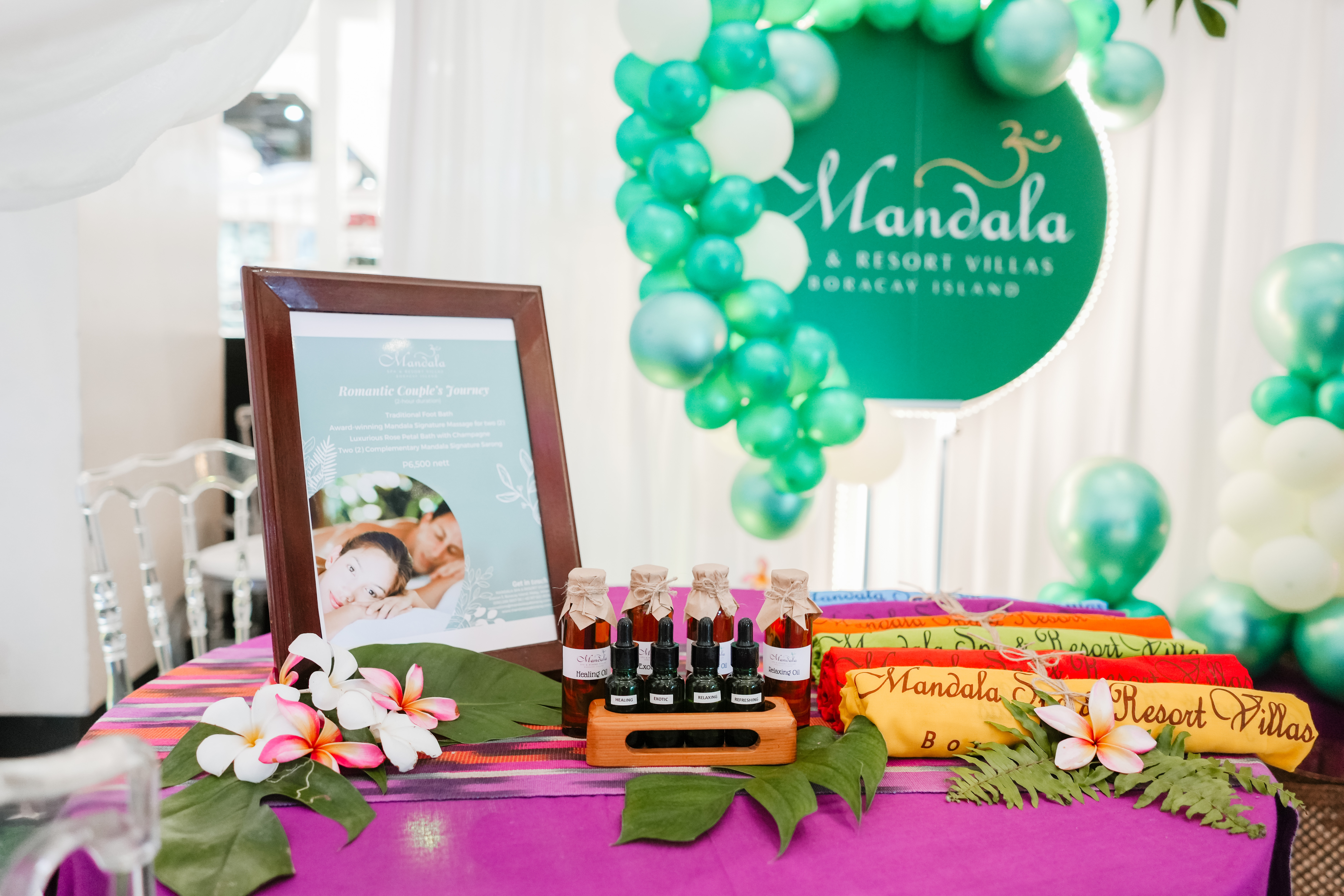 Ms. Mathel Ong, editor-in-chief of Kasal.com, shared that when they decided to bring back Kasalan at Kotilyon this year in various areas nationwide, "it is heartwarming to know that event suppliers and local to-be weds, alike were excited for the comeback and both showed great support for our national expo."Kasal.com started the Kasalan at Kotilyon national wedding & tourism roadshow way back in 2003. This year marked the program's 16th run nationwide and its 7th year in Bacolod. 
The 2-day wedding expo in Bacolod started off with romantic wedding serenades from the City's promising and known musicians.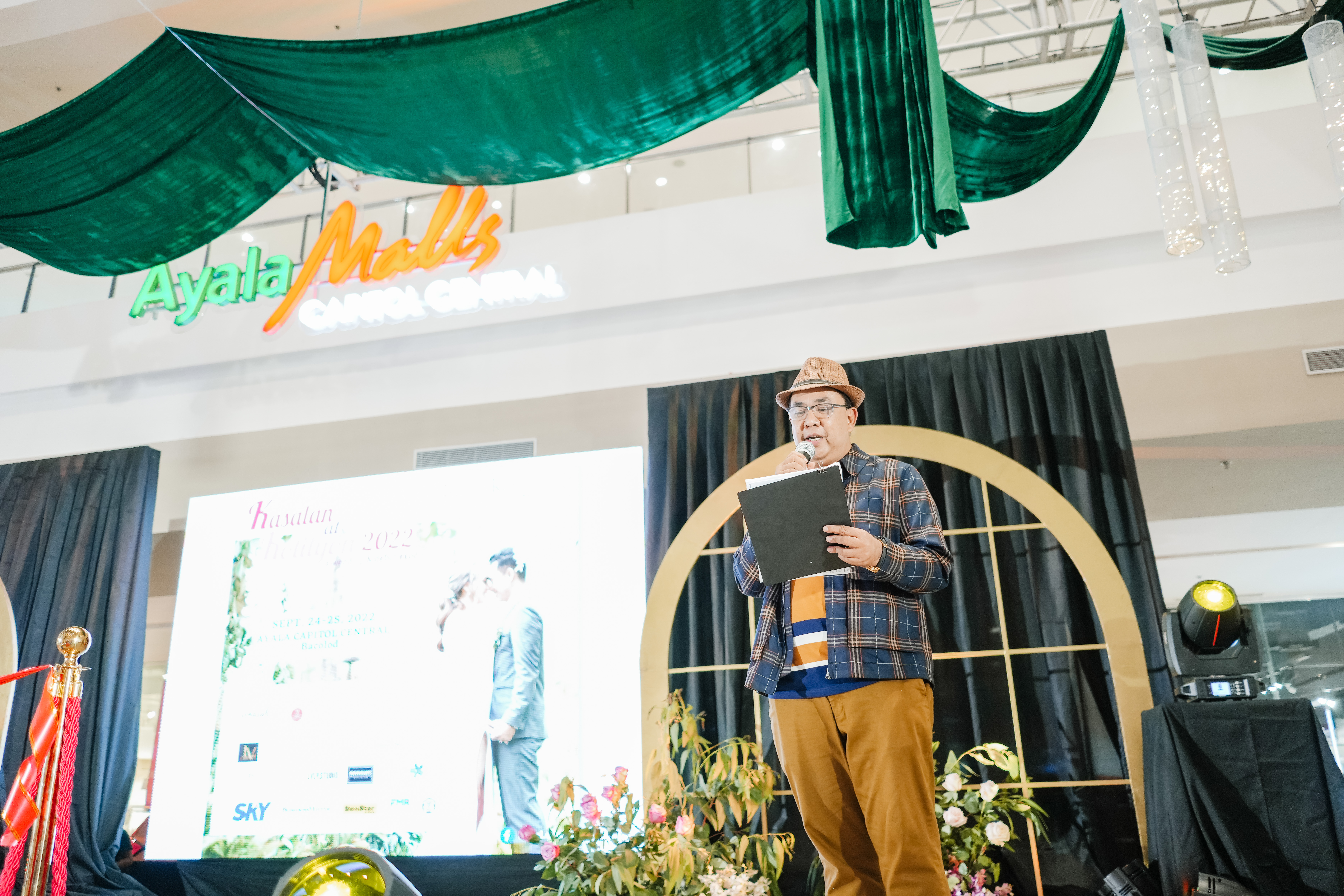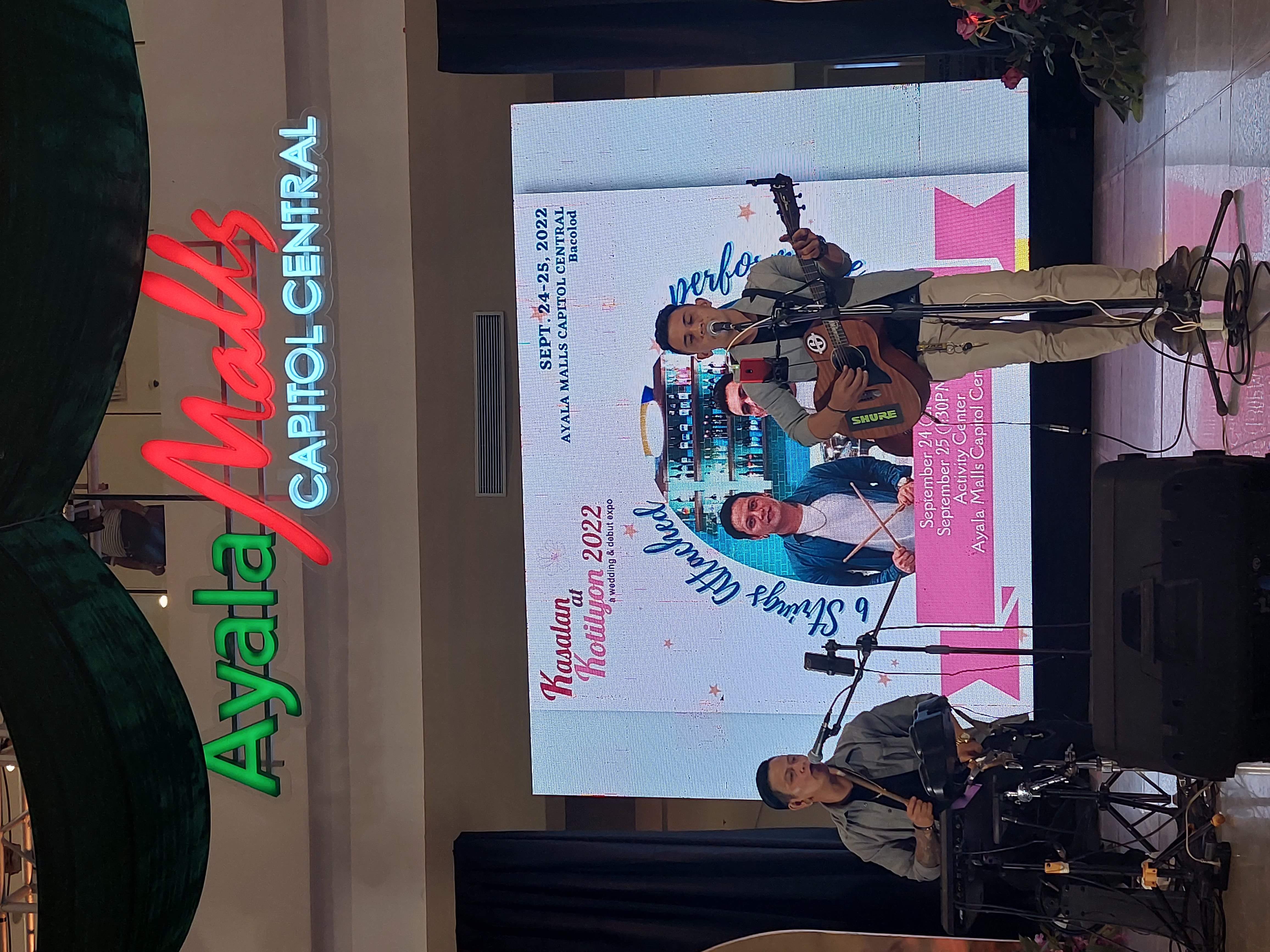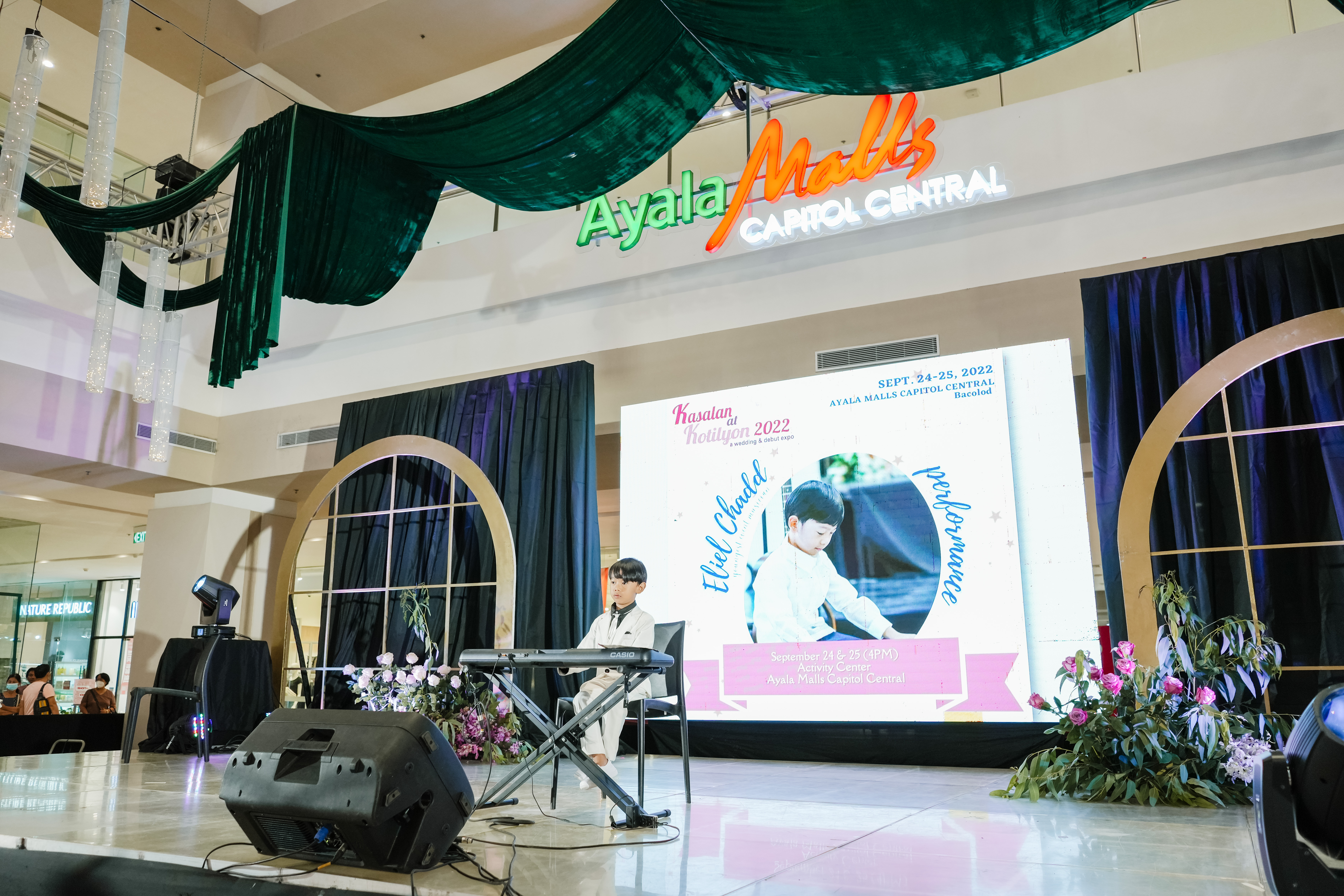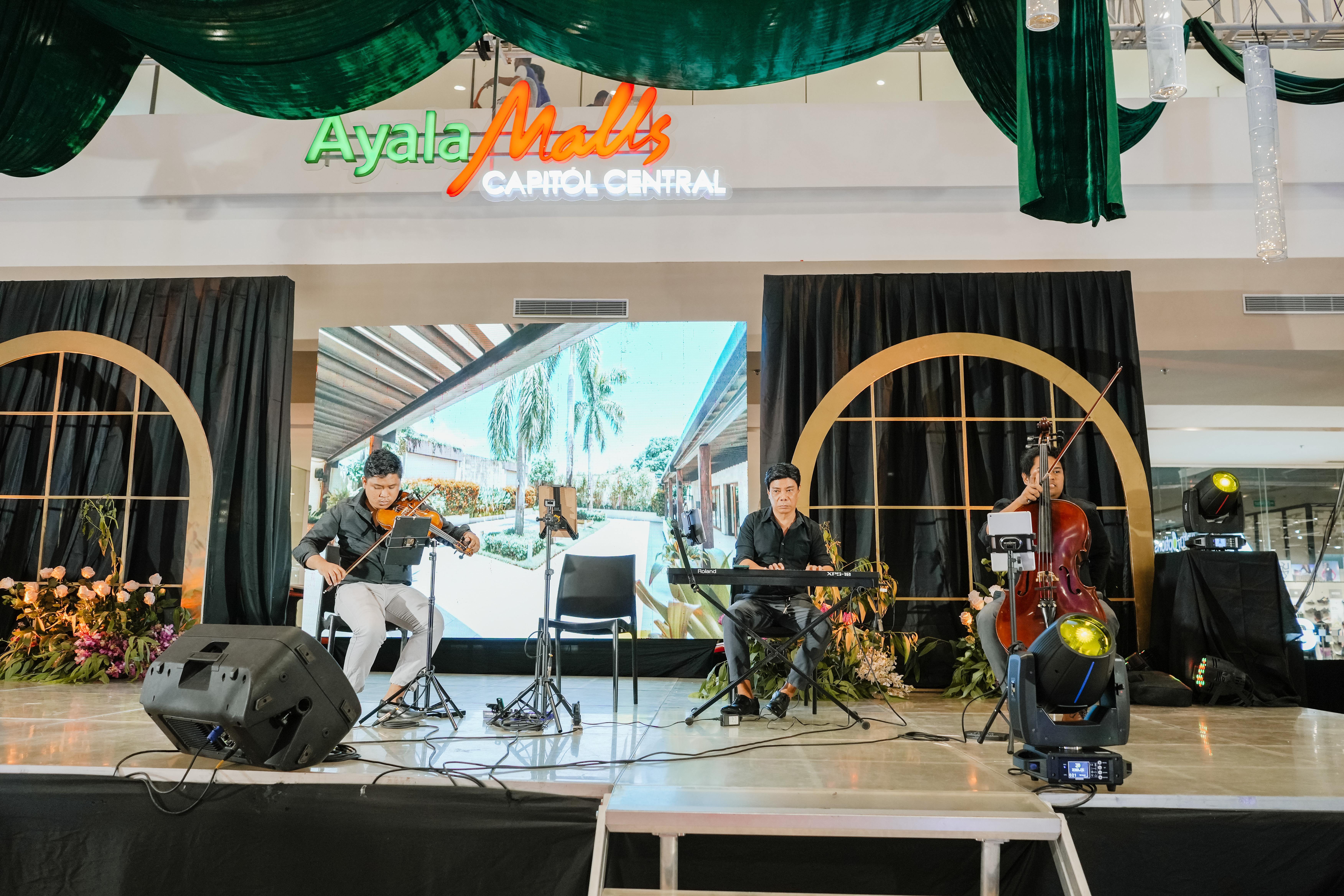 18TH.ph by Robert Blancaflor, the event's official style partner, tastefully designed #Kasalan2022 with hues of greens, fresh flowers and foliage.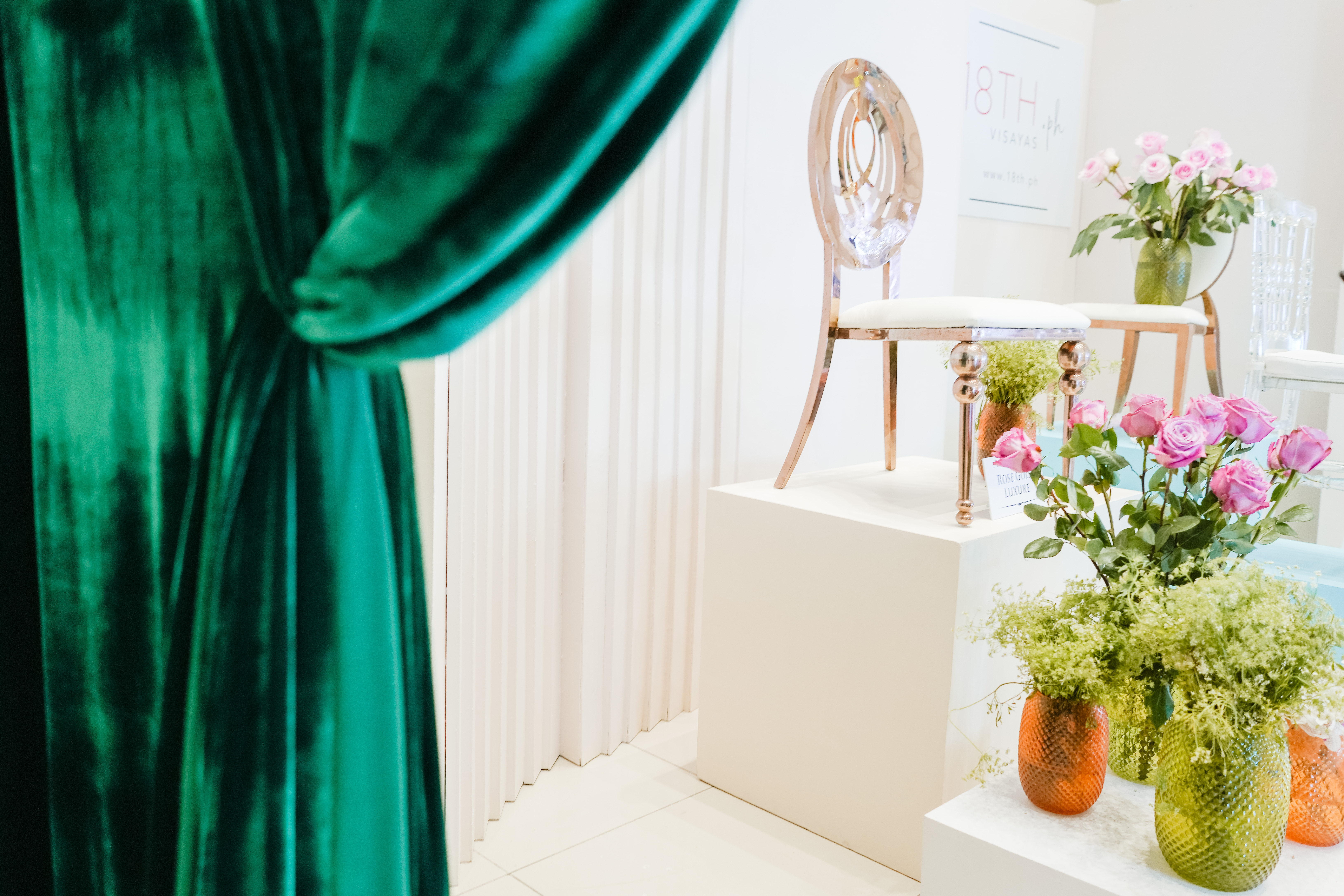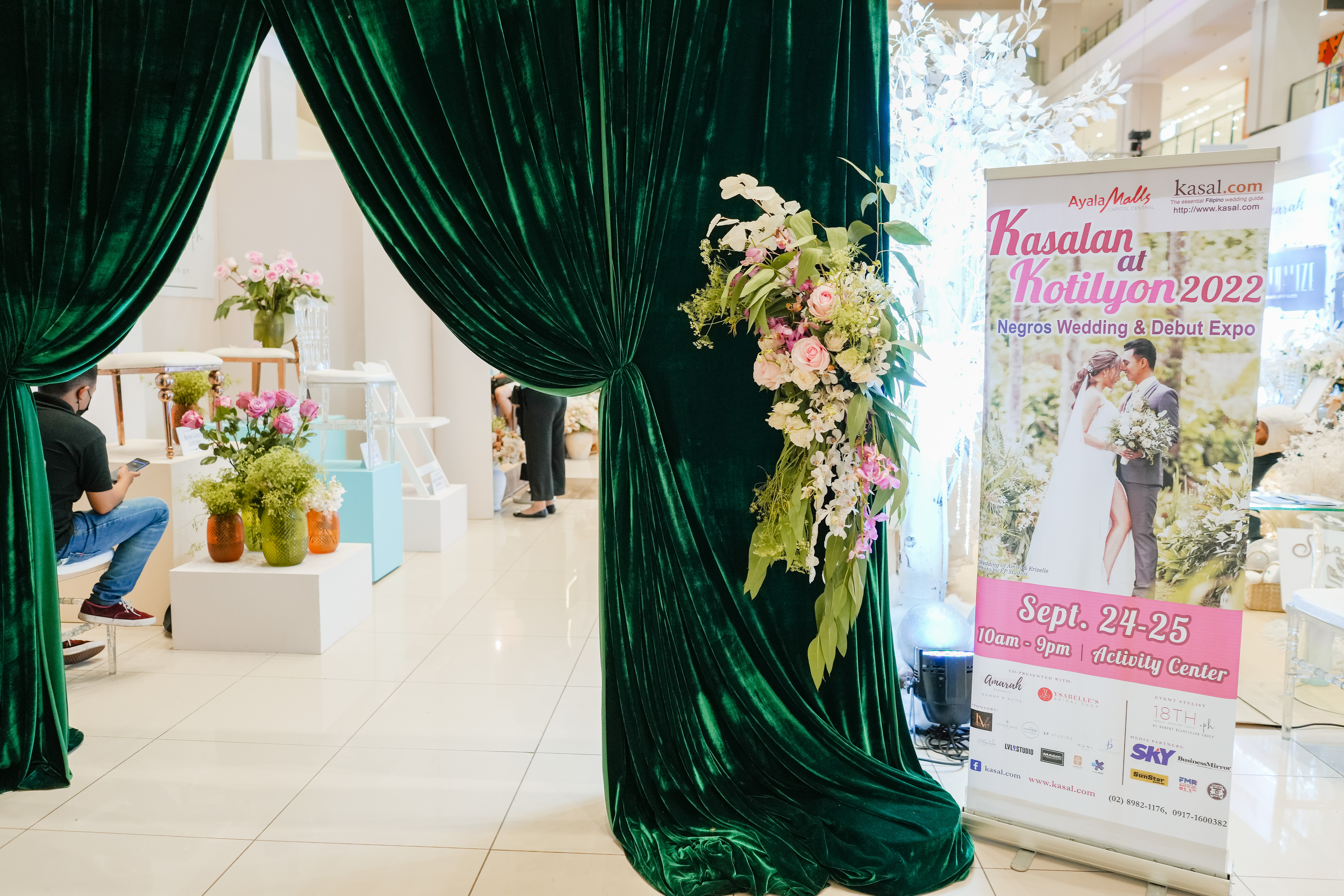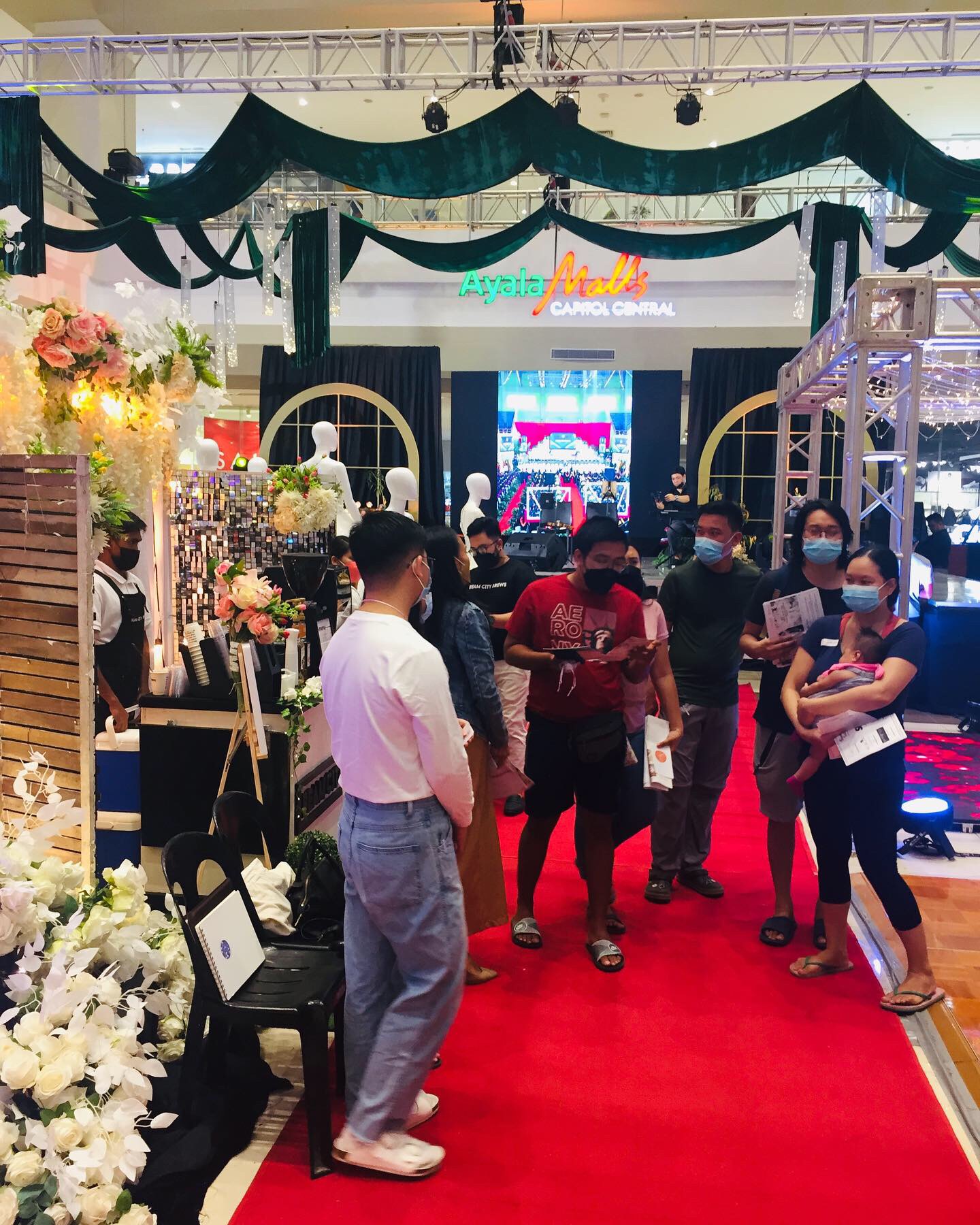 Silay City's pride, Amarah Eliezer's Gowns & Suits, collaborated with Eventualize and Luxesaint to showcase a wide array of bridal and debutant fashion during the event's formal opening.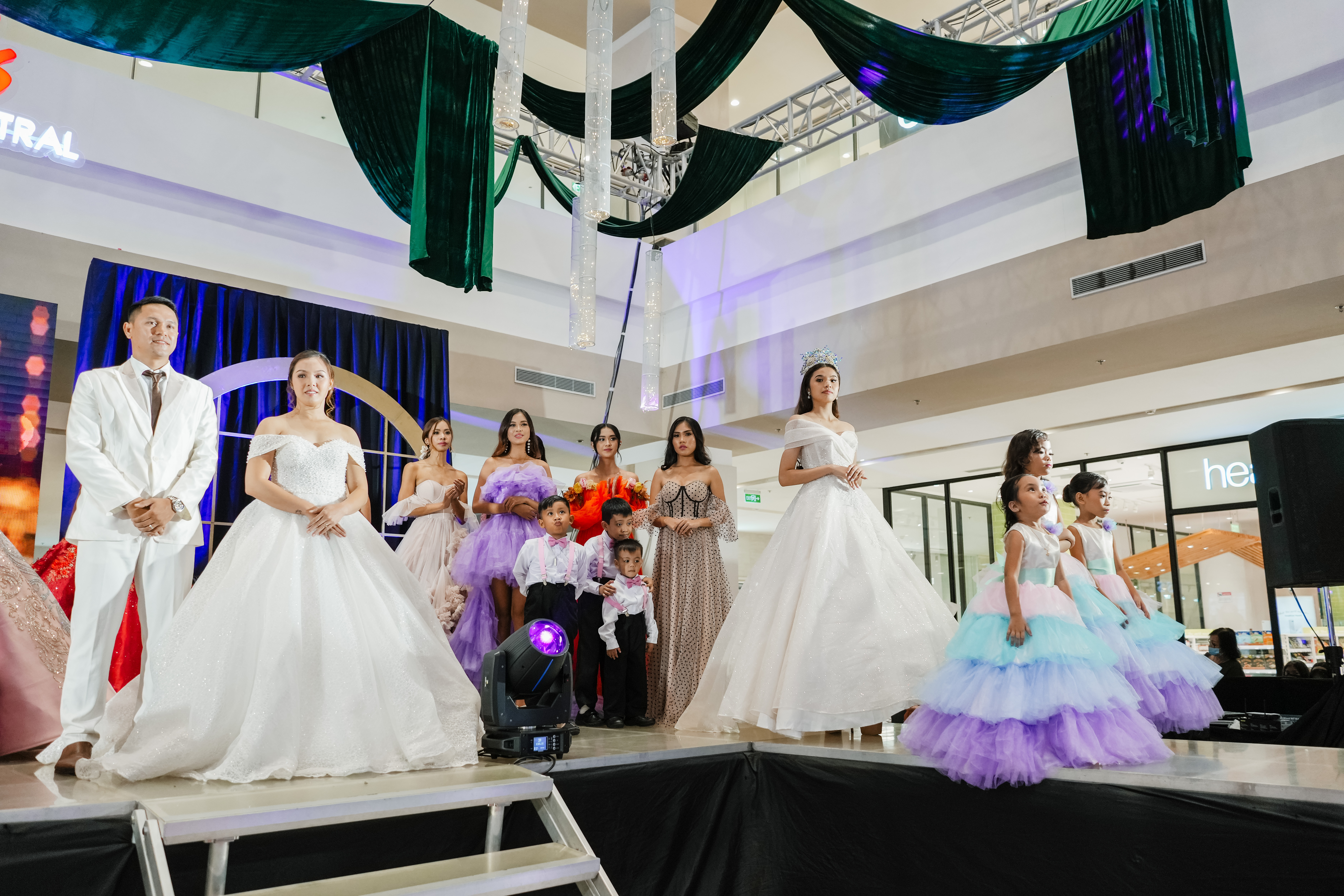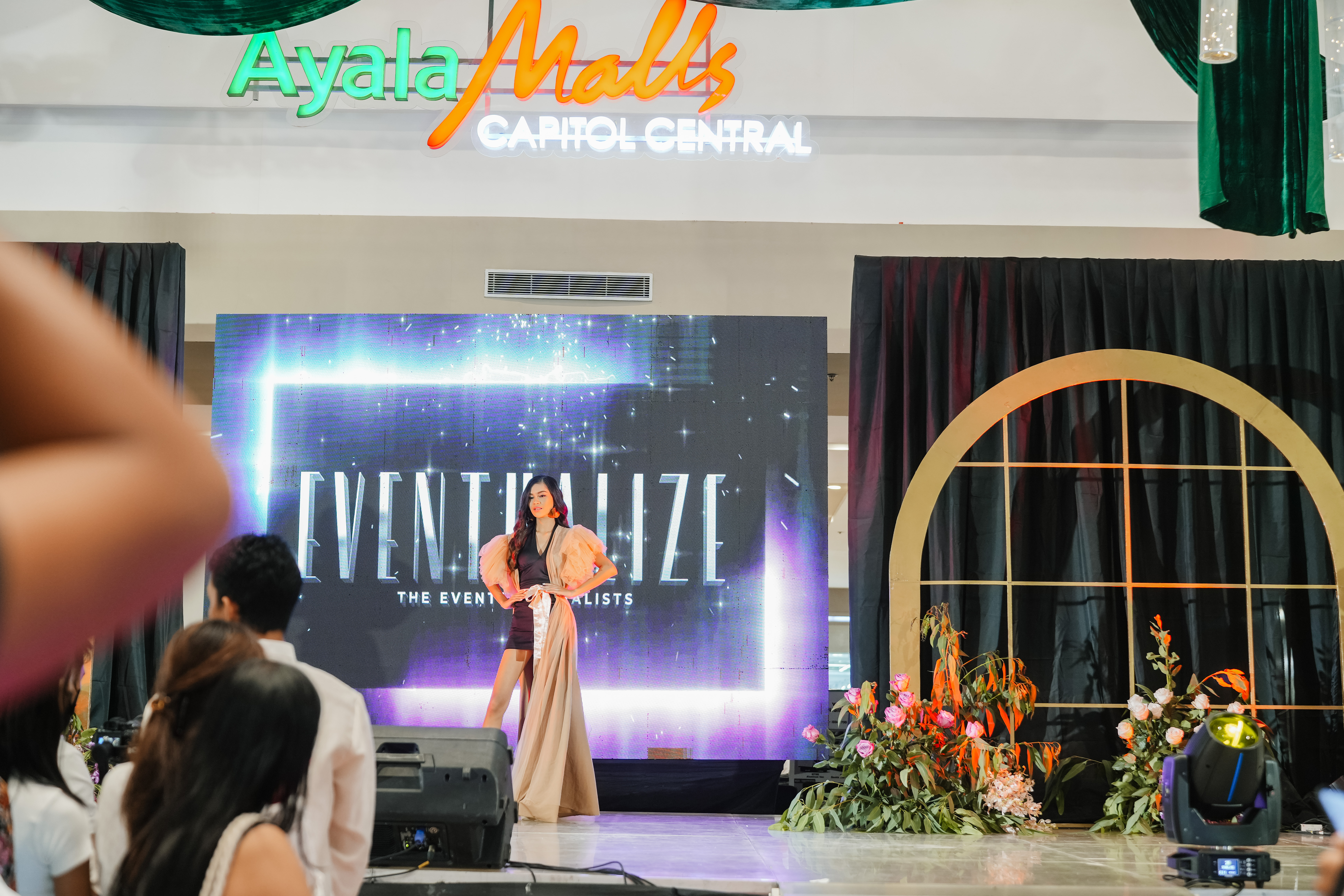 Ysabelle's Bridal Shop, a pioneer in both custom-made wedding gowns and affordable bridal gown rentals not just in Bacolod but also in Iloilo and Dumaguete, launched their latest debutant and bridal creations during the Wedding Expo's finale program.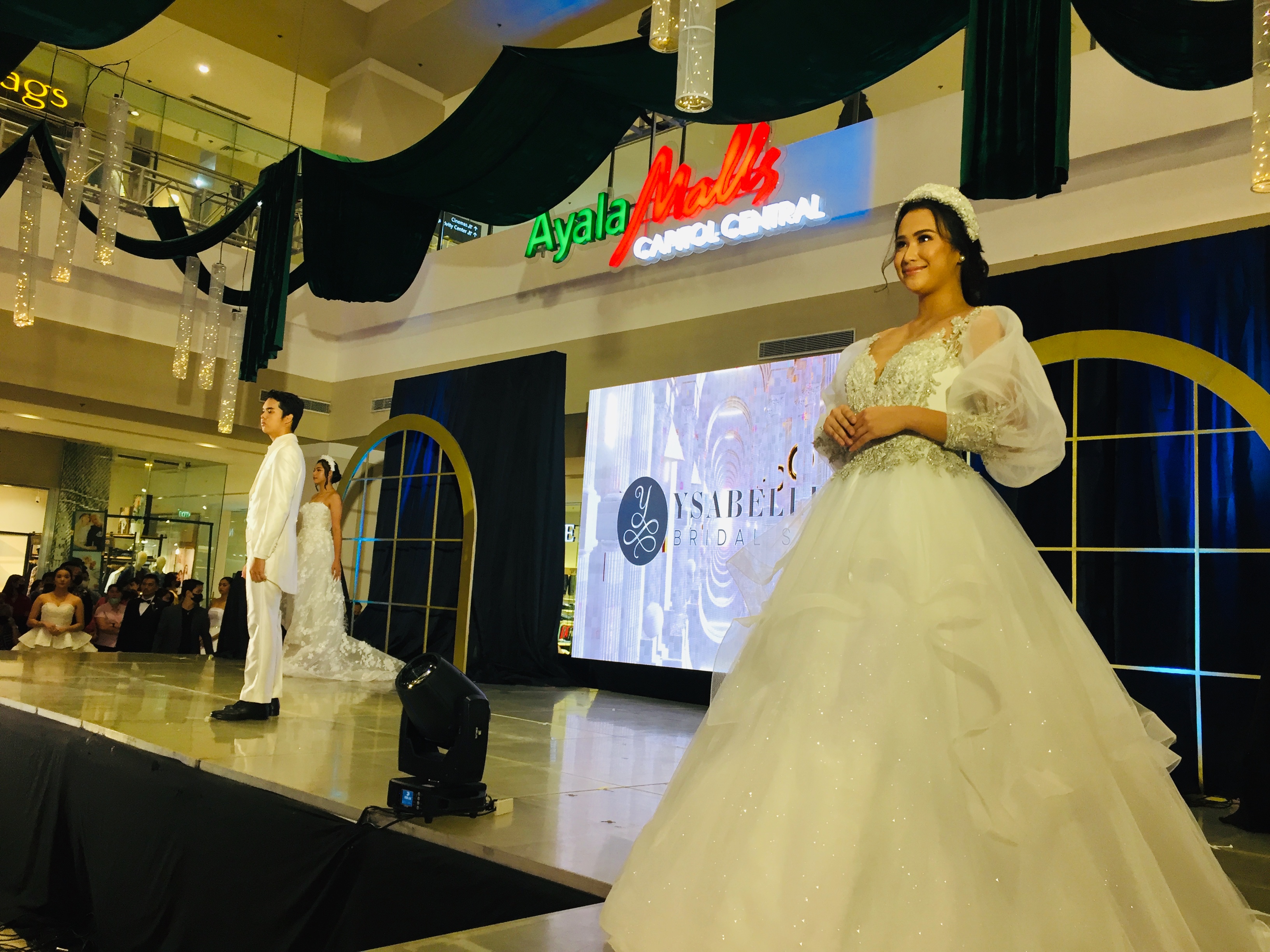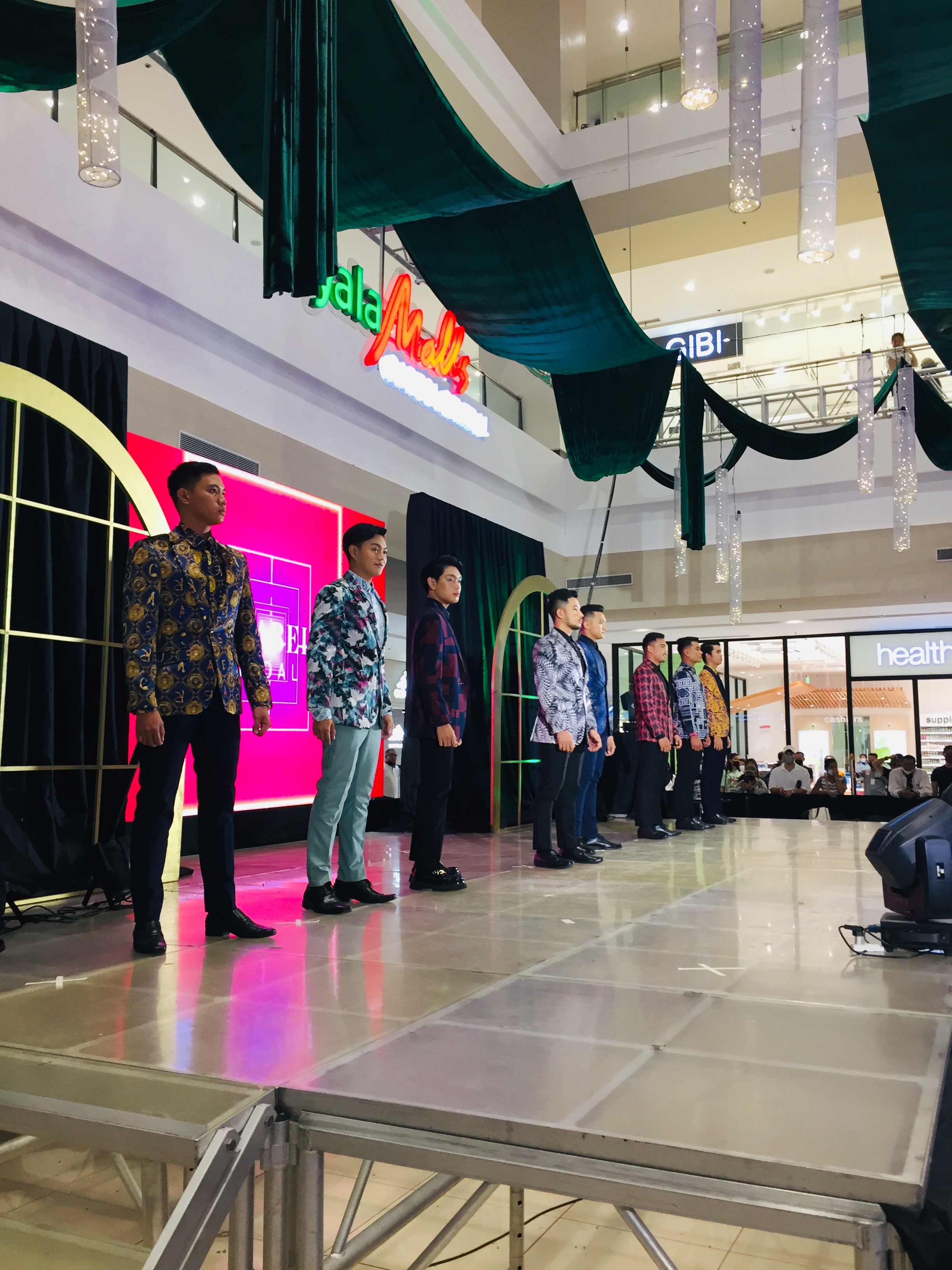 #Kasalan2022 Wedding and Tourism Expos are all about showcasing good local event suppliers and  and creating a reliable wedding marketplace for both wedding suppliers and to-be weds/families to meet each other. To make the event more fun and exciting, various event supplier awards were created and the ff. Bacolod wedding suppliers stood out in various award categories:
Most Popular Suppliers on Kasalan2022 Online PR Campaign:
Winner – JMP Couture & Event Specialist
1st Runner Up – Eventualize
2nd Runner Up – Larieve's Events Organizing Services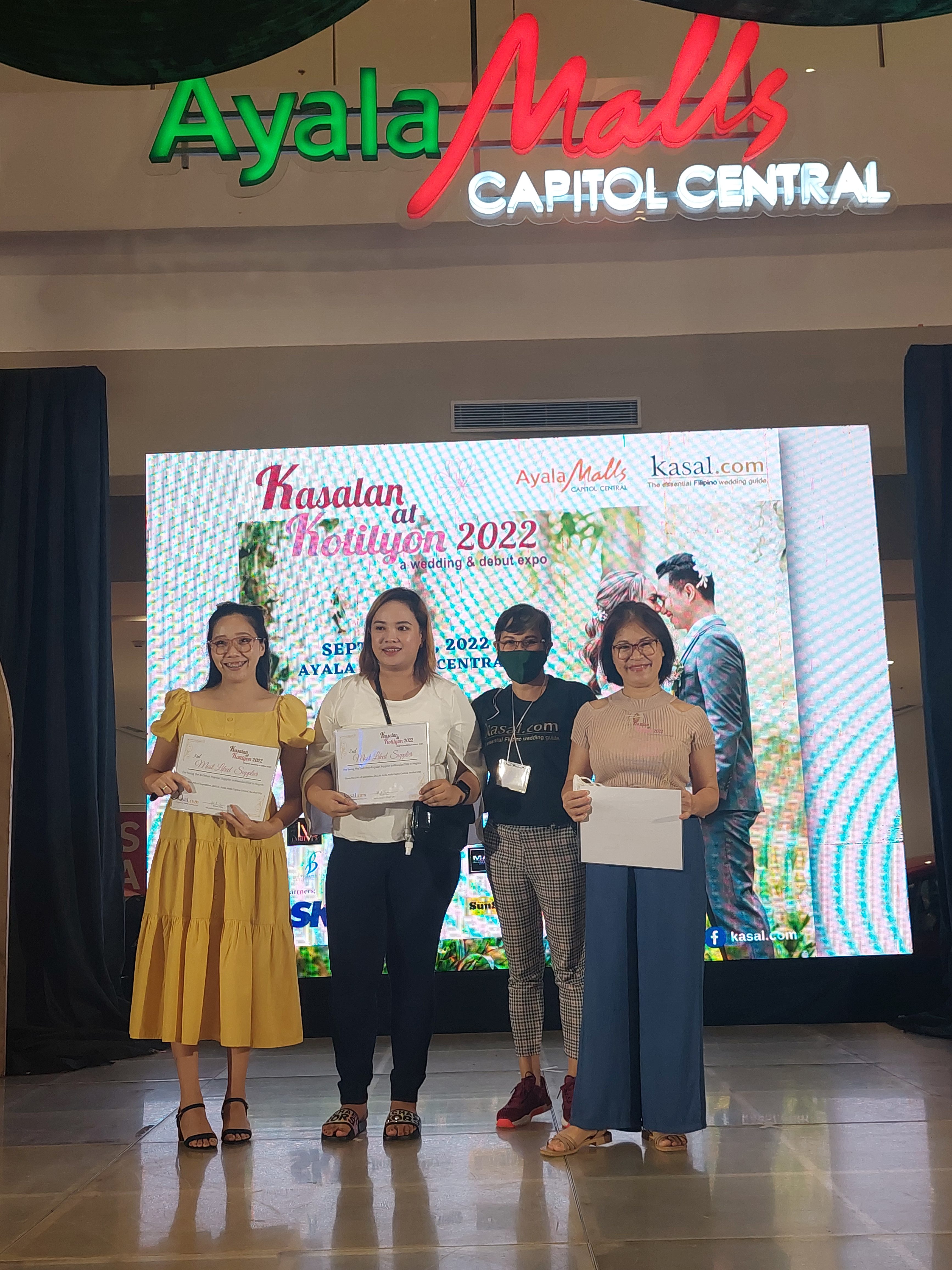 #Kasalan2022 in Negros Most Creative Booth Awardees: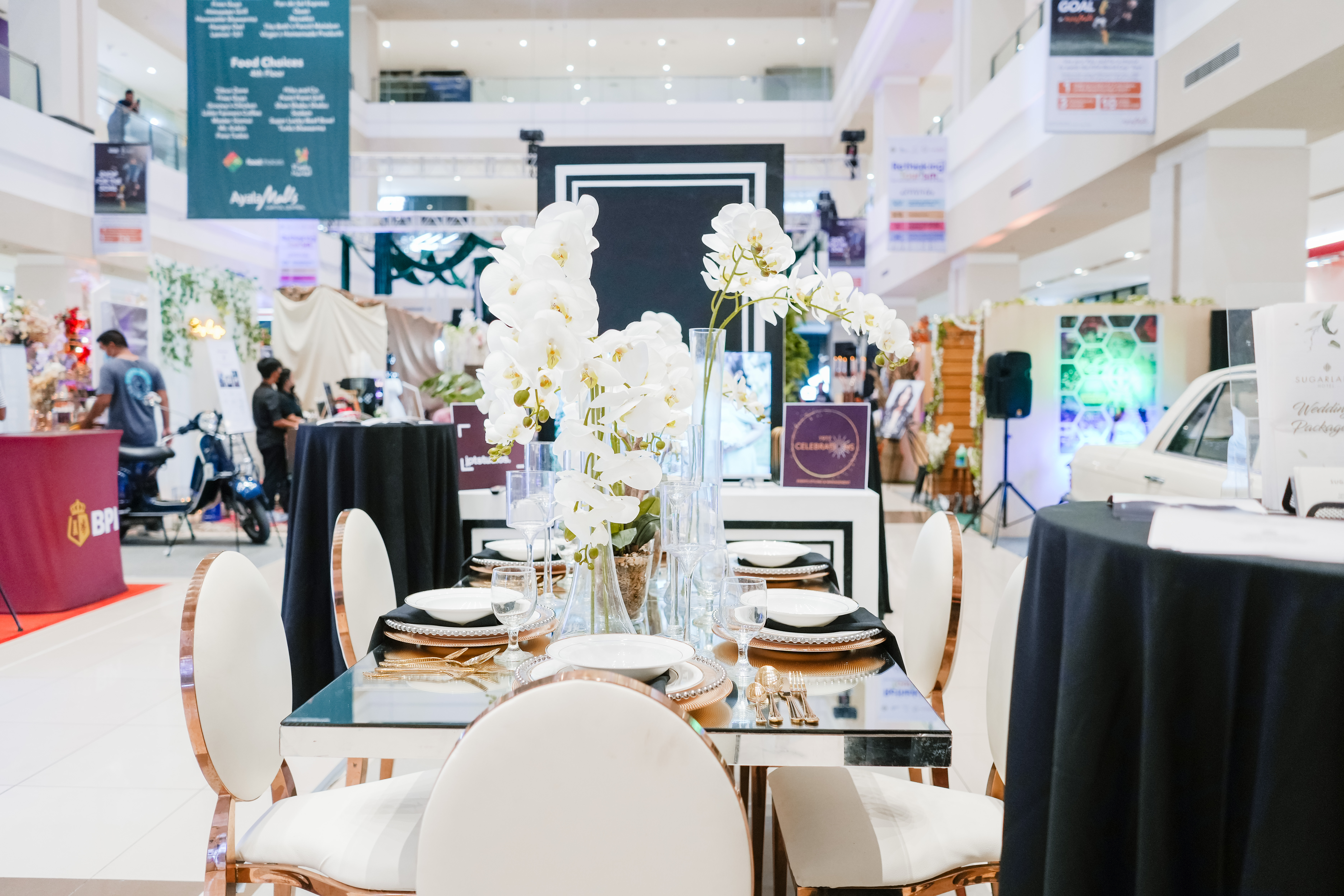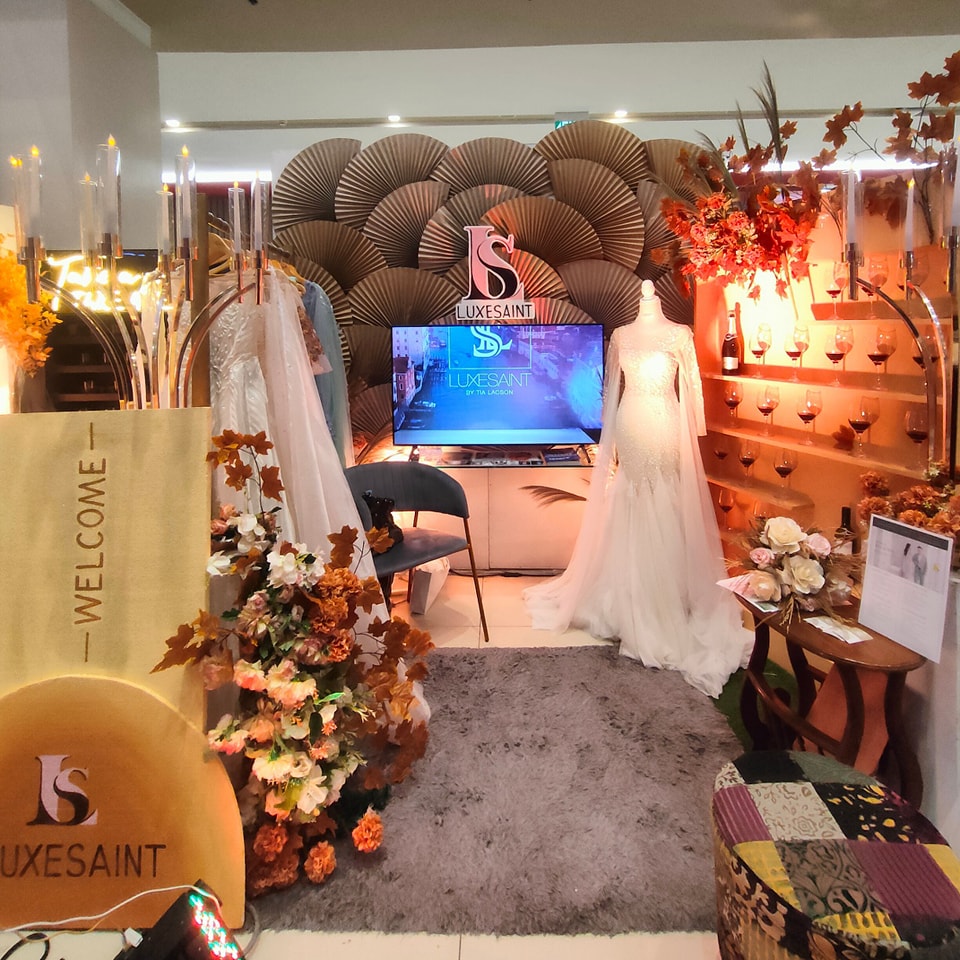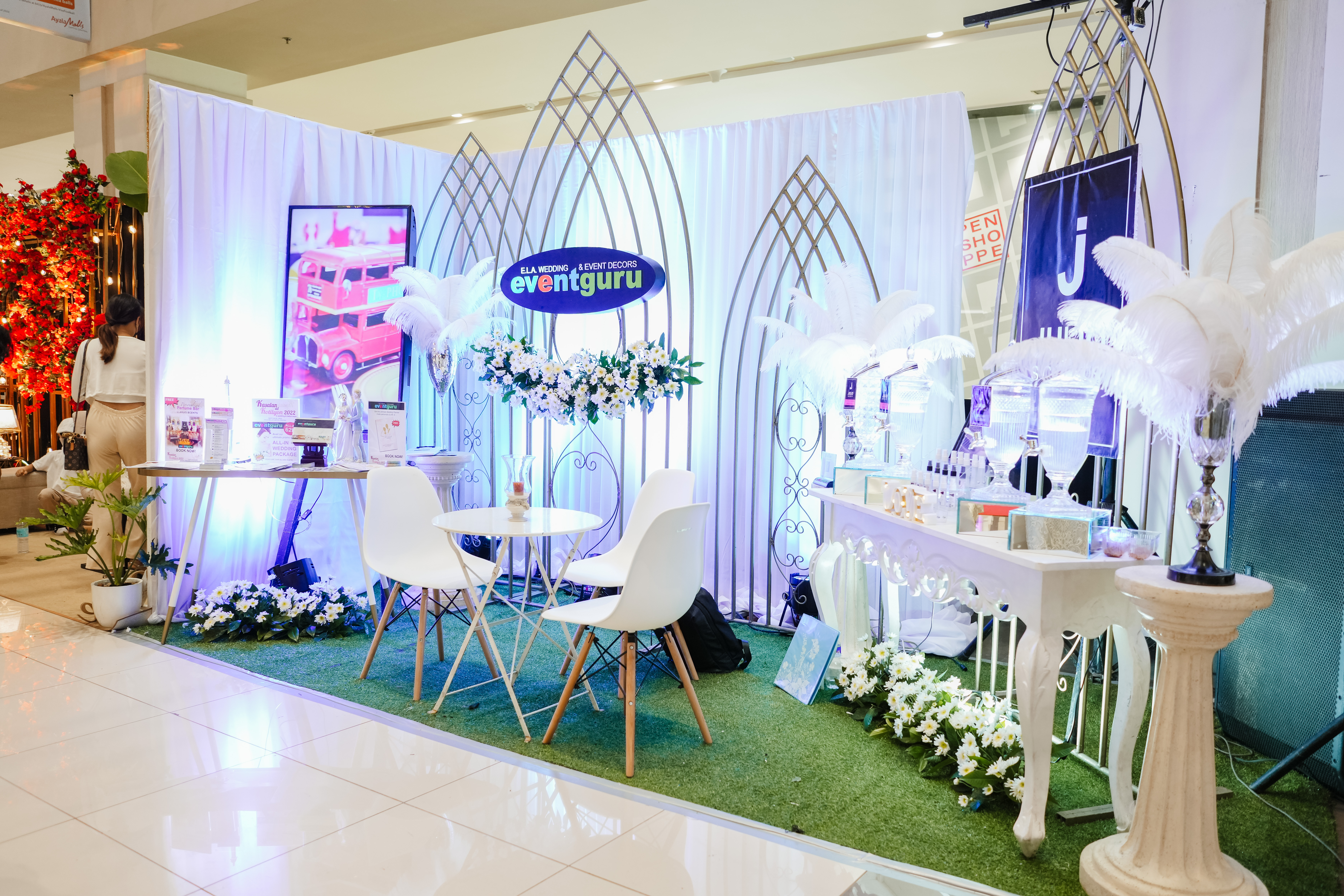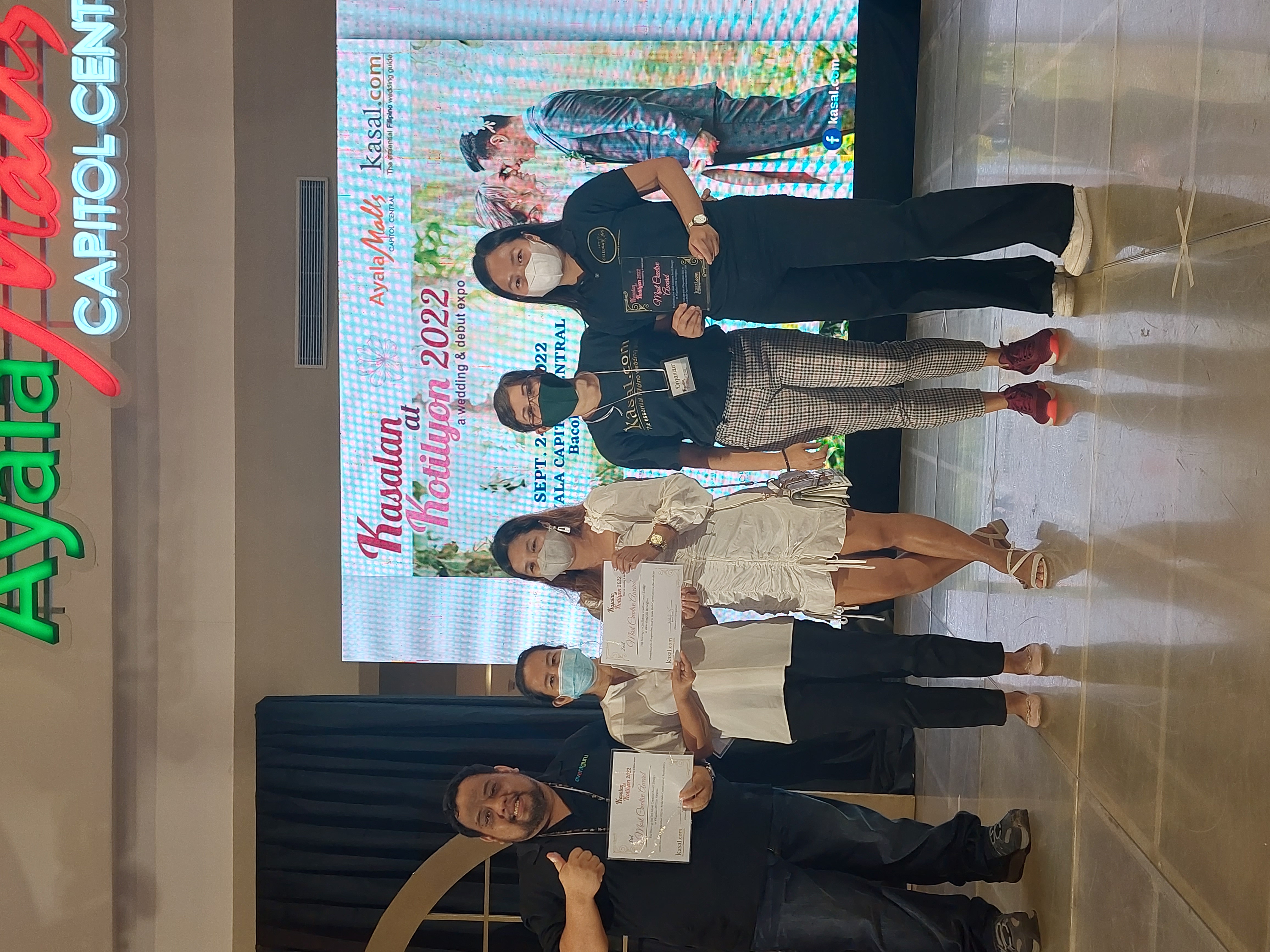 #Kasalan2022 in Negros Grandeur Booth Awardees: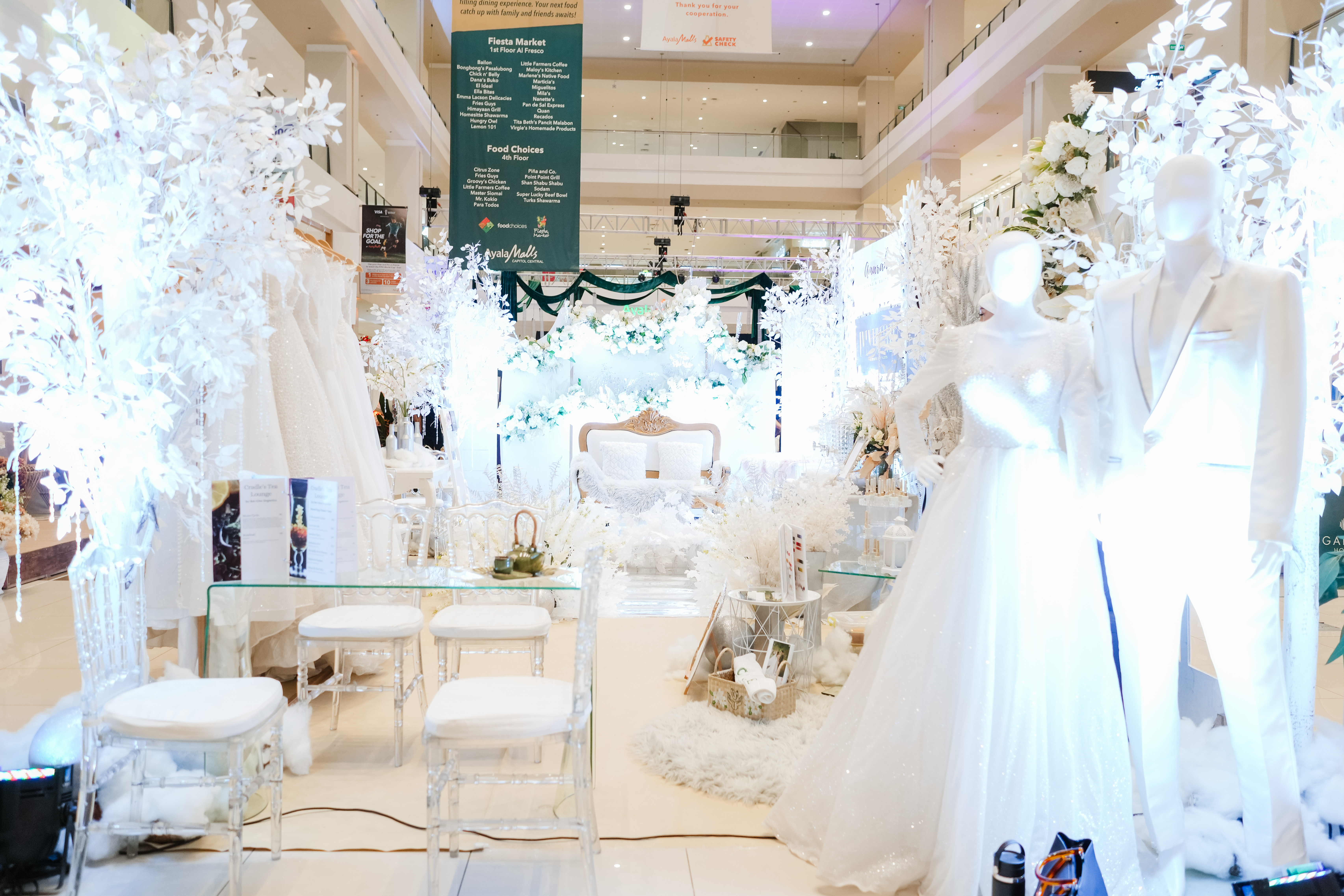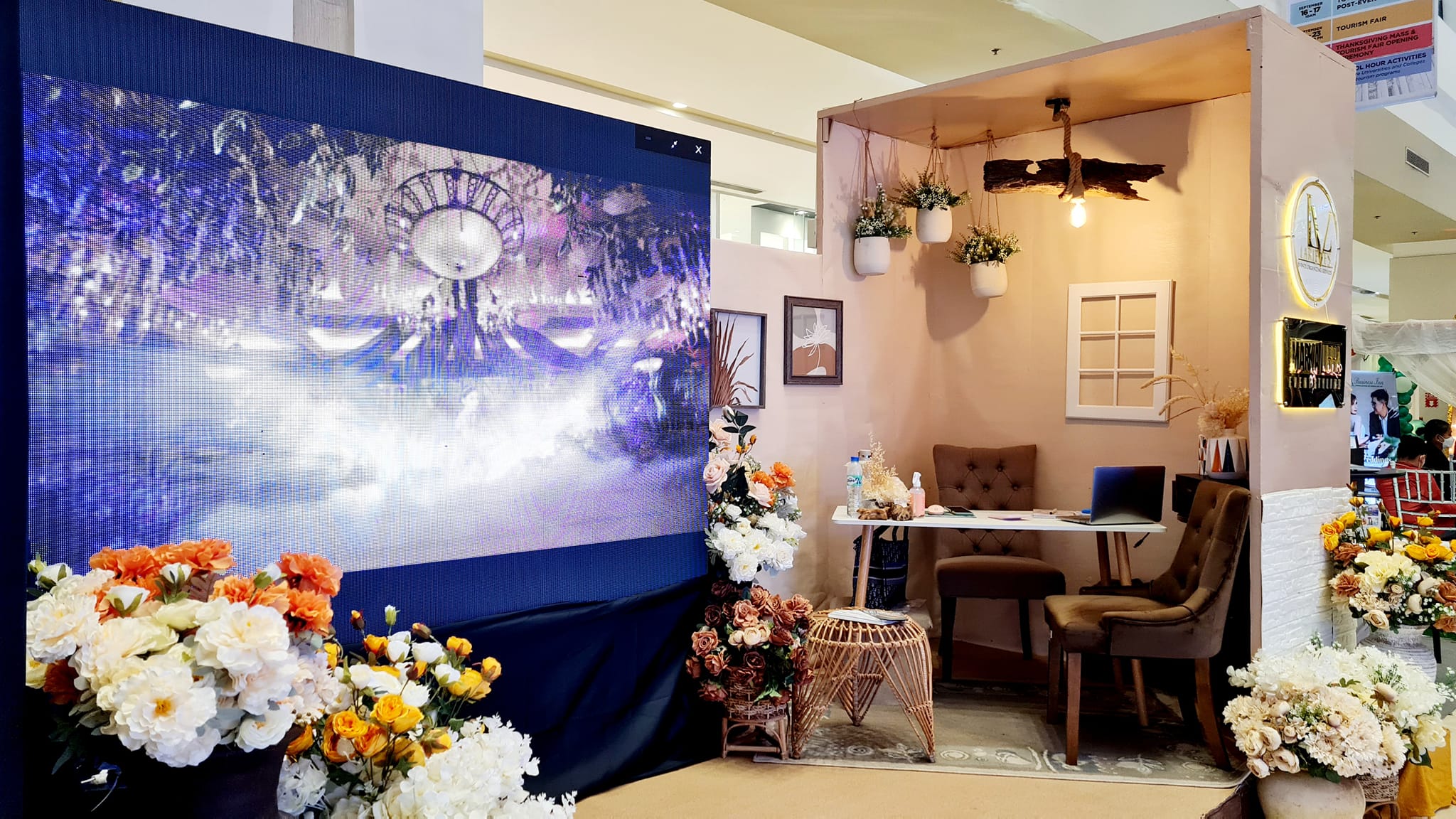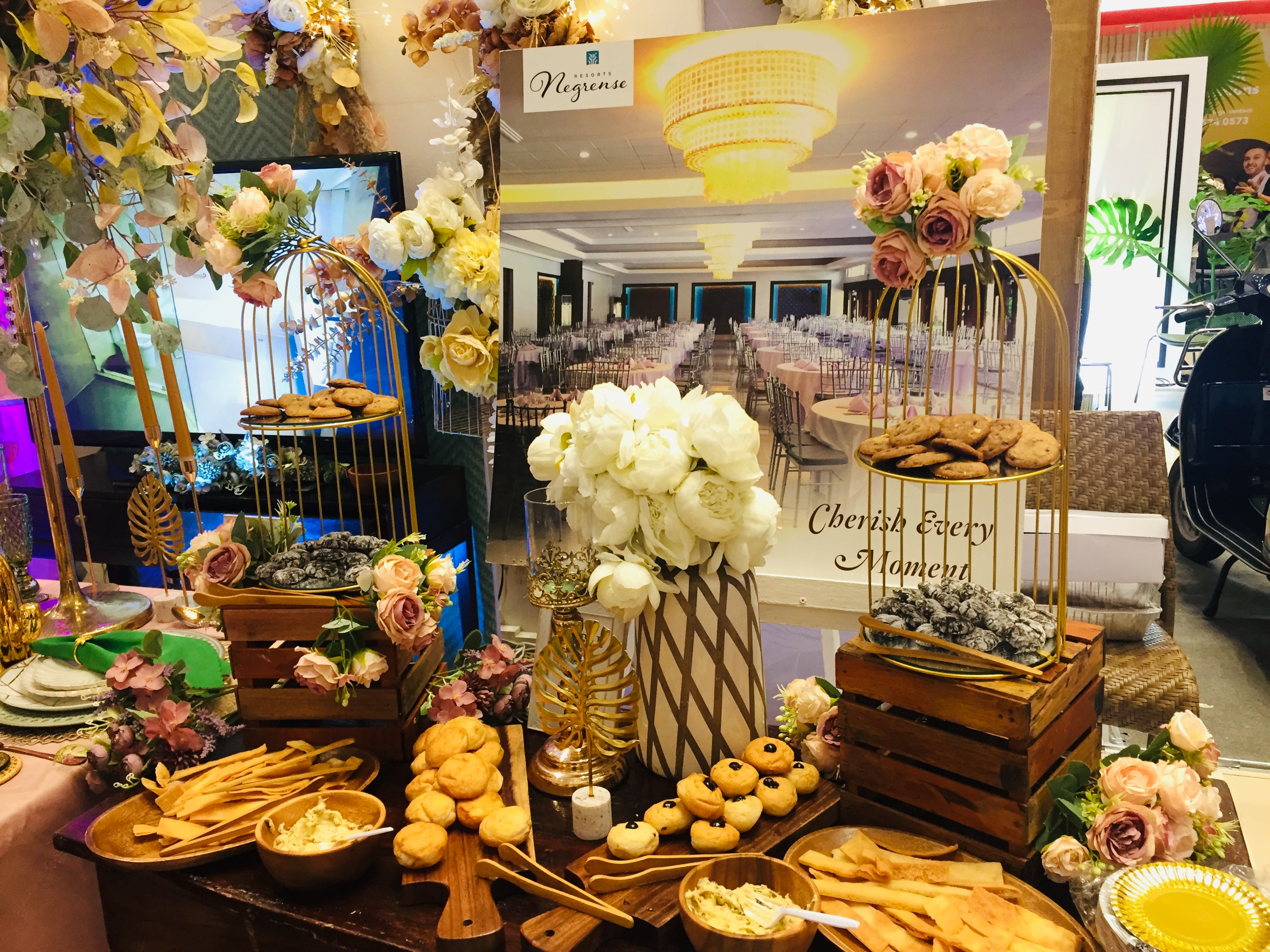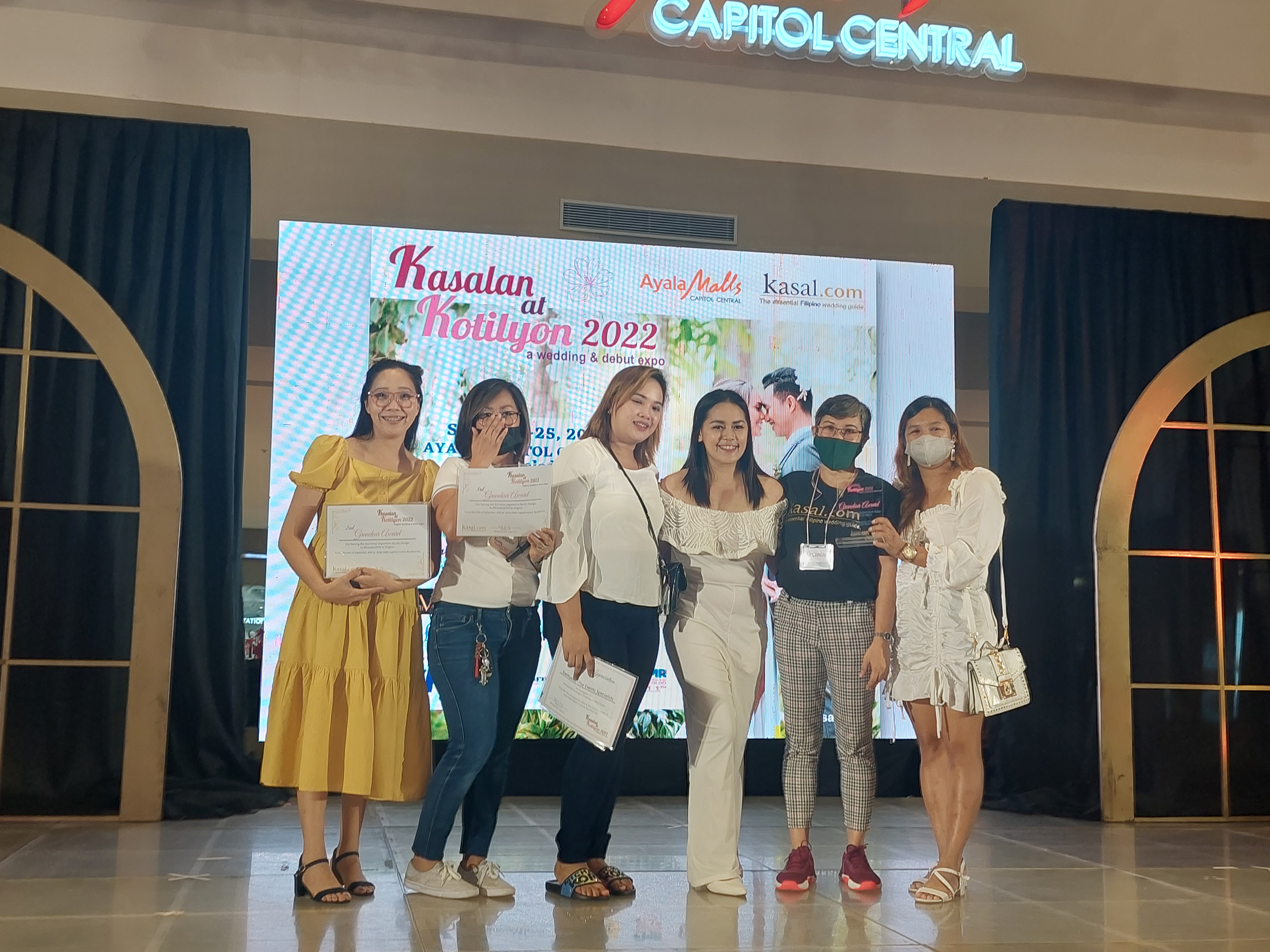 #Kasalan2022 in Negros Top Grosser Awardee: Eventualize X Amarah Eliezer's Gowns & Suits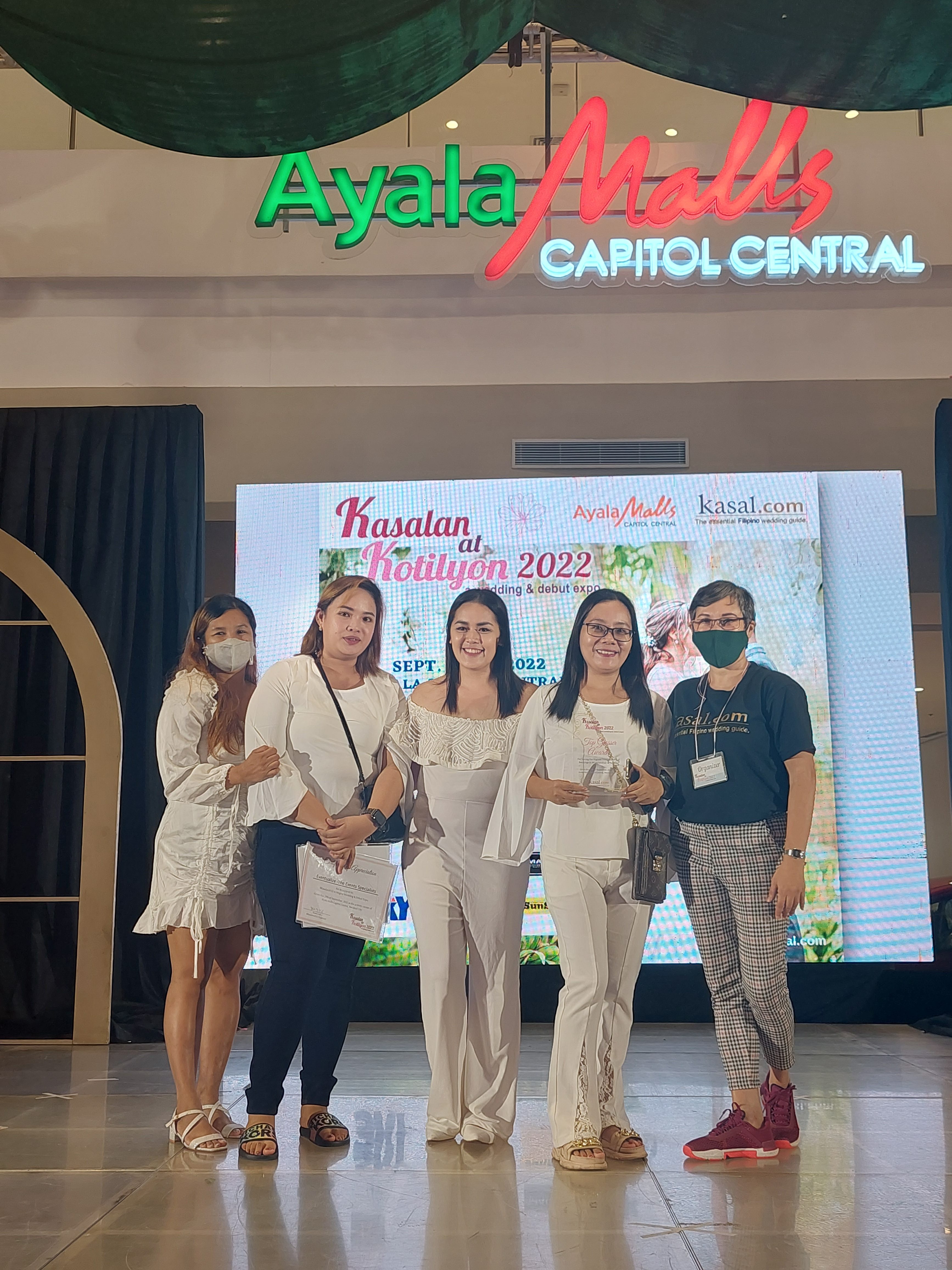 #Kasalan2022 in Negros Top Booker Awardee: 1977 Celebrations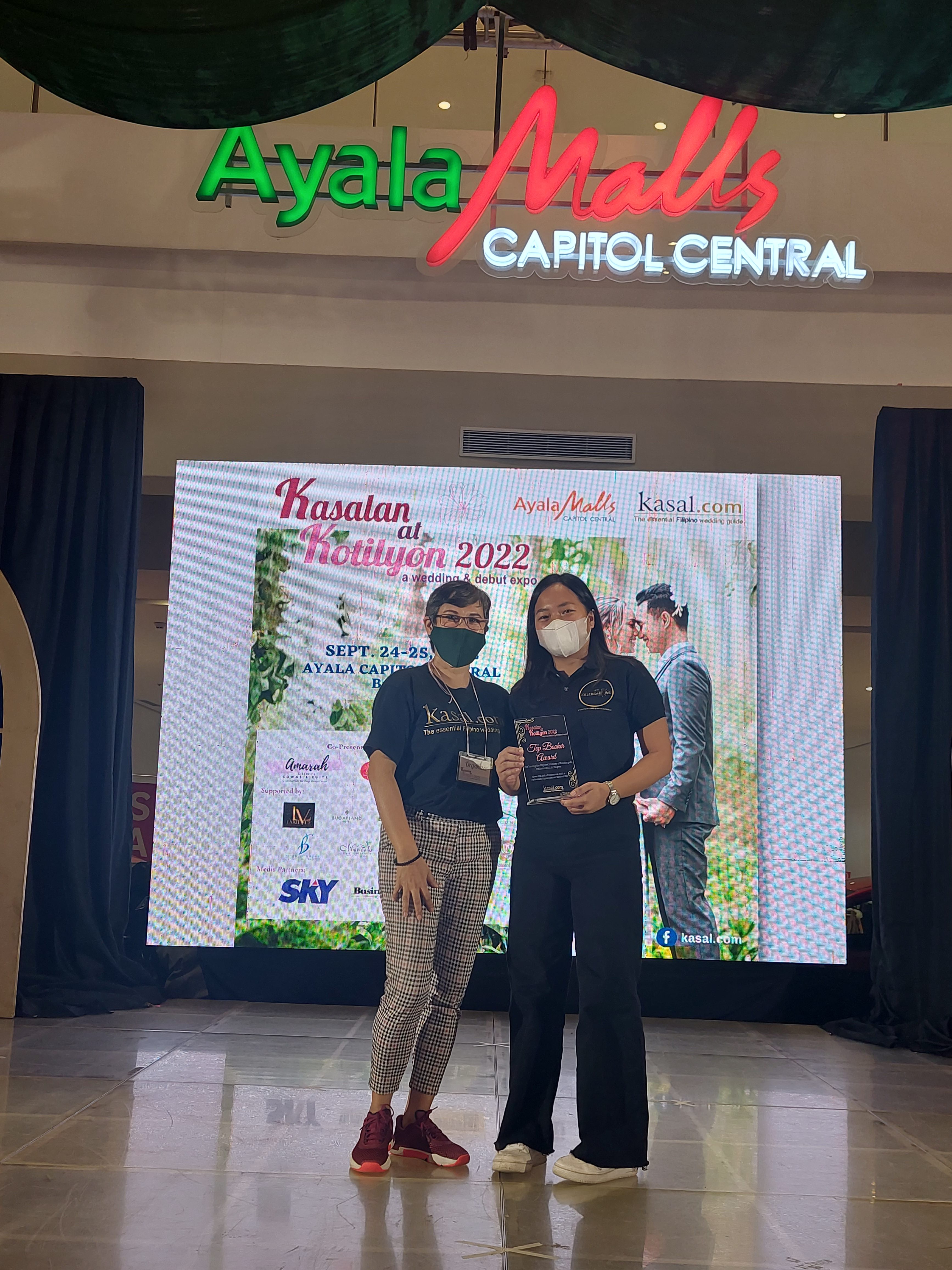 Aside from special wedding discounts and event promos, #Kasalan2022 in Negros Wedding Expo gave away almost P200K-worth of amazing raffle prizes to lucky event guests. Here are the lucky couples and guests who won in the 2-Day Bacolod Bridal Fair: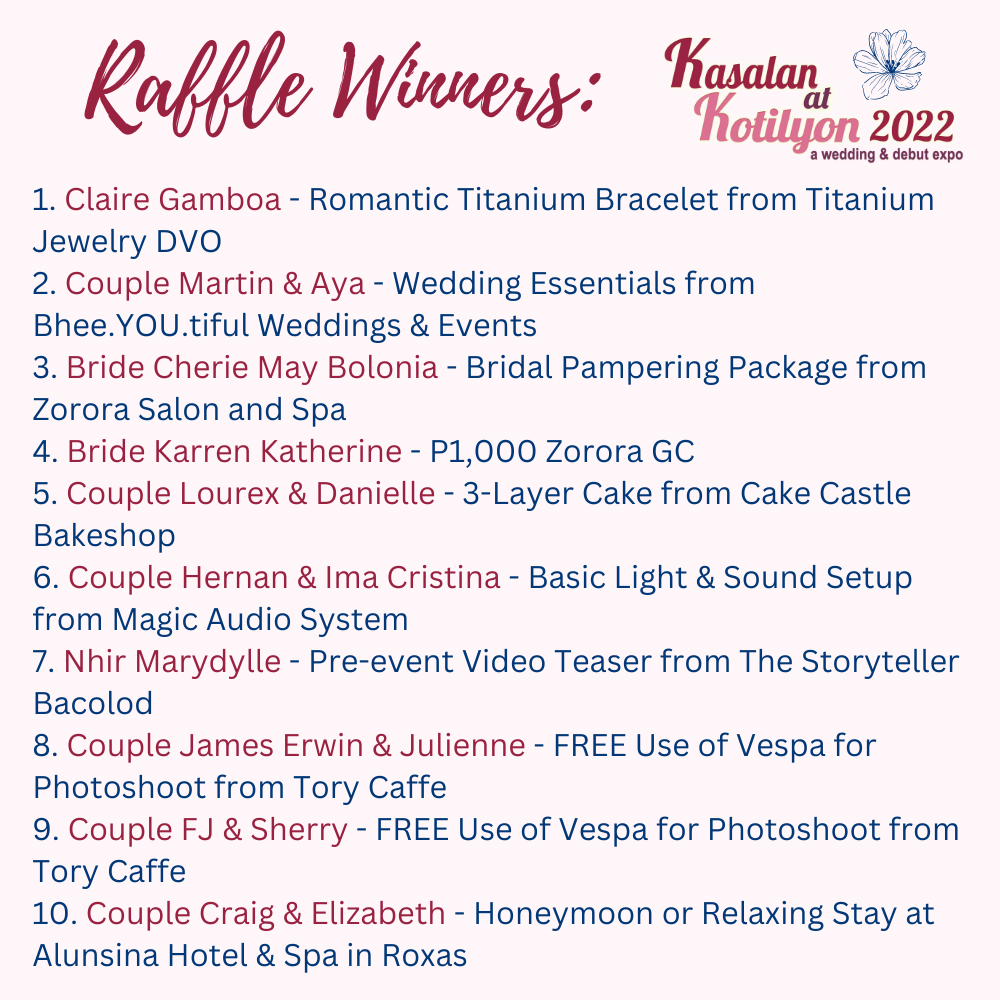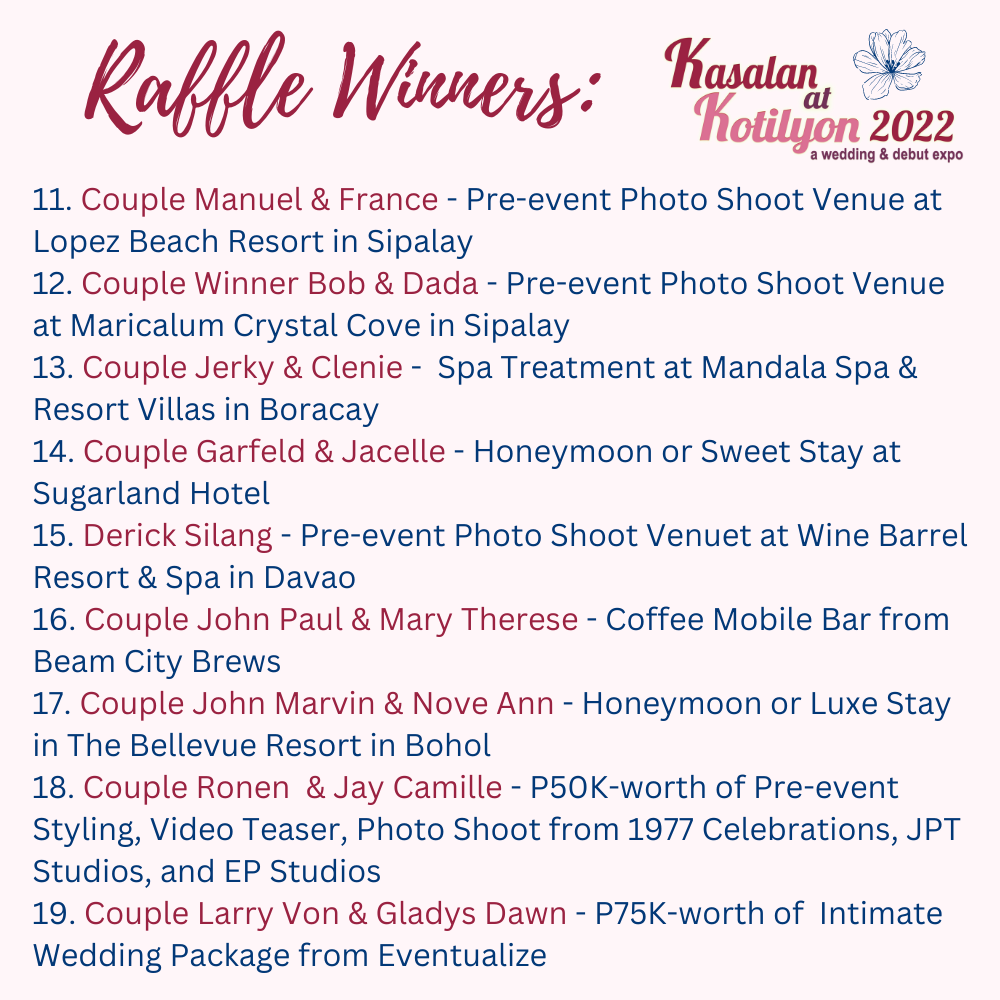 Below is the complete list of wedding & event suppliers who supported this year's #Kasalan2022 in Negros Wedding & Tourism Expo: 
BRIDAL GOWN & SUITS
Amarah Eliezer's Gowns & Suits
JMP Couture & Event Specialist
Luxesaint
Ysabelle's Bridal Shop
FOOD & BEVERAGE (Wedding Cakes, Caterers, Mobile Coffee & Cocktail Bars, Grazing Bars)
Antonia's Native Delicacies and Catering Services 
Beam City Brews 
Cake Castle Bakeshop
Chateau Al Fresco restobar
Delui Cafe and Grill
Living Wall BCD
Tory Caffe
CASA. beauty x lounge x cafe
FLORISTS & STYLISTS
18th.PH by Robert Blancaflor
Amelia Floral Stylist
ARTEH Events
MARKA UBRA Event Styling
Mr. E, The Event Guru 
Sweet 25 Flowers and Decors
INVITATIONS & FAVORS
Anbox by Andvitations
JA Fragrance 
Julio Scents by Event Guru
Outdoormaster Inc. 
TUGON 6100
DESTINATION WEDDINGS & RESORTS
Alunsina Hotel & Spa Roxas
Huni Sicogon 
Lopez Beach Resort Sipalay 
Mandala Spa & Resort Villas Boracay
Maricalum Crystal Cove Sipalay
The Bellevue Resort Bohol
HOTELS & RECEPTION VENUES
Acacia Hotel Bacolod
Bacolod Business Inn
L'Fisher Hotel Bacolod
NorthWest Inn
Planta Centro Bacolod
Resort Negrense
Seda Capitol Central
Sugarland Hotel
The Central Hall by Ayala Malls Capitol Central
WEDDING PLANNERS
1977 Celebrations
Bhee.YOU.tiful Weddings & Events
Eventualize -The Events Specialists
Larieve's Events Organizing Services
WEDDING PHOTOGRAPHERS
EP Studios
Meraki Weddings PH 
Prima Digital
WEDDING VIDEOGRAPHERS
JPT Studios by Jerual Tagle
The Storyteller Bacolod
Zeal Team
HOST & EVENT PERFORMERS
6 Strings Attached Acoustic Duo
Eliel Chadd: Youngest Event Musician
The Prelude
Valor Alba Event Host
OTHER WEDDING ESSENTIALS
Magic Audio System 
Prince Pro Audio Lights And Sounds 
Meycauayan Jewelries
Cradle Massage & Wellness Living
Zorora Salon and Spa
HOME AND LIVING
Choice Service Provider/BPI
Sky Cable Bacolod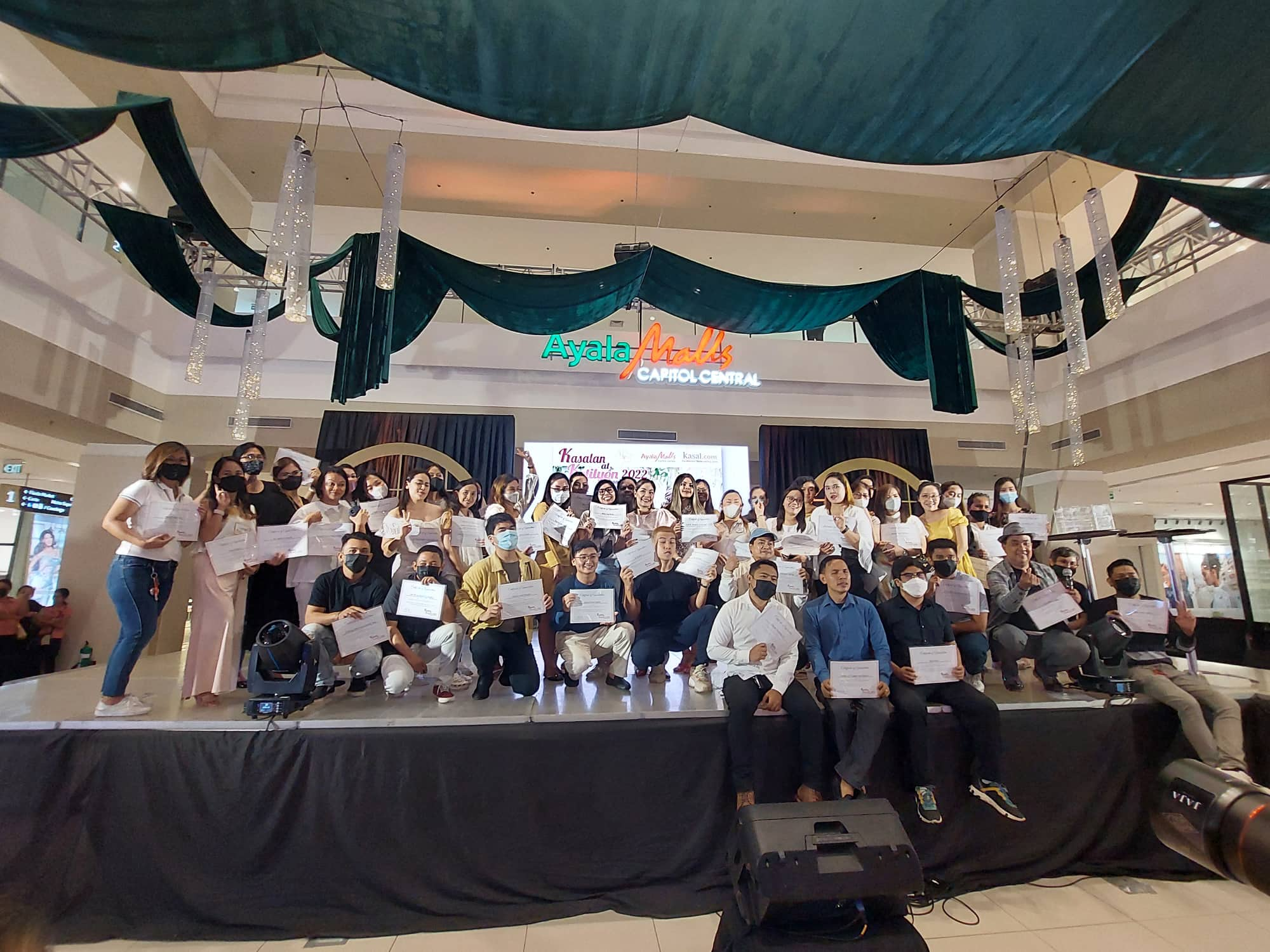 It was indeed a sweet comeback to the Sugarland Capital, Bacolod City, and we hope to come back next year for a much bigger, sweeter showcase of Negros and Bacolod's wedding & event tourism stakeholders!
. . . . . . . . . . . . . . . . . . . . . . . . . . . . . . . . . . . . . . . . . . . . . . . . . . . . . . . . . . . . . . . . . . . . . . . . 
Kasalang Filipino, a project of Kasal.com since 2003, is a nationwide wedding & tourism fair road show aimed at tying key Philippine cities with one goal of promoting the local wedding and tourism industry nationally and globally. Since 2018, we've extended the market to include debutants, as we see more and more families investing on beautiful, meaningful celebration.
Each event highlights the different customs and traditions of the region, promotes its local wedding & event products and services, and gives attending couples/debutants the chance to know the latest wedding & event trends.
Kasalan at Kotilyon 2022 Wedding & Debut Expo, now on its 16th year of serving various local wedding industries, is presented by Kasal.com, Ayala Malls Capitol Central,  Amarah Eliezer's Gowns & Suits and Ysabelle's Bridal Shop. 18TH.PH by Robert Blancaflor is the event's official event stylist partner. 
This  #Kasalan2022 Negros Wedding Expo is supported by Larieve's Events Organizing Services, Sugarland Hotel, EP Studios, 1977 Celebrations, Huni Sicogon, L'Fisher Hotel Bacolod, The Bellevue Resort Bohol, Mandala Spa and Resort Villas, LVL9 Studio, Magic Audio System, Sweet 25 Flowers & Decors, and Outdoormaster PH. 
The event's official media partners are BusinessMirror, SKY Bacolod, SunStar Bacolod News, FMR Bacolod 91.1 and When In Manila. 
For more information about #Kasalan2022 national wedding & debut fair roadshow, please call (02) 8982-1176, (0917) 160-0382​ or email [email protected]. 
Comments
comments