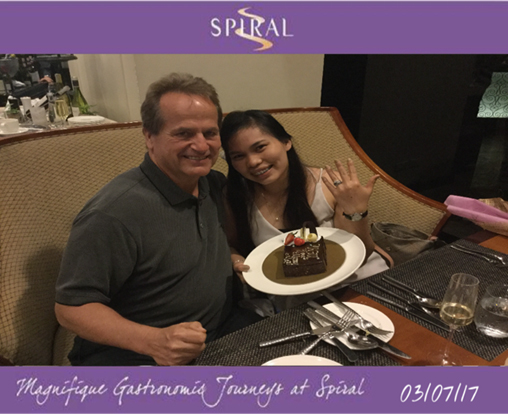 The best thing that has ever happened to me is Jim. He is the sweetest person I have ever known. God answered my prayers when Jim entered my life; I believe he is the man I have been waiting for.
I am a fan of fairytale stories. I like to read and watching movies how Princesses find their Prince. I dreamed of having my own Prince someday. I had faith one day, he would arrive and find me. My Prince arrived from a faraway land called the United States of America. He was also looking for his true love, and decided to search for love in the Philippines.  We met through a relationship agency, we have differences; age, language and culture but when we met we felt a strong connection to each other. We find our physical differences attractive to each other.  We share similar belief in God, family, values and food.
Jim had already visited me twice but this time he was going to meet my family in Davao. My sister asked if Jim and I would be godparents to my niece. Jim told me he wanted to ask my mother's permission to marry me. (My father was killed in an accident 10 years earlier). Jim had told me once he knew my Fiancé visa was approved he would propose to me, and as of this writing I am still awaiting for my fiancé visa to be approved. Jim met my family and got along great with them.  My mother gave her blessings to our relationship and told Jim she was OK with him marrying me.
We flew back to Manila and Jim told me he wanted to have a special late Valentine's Day dinner. Jim made a dinner reservation for Tuesday, March 7, 2017 at Spiral restaurant located in the Sofitel hotel where we were staying. I did not know Jim had already made secret plans with the hotel staff informing them he was going to propose marriage to me.
As we were getting ready for dinner, Jim asked me if I would wear a plumeria flower in my hair as it was his favorite fragrant flower. Ang sabi ko, "yes, sure". I felt weird by his request but decided to honor it because I was so happy to have a sweet and romantic boyfriend. Plumeria trees are on the grounds of the hotel and Jim brought back six flowers but only one was suitable to put in my hair. He looked at me and said "ahh… you're so cute! I love you…". I responeded "thank you honey, I love you too". We went downstairs to dine and Jim bought me a beautiful long stem red rose for our valentines' celebration dinner. I wasn't expecting that and I felt "kilig". We were enjoying a sumptuous buffet. He told me he alerted Daniel Joy, (we used to call her "Dan", a friend we met during our stay last october) the staff that we would be celebrating our mensiversary(our monthsaries), Christmas and valentines as we were not together on those days. He joked he hoped the staff would bring us a cake. Surprisingly, Dan brought us two glasses of champagne! (Informing her we don't drink alcohol). Instead she came back and brought another two glasses of sparkling grape juice.
The food was really great and I was full at wala ng space yung tummy ko for dessert (ang "takaw" ko kase…lol). Jim told me he had to use the restroom and it was then he told the staff he was ready to propose to me. He came back with some chocolate fondue marshmallows and I busied myself taking selfies with the flower. (He usually calls me a "selfie queen"). Suddenly a member of the staff (her name is Gladys) approached and asked if we would like our picture taken as a souvenir. I posed for the camera while another staff member came from behind … (I wondered what was going on)…and placed a cake on the table. I thought it was a valentine's cake but……..had "Will you marry me?" written on it. I was shocked, and surprised; I looked at Jim and he was already kneeling beside with the engagement ring out. I said "YES" and kissed Jim and put the ring on my finger. I held him tight for 10 minutes I did not want to let him go. He kept telling he loved me and everything was going to work out the way God's wants it to be. I wore the ring and hugged him tightly. I was so thankful and overwhelmed! I was totally surprised by his marriage proposal. It is the most unforgettable and happiest moment of my entire life; God is great!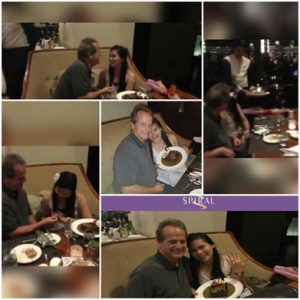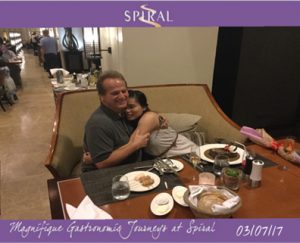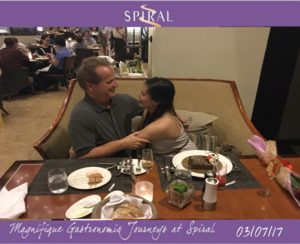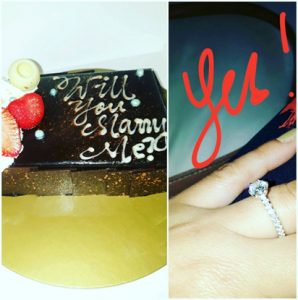 Sender: Nechiel Rosales
 Names of the engaged couple: James Phillip Murphy and Nechiel Rosales
Target Wedding Date: August 15, 2017(our anniversary)
When & Where the Proposal was held: Spiral – Sofitel Philippine Plaza Manila
Comments
comments