by Jonathan Dionisio | January 2009
Want to know how the local wedding industry performed last year and their expectations this year? Kasal.com gives you some of the insights from some of the industry's established suppliers.
A Glimpse of 2008
In general, 2008 was a good year for the local wedding industry. Bookings were relatively high for most wedding suppliers. Ms. Edna Del Rosario of Jardin de Miramar states that they had a good year since pre-nuptial photo shoot bookings increased by 300% compared to 2007. Ms. Farah Kharen A. Orosco of OA Sweets disclosed, "[it was a] very good business [year] since couples recognize that [it is] best to give edible products such as personalized chocolates"
On the other hand, Ms. Bing Pascual of Banquet Specialty Shoppe Inc., said, "contrary to the usual market and sales trend that we had for the past several years, in 2008, we had more local wedding inquiries and bookings than from our market abroad".
In 2008, some of Philippine's premier wedding suppliers were able to penetrate the global market and gain recognition from respected institutions. Banquet Specialty Shoppe Inc. had several Asia Pacific events. Ariel Javelosa Photography, Nice Print Photography and Smart Shot Studio were able to have bookings in United States and Canada. Jardin de Miramar was featured on international news agencies Associated Press and Reuters. Smart Shot Studio, headed by Mr. Lito Genilo, received numerous recognitions from the Wedding and Portrait Photographers International (WPPI) and its local counterpart, Wedding and Portrait Photographers of the Philippines (WPPP).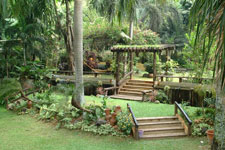 But for Ms. Marichu dela Cruz of Holland Tulips, 2008 was a bad year for flower companies. "Event stylists and florists concentrated more on adding thematic items, thereby, reducing the use of both local and imported flowers", Ms. dela Cruz said.
Onwards to 2009
For 2009, the local wedding industry, much like others worldwide is feeling the financial crunch. Compared to last year, Ms. del Rosario does not foresee a big jump in the 2009 market with couples deferring wedding plans due to economic downturn. Ms. Pascual reveals that soon to be wed couples' budget seem to also drastically decrease. Ms. Pascual adds that they opt not to be extravagant this time and just stick to basic wedding necessities. Some couples will not have much for upgrades and expensive set ups. Mr. Bill Calubaquib of The Dream Makers sees a slow growth for the industry. "A lot of brides will mostly consider cutting down expenses, as observed in the several bookings we already received for weddings commencing till late part of 2009", Mr. Calubaquib adds.
Despite this, the local wedding industry remains optimistic for 2009. For Ms. Tinio, she expects more couples to venture in destination weddings, since it has been gaining popularity since last year. Ms. Orosco acknowledges the help to the local wedding industry given by the government, through the Department of Tourism (DOT).
"The DOT [has] helped in marketing the local wedding industry to other countries by participating in bridal fairs", Ms. Orosco shares.
Whatever the economy has in store for the local wedding industry, this recession proof industry will remain and couples who are planning their wedding will be assured that local wedding suppliers will be able to help them, whether here or abroad, fulfill their dream wedding. The local industry promises to strive hard in finding ways to improve and upgrade their products services while making it more affordable for soon to be wed couples.
Comments
comments