by Jonathan Dionisio | January 2009
Most couples, like you, must have started searching the internet, buying wedding magazines, and attending bridal fairs in order to know what would be the new wedding trends for 2009. Finally, through extensive research and insights from some veterans of the wedding industry, Kasal.com gives you the 'in' thing for weddings this year.
Wedding Color Trends
Bridal couturiers Edward Teng and Bill Calubaquib of The Dream Maker shared that dark colors will be the trend for 2009. Mr. Teng specifically sees the colors lum, lavender, and fuchsia will highlight 2009 while Mr. Calubaquib forsees burgundy, emerald green and copper as some of the dominant colors this year. Mr. Calubaquib adds that some colors, like gold and silver, will still be present due to their association with luck.
Wedding Fashion Trends
Two of the popular bridal couturiers in the world, Claire Pettibone and Monique Lhuillier have released their 2009 bridal collection. Pettibone's works carry the theme, "Rock and Roll Bride". According to her website, this year's collection was "inspired by the ultimate cool girl who marries the lead singer of the band, this 'Rock and Roll Bride' collection recalls the '70s English rocker vibe of easily flowing silhouettes mixed with a hint of Goth and touch of mystery." Her wedding gowns are lacy, with delicate floral embroidery, metal grommets, nail heads, and crystals. Lhuillier, on the other hand, displayed a wide collection in modern romanticism. Her Spring 2009 and Fall 2009 collection is Grecian and Nature-inspired, intricately embellished, belted or laced and combined with an overflowing veil and trail.
Aside from Grecian, Nature and "Rock and Roll" inspired gowns; the use of color in wedding gown will be widely received. Lhuillier, in her recent collection, displayed a light green gown while Vera Wang showed off dark brown, grey, and lemon chiffon-colored gowns. Wedding gowns with black embellishment, which came out in 2007 is still in for 2009.
Wedding Floral and Event Styling Trends
With the advent of destination weddings, floral and event styling will be more personalized and thematic, this according to famous event stylist Mr. Henry Pascual. For garden, beach, and other outdoor weddings, locally grown flowers and plants will be widely used since they are less expensive and will give the design a local touch.
Wedding Invitation Trends
Monochromes and monogram designs will still be in this 2009. Wedding theme and motif will be more integrated in invitations, making them more unique and personalized. The 'green revolution', or the use or reusable and recyclable materials will also be on the rise. Consciousness about the environment and current economic downturn will encourage people to have simple 1 or 2-page invitation in envelops or avail of digital invitation offered over the Internet.
Wedding Make-up Trends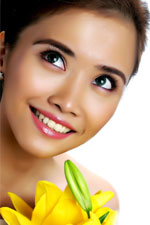 Local make-up artist Mrs. Jeng Sy – Flores revealed that airbrush make-up, a technique first introduced by celebrity stylist James Cooper more than ten (10) years ago, is re-emerging an becoming the trend for make-up in 2009. Airbrush make-up uses a compressed air to spray make-up particles over the face which gives out a flawless "no make-up look" for the bride. Re-touch is not necessary for airbrush make-up, unlike conventional make-up, thus avoiding cross contamination between clienteles and uneven application of make-up. Aside from Mrs. Flores, other local make up artists who practices airbrush make up include Madge Lejano, Lou Bunyi – Pareja and Val Villarin.
Wedding Photo Trends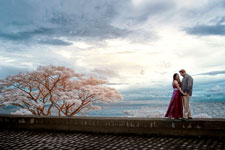 For 2009, digital infrared photography (IR) is beginning to emerge. This technique involves the use of an infrared filter that blocks off most or the entire visible light spectrum, thus, achieving a snow-like or highly detailed photographs. Currently, two local wedding photographers are using digital IR in their wedding photos. These are Mr. Lito Genilo of Smart Shot Studio and Danny Ignacio of Vignette Photography. Photojournalism will still be practiced among wedding photographers. Pre-nuptial photo shoots will also be more thematic and adventurous. The classic Sepia, Black and White, and the emerging Black and Silver photographs will continue to be part of wedding albums. For wedding albums, Mr. Genilo shares, "For 2009, more unique styles of photo albums and photo manipulation, rendering a new era of photography merging with digital technology will be a hit… The albums will be more complicated and customized to suit the client's palette."
Wedding Reception Trends
Destination wedding is increasingly becoming a trend. These venues are more flexible for thematic weddings. For economic purposes, some may resort in doing the ceremony and reception at the same venue although most couples would still prefer the ceremony held in churches. Garden and beach wedding will still be an alternative for ceremony and reception venues.
Given that more and more people are becoming health conscious, healthy meals will be preferred by couples. The use of partially hydrogenated fat or trans fatty acid (trans fat), according to Dr. Angel Respicio Jr., is out. Trans fat is made when vegetable oil like soybean oil undergoes a process called hydrogenation. This process infuses hydrogen into oil which prolong the shelf life of the oil and gives food a desirable taste and texture. According to the American Heart Association, eating food cooked using trans fat increases the risk of developing certain heart diseases, stroke and type 2 diabetes.
Alternatives like monounsaturated or polyunsaturated vegetable oils are now used by caterers to prepare food. A good balance of meat, fish and vegetables will be served more often during receptions. Food will also jive with the theme or motif of the wedding. For example, Mediterranean-inspired weddings will serve food that is Mediterranean in nature.
Special sections, like coffee stations, wine and cheese bars, chocolate fountains and candy buffet or confection bars are gaining popularity. These can serve as added entertainment during receptions.
Wedding Video Trends
In the later part of 2008, two letters started becoming a household name: HD, short for High Definition. HD, or HiDef uses and projects higher display resolution (1280×720 – 1440×1080 pixels) which makes videos clearer. It also uses a wider aspect ratio (16:9) which gives videos wider image areas. This in turn produces a high quality video and audio, much like in movie theaters.
Most wedding videographers are now venturing in HD-capable cameras and films and offering HiDef video packages. Since HD movies come in bigger file size, a need for a special CD arose. Enter Blu-ray disc, a special type of optical disc that has bigger capacity than regular DVDs and avoids birefringence or 'jumpy' videos. AVP (audio-video presentation) and On-site videos will be done using this format. One would need to use a Playstation 3 or a Blu-ray disc player to be able to play this type of movies.
In the end, whichever trend you intend to follow for your wedding, keep in mind that not all trends can and will suit your taste, need, and budget. You and your partner should agree on which trend you will follow to make your wedding extra special. Allot time in searching for suppliers who can deliver your unique wedding needs and for sure, you will enjoy every moment of your wedding. Happy planning!
. . . . . . . . . . . . . . . . . . . . . . . . . . . . . . . . . . . . . . . . . . . . . . . . . . . . . . . . . . . . . . . . . . . . . . . .
Kasal.com thanks the following sources for this article:
YourWeddingCompany.com 2009 Wedding Trends. Retrieved January 20, 2009 from
http://www.yourweddingcompany.com/index.php/action/createTrends/planId/1/
Chicka Minute, 24 Oras. GMA-7 (December 30, 2008 episode) 2009 fashion trends
http://www.gmanews.tv/video/34016/2009-fashion-trends
Delfi, Claire, 24 Oras. GMA-7 (January 6, 2009 episode) Big accessories, pastel colors chic in 2009 – stylists. Retrieved January 20, 2009 from
http://www.gmanews.tv/video/34361/Big-accessories-pastel-colors-chic-in-2009—stylists
Alikpala, Alex, abs-cbnNEWS.com. Food and fashion in 2009: Restos should satisfy palate and pocket, fashionistas will be wiser. Retrieved January 20, 2009 from
http://news.abs-cbn.com/lifestyle/01/04/09/food-and-fashion-2009-restos-should-satisfy-palate-and-pocket-fashionistas-will-be
My Personal Artist.com Wedding Color Inspiration Boards. Retrieved January 20, 2009 from
http://www.mypersonalartist.com/weddingcolors2.html
Couture.com Bridal Fashion Week: Monique Lhuillier Spring 2009. Retrieved January 20, 2009 from
http://content.coutorture.com/2389858
Fabsugar.com. Monique Lhuillier Spring 2009 Bridal Collection. Retrieved January 20, 2009 from
http://www.fabsugar.com/1550032
In style Weddings. Runway Report 2009. Retrieved January 20, 2009 from
http://www.instyleweddings.com/weddings/cp/general/index/0,,20194936,00.html
Valter, Veronica, Millionlooks.com. Wedding dress Fall 2009 trends. Retrieved January 20, 2009 from
http://www.millionlooks.com/outfits/wedding-dress-fall-2009-trends/
Edytha Szysz Photography. Trends of 2009 – Wedding Dresses. Retrieved January 20, 2009 from
http://www.edytaszyszlo.com/blog/2008/10/14/trends-of-2009-wedding-dresses/
Top Trends for Wedding Flowers in 2009. Retrieved January 20, 2009 from
http://www.brendasweddingblog.com/blogs/2009/1/8/top-trends-for-wedding-flowers-in-2009.html
MyGatsby.com. Top 10 Wedding Invitation Trends for 2009. Retrieved January 20, 2009 from
http://www.mygatsby.com/invitations/invitation_trends/top_10_2009.jsp
Crystal Print, Celebrations.co.za. Wedding Invitation Trends for 2009. Retrieved January 20, 2009 from
http://www.celebration.co.za/wedding-articles/articles/87/1/Wedding-Invitation-Trends-for-2009/Page1.html
Malaya.com. Fresh looks from airbrush makeup. Retrieved January 20, 2009 from
http://www.malaya.com.ph/jan18/livi1.htm
Bautista, Jaye C., Manila Bulletin. If a picture paints a thousand words, then why can't I airbrush paint you?. Retrieved January 20, 2009 from
http://www.mb.com.ph/issues/2008/10/06/TECH20081006136876.html (part 1)
http://www.mb.com.ph/issues/2008/10/06/TECH20081006137237.html (part 2)
Wrotniak, Andrzej. Infrared Photography with a Digital Camera. Retrieved January 20, 2009 from
http://www.wrotniak.net/photo/infrared/
Wikipedia.org. Infrared photography. Retrieved January 20, 2009 from
http://en.wikipedia.org/wiki/Infrared_photography
Rørslett, Bjørn, Nature Photographer.com All You Ever Wanted to Know About Digital UV and IR Photography, But Could Not Afford to Ask. Retrieved January 20, 2009 from
http://www.naturfotograf.com/UV_IR_rev00.html
Alano, Ching M. (Consumerline) The Philippine Star. Food trendspotting 2009. Retrieved January 20, 2009 from
http://www.philstar.com/Article.aspx?ArticleId=433071&publicationSubCategoryId=80
Plaza, Gerry, Philippine Daily Inquirer. Blue-ray: better than VCD and DVD. Retrieved January 20, 2009 from
http://showbizandstyle.inquirer.net/entertainment/entertainment/view/20081208-176672/Blue-ray-better-than-VCD-and-DVD
Wilson, Tracy V. How Stuff Works. How HDTV Works. Retrieved January 20, 2009 from
http://electronics.howstuffworks.com/hdtv.htm
Watson, Stephanie, How Stuff Works. How Blu-ray Discs Work. Retrieved January 20, 2009 from
http://electronics.howstuffworks.com/blu-ray.htm
Comments
comments