Francis Stephen Aguilar and Cristina Tanpinco
By Diane Dominique Ting | February 2014
There is a lot more to Bacolod than just the Masskara Festival and yummy Chicken Inasal. The city is also known to have some of the friendliest people in the country, thus its nickname "The City of Smiles". It then comes as no surprise why couples love getting married in a city like Bacolod. With such a happy event, you would want every face you turn to have all smiles for you.
Eleven Years in the Making
Francis and Cristina had the exact same sentiments in mind which is why they decided to have their wedding in Bacolod. But before wedding bells started to ring, Francis and Cristina's love story started 11 years back. The two met through a common friend and started a romantic relationship from there. While Cristina saw Francis to be a kind and nice man, Francis saw Cristina to be a strong and independent woman. Sparks started to fly between the two and before they knew it, they were engaged to be married.
Wedding Details
While all other wedding details were up for discussion, there was one thing certain that both the bride and groom wanted – a wedding in Bacolod. With the city's impressive heritage and culture along with the warmth of its friendly people, Bacolod offers an enchanting venue to host a dreamy wedding. The couple had about 6 months to prepare for the wedding with their planners, Indang and Miriam wedding planners.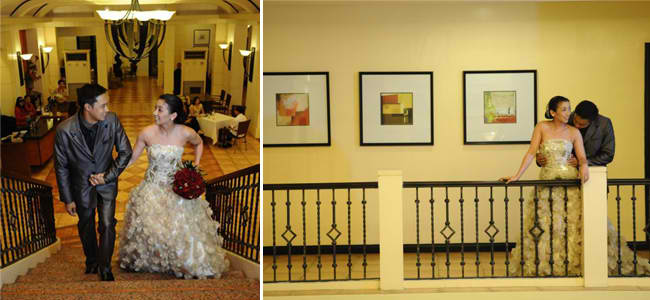 Cristina had imagined her wedding to be as classic as it can be which is why she chose three solid colors for the wedding's motif – red, black and gold. They also happen to be the bride's favorite colors as well. With the help of event stylist Cecil and flowers provided by Rodriguez Flowers, Francis and Cristina were able to pull of the classic motif with big red roses, long black entourage gowns and gold adornments found all over the wedding venue.
With the wedding motif set, the couple knew that details of the wedding needed to follow. Both the bride and groom were extremely hands-on in the planning process. In fact, souvenirs given out were personally bought by the bride herself along with wine, pens and personalized stationary to give as gifts to their wedding sponsors. But if there is one thing that made Francis and Cristina's wedding event memorable, it would have definitely been the venue and the food.
A Wedding in Planta Centro Bacolod
Francis and Cristina knew early on that they wanted a Bacolod wedding with Planta Centro Bacolod Hotel and Residences being the obvious choice for the reception venue. Francis and Cristina were delighted to have plenty of backdrop choices for their wedding portraits from the massive façade of the hotel to its grand staircase. Planta Centro Bacolod's main ballroom can accommodated 300-350 guests which was perfect for the couple's wedding guest list. With high ceilings and sophisticated designs, Planta Centro looked even better paired with the couple's romantic event styling.

A solemn ceremony was held at the Baranggay Birhen Chapel at the nearby Mandalagan area. The food was also a hit among most of the couple's guests especially the lengua with vino rojo, roast beef, fillet mignon and roasted garlic and anchovy pasta. The dessert bar was also a pleasant surprise as guests swarmed over the tarts, truffles, macarons and the chocolate fountain.
But what made Planta Centro Bacolod the best choice for their wedding venue was that the hotel encompassed everything exceptional Bacolod had to offer – a grandeur venue, delectable food and pleasant hospitality from the professional banquet staff. From a couple who loves Bacolod, Bacolod surely did a good job at giving love back to the couple.
Comments
comments