Russel Tamayo and Ma. Lourdes Divinagracia
By Danielle Sebastian | June 2013
Russel Tamayo and Ma. Lourdes "Mai" Divinagracia were literally an ocean when they planned their wedding. But with love and perseverance, the distance never became a hindrance for a dream Bacolod wedding to come true. At the Sacred Heart Shrine and at Planta Centro Bacolod Hotel and Residences, their loved ones bore witness to the beginning of a new chapter in their lives.
Love Story
Mai and Russel crossed each other's paths when they were still dreaming of becoming certified public accountants. Both of them did not know that sitting in the same review class several times a week would change their lives forever. As Mai recalls, "During those days I didn't realize that Russel was the one. Only when we were already in a relationship that I came to know how wonderful he is. One day at a time, I got to know him more. He never fails to impress me everyday."
Eventually, Mai and Russel had to physically part for their careers. Mai went to Singapore while Russel worked in Aklan. But this was not the end of their relationship as last June 2012, Russel went to Singapore and proposed. As Mai shared, "I was so shocked that without any hesitation I just said yes!"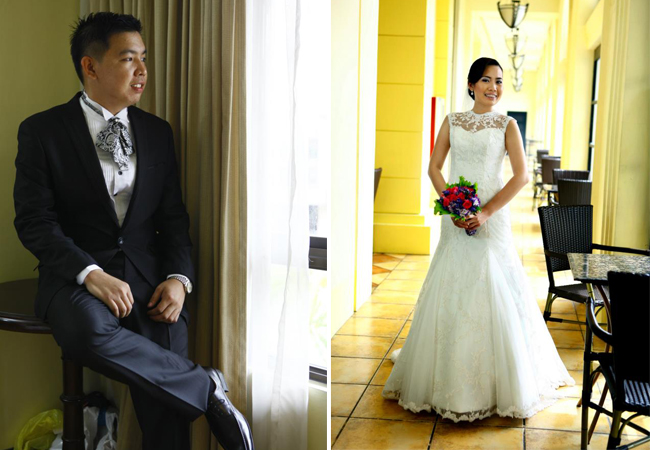 Wedding Planning 
Of course saying yes to a marriage proposal was only the beginning. Planning the details for a Bacolod wedding was not a piece of cake, especially when Mai and Russel were literally oceans apart.
"Since I am based in Singapore and my boyfriend was in Aklan and the wedding was held in Bacolod, all I did was check on the internet who the reliable wedding suppliers around Bacolod are and my sister would go and visit every shop and check out for their pricing including the food tasting."
For the couple, the greatest challenge was preparing the guest list especially when they were working with a tight budget. The wedding was for the closest family and friends.
Philippine online wedding resources like Kasal.com proved to be very helpful for Mai and Russel. They were able to scout for wedding suppliers by location and they could easily find the contact details, available promos of wedding suppliers in their area. They first set a budget and then worked based on what they set.
Mai's advice for brides who are planning their wedding from miles away: Don't be too excited when suppliers offer you their products. Make sure that it is practical and the supplier is reliable – no bride wants to be stressed on her big day so make sure that they commit to whatever you have agreed.
A Purple and Silver Wedding
Mai chose the wedding colors purple and silver. It was her favorite color and it gave an air of royclass='img-responsive' width=100% alty to the wedding affair.
The wedding gown was beautifully executed by Ysabelle's Bridal, the well-known wedding gown supplier in Bacolod City. Ms Lynette Villanueva allowed Mai to design her own wedding gown – something elegant but comfortable as well. Mai and Russel liked her so much that she also created Russel's barong and the whole male and female entourage attires.
For their wedding photo and video, the couple chose Ysabelle's Digital – the husband company of Ysabelle's Bridal owned by Mr Roy Villanueva. Mai and Russel were very happy that the husband and wife tandem Roy and Lynette were very accommodating and that all their needs were taken care of.
For their wedding reception, Mai and Russel chose Planta Centro Bacolod Hotel and Residences. They were very happy about the price and the services especially the food. The add-ons to their wedding package such as the bridal car, bridal suite and tokens made their wedding planning smoother.

Last April 2013, Mai and Russel said their "I dos" in front of God and the people they held dearly in their hearts. They have proven that distance can always be conquered by love.
Wedding Suppliers
Photo:
Gown, Entourage Attire:
Groom's Wear:
Reception :

Comments
comments