Marco Barinos and Angelica de Asis
By Danielle Sebastian | 03 September 2011
For newlyweds Angelica De Asis and Marco Barinos, black is not simply a color. Black brings back memories of their unforgettable wedding and their true dedication to the meaning of family. Inspired by the movie Godfather and the 1920s theme, the De Asis-Barinos nuptial was certainly a wedding affair to remember forever.
Italian Mafia-Inspired
Angelica and Marco has always been a fan of movies and personalities set in the 1920s where honour, pride and family ties governed all decisions. Al Capone, John Dillinger and other infamous personalities of those times had lifestyles the couple find interesting.
Even though they lived like kings in their own worlds, they never forgot the value of family and honour. These are the values that Angelica and Marco would want to have with the families they have and the family that they will be starting after marriage.
Angelica can especially relate to the personalities in the Godfather as she fell in love with a guy who was rough and tough on the outside but had a soft spot for her and their families. Marco was not your typical sweep-you-off-your-feet prince charming but to Angelica, he was an extraordinarily sweet gentleman. Marco's personality made Angelica weak on her knees especially when he surprisingly proposed to her over an overseas phone call, courageously crying.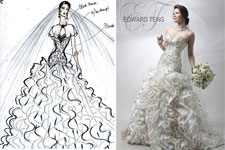 Just as she fell in love with the tough characters in the Godfather, she also fell in love with Marco.
Black Vintage Wedding Theme
To make their 1920s Italian Mafia theme become a wedding reality, known bridal fashion designer Edward Teng designed vintage-inspired gowns and suits for the bride and groom as well as the wedding entourage. Angelica wore a white serpentine cut wedding gown, with intricate details on the bodice, layered wedding train, and a bolero. Marco, on the other hand, wore an all white suit. Her black wedding accessories and the design of his suit reflected the 1920s theme of the wedding. Even the wedding entourage and all the guests wore black making the couple in white stood out.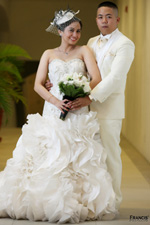 With the right suppliers for your wedding, Angelica and Marco proved that your dream wedding theme can be turned into a beautiful reality. For the couple, this was to see and feel the 1920s not just on screen but on their wedding day.
Wedding Tips
Angelica and Marco were truly happy with their wedding. Just as they loved how everything turned out for them, they also wished for others to feel the same. Problems would most definitely surface to cause you and your partner some serious stress.
From one bride to another, Angelica offers some tips and insights on pre-wedding ups and downs.
Two heads are better than one. The upside to all problems is that there's two of you to solve them. See how good you and your partner are in working together. Prove how strong you are as a team and learn to love each other more.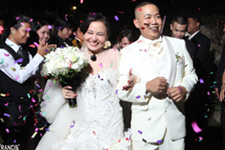 It is about you and your partner. The week before the wedding is especially stressful. Angelica reminds all soon-to-wed couples to stay calm, relax and remember that the wedding is not the most important thing in the world but the partner whom you love. So no need to worry as long as he/she is there by your side.
The perfect wedding is with family. Couples stressing about all the details of the wedding should remember that the dream wedding will be perfect and complete when your partner, family and friends are there to celebrate with you.
Angelica and Marco certainly had the time of their life on their wedding day. They may love the rough and tough Italian Mafia but they surely have a soft spot for family and each other.
Wedding Suppliers
Bridal Hair & Makeup Services
The Art of Make-up by Joel Miguel
Wedding Attire: Bridal Gown
Edward Teng Couture
Wedding Cakes
Pasteleria de Ciudad
Wedding Entertainment
The Sentimental Groove 
Wedding Favors, Souvenirs
Q Copies and Images
Wedding Florists & Stylists
Fads (Michael Ruiz)
Wedding Invitations
DIY (Newspaper), with the help of Tito Gab and Tita Bambi Custodio
Wedding Lights & Sounds
Baguio Reinforcement
Wedding Photographer
Francis Portraits
Wedding Videographer
Francis Portraits
Wedding Planners
Loi Villarama Events Management
Wedding Rings
Jong's Jewellry
Wedding Reception
Thunder Bird Resort, Poro Point La Union
Visit Kasal.com Supplier Directory for the contact details of these wedding suppliers.
Comments
comments