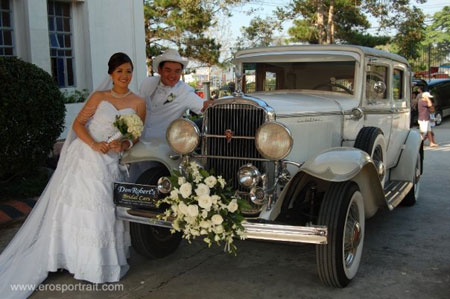 Robert Bautista and Shellita Chloe Bayot
By Jonathan Dionisio | April – June 2010
Every couple wants their wedding to be memorable, not just for themselves but for their family and guests as well. Some spend lavishly on wedding gowns, others come up with one-of-a-kind wedding theme, or prepare the most sumptuous catering for their wedding reception. In the case of Robert Bautista and Shellita Chloe Bayot, they made sure everyone will remember the bridal cars that brought them to their church to exchange their 'I dos'….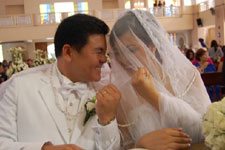 Before the I Dos
Robert and Chloe met through Robert's sister, Jen, who was Chloe's block mate in college. They were first introduced to one another in March 21, 2002 when Jen was taping for Star for A Night, a singing competition program in IBC-13, and they were there to watch and support her. As soon as Chloe and Robert laid their eyes on one another, it was love at first sight. "Call it instant attraction", said Robert. Twenty four hours after, they were already a couple. The two explained, "We really didn't believe in long courtship. It's fun to discover a lot of things about each other, and yet, we're already a couple".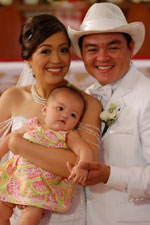 Six years after, Robert and Chloe decided to tie the knot in a civil wedding ceremony on March 22, 2008. They were immediately blessed with a beautiful baby girl. To celebrate their seventh anniversary, the two decided to face the Lord and take each other's hand in marriage. "There was no formal proposal because we always knew we'd end up with each other", revealed Robert. "We always dreamed of getting married eventually when the right time comes. And that time came when we've learned to set aside our personal issues and we've outgrown our childish behaviours. We were ready to start a family", he added.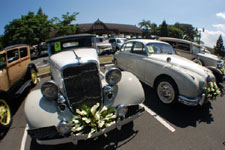 Planning the Wedding
From the time they started planning their wedding, one thing was certain, Robert and Chloe aimed to set the record for the most number of bridal cars (to be more specific, vintage bridal cars) used in a wedding here in the Philippines. As the man behind Don Robert's Bridal Car, one of the known wedding car providers in Tagaytay and Luzon area, he planned to use all of his eighteen bridal cars during his wedding. To make these vintage bridal cars complement their wedding motif, the two decided to have an Old Hollywood-themed wedding.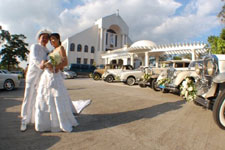 With this wedding plan in mind, they started looking for the perfect wedding ceremony and reception venue that would have ample parking space for all their bridal cars. As a wedding supplier himself, it was not hard for him and Chloe to find and book their wedding suppliers for their big day. According to Robert, he has experienced working with these wedding suppliers and trusts them that they will be able to make their dream wedding come true.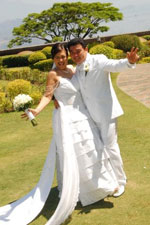 Setting the Wedding Record
On March 22, 2009, local news programs showed the convoy of bridal cars travelling from Taal Vista Hotel towards Our Lady of Lourdes Church in Tagaytay City. The dashing groom rode in his 1947 Jaguar Mark 5 while his lovely bride used the 1929 Cadillac as her bridal car. Nine more vintage cars were used by their principal wedding sponsors; one Ultra Stretched Lincoln Limousine, six Mercedes Benz and two BMW's. Each of their wedding sponsors was assigned to one car. Their principal sponsors include Senator Ramon 'Bong' Revilla, Jr. and wife Lani Mercado as well as movie director Laurenti Dyogi. Senator Revilla and his wife rode on a 1932 Studebaker while Dyogi came in the Classic 1953 "Adenauer".
To stay with their Old Hollywood-wedding theme, Robert and Chloe had a unique bridal procession. Instead of the wedding entourage lining up outside the church, the couple and the sponsors alighted from their designated vintage cars one by one to walk down the aisle while being photographed by their wedding photographers…a truly unforgettable and glamorous wedding experience not just for the couple but also for their beloved family and guests.
Wedding Suppliers
Wedding Hair & Makeup Services
Karen Marek-Atendido
Wedding Catering
Town's Delight The Caterer
Wedding Ceremony Venue: Church
Our Lady of Lourdes Church Tagaytay
Wedding Design & Couture
Ramon Santiago
Wedding Invitations
Adworks Graphic Design
Wedding Photo & Video: Photography
Eros Photography
Wedding Photo & Video: Videography
Director's Cut
Wedding Preparation Venue
Taal Vista Hotel
Wedding Reception: class='img-responsive' alternative Venue
Ponderosa Leisure Farms Tagaytay
Wedding Souvenir
Fotoloco (Photo Booth)
Wedding Transportation
Don Robert's Bridal Cars
Wedding Planning
Loi Villarama
Visit Kasal.com Supplier Directory for the contact details of these wedding suppliers.
Comments
comments