Kim Atienza and Almi Ilagan
by Danielle Sebastian | January 2013
For some people who do not believe in true love, Almi Ilagan and Kim Atienza will prove you wrong. From a high school crush, to young love and then to a long term relationship, Almi and Kim were indeed a match made in heaven. Last November 2012, they sealed the deal in the eyes of God and their loved ones at the San Guillermo Parish and Club Balai Isabel in Batangas.
The Love Story
With a relationship that bs 15 years, a few paragraphs will not really be enough to capture Almi and Kim's love story. The two of them met way back in high school through a common friend. Even if they were in different schools that did not deter Kim to pursue Almi. Twice, Almi rejected Kim's proposal because she thought they were too young to be romantically involved.
Come freshman year, Kim was still consistently pursuing Almi. Realizing that it was maybe the right time, Almi finally said "yes". And to cut the story short, it was a beginning of a first love that truly will never die.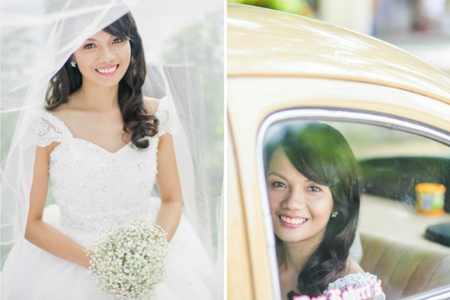 The Proposal
Being the romantic guy that he was, Kim of course cooked up a romantic proposal at the time when they were of the right age and status in life. On their 10th anniversary, Kim surprised Almi with a wedding ring under the full moon. As Almi recalled, "It was a full moon and he tricked me into having my picture taken at the veranda of the building where I live. After taking a picture of me, he asked me to also take a picture of him. When I turned to aim the camera at him, he was already down on one knee with a ring. It was an overwhelming magical moment."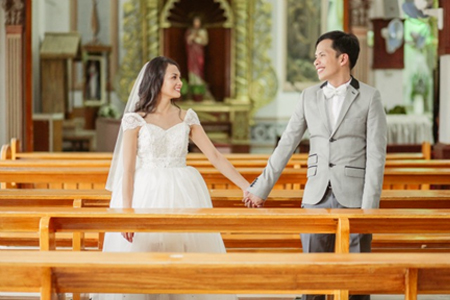 DIY Vintage Beach Wedding
Kim and Almi decided to go for a Vintage Beach wedding to show their appreciation for things getting old beautifully (like their now more than 11-year-old relationship) and the value of keeping things until they are old (like their love for each other). They also chose a beach theme for their wedding reception even if their wedding was held by a lake. Their wedding colors were muted shades of sea foam blue, mint green, and salmon pink.
To make the wedding very Almi and Kim, the couple were a hundred percent hands on with their Batangas wedding preparations . Their DIY wedding projects feature lace, burlap, jute strings, and vintage artworks. They made paper sailboats as place cards. They had two wooden boat carvings that served as the drinks station during the cocktail hour. Stringed seashells were used to make boutonnieres and wrist corsages for the principal sponsors, headpieces for the bride, maid of honor and flower girls, and cord for the ceremony. The flower girls carried pink tin pails with white flowers instead of the usual flower baskets; while the ring and coin bearers carried heart-shaped boxes in vintage design instead of the usual pillows. They also used free printable wedding invitation designsthat were available online. Even the sparkler holders were customized.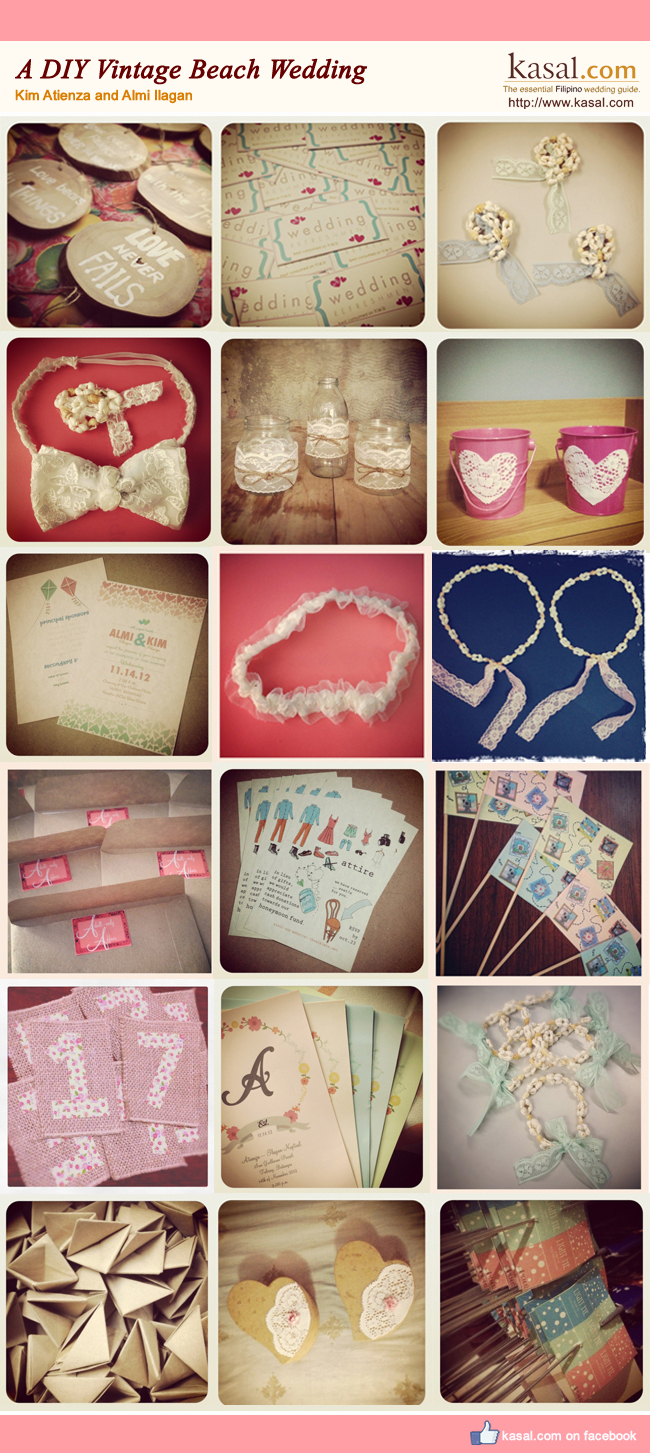 But Kim and Almi could not do it all on their own so they sought the help of well-picked wedding suppliers. They did a lot of research (websites, forms, wedding expos and personal interviews) before they finally decided on each. The two main factors they considered were the quality of their previous work and of course, their Batangas destination wedding budget.
One of the suppliers that truly stood out for Almi and Kim was Christian Andaya Wedding Films. As Almi and Kim put it, "(1) He has skills and talent. We watched his videos online before arranging a meeting with him and we were impressed by the shots and editing. And when finally they showed our own Same Day Edit during our reception, we know we really made the right choice. You have to watch it! (2) He is prompt. For our very first meeting, he was already at our meeting place when we arrived. He and his team also arrived on time during the wedding. For us, promptness is a sign of professionalism and commitment. (3) We have chemistry. After watching his works, our next concern was if we would get along well. When we met Christian, Kim and I felt at ease with him right away and we just knew that we have found our videographer. During the wedding, Christian's team also had with them a light presence. They managed to be fun and cool and still come up with awesome shots and a lovely Same Day Edit for us. Isn't it obvious how much we love them?"
Watch their Wedding Video by Christian Andaya Wedding Films:
They were really also very grateful to their wedding suppliers like V-Gem Jewelry, who provided them with their thumb-printed wedding rings and Don Roberts Bridal Cars, who provided them with a Beetle for their bridal transport.

The beautiful DIY Vintage Beach Wedding of Almi and Kim is truly an inspiring one. For these newlyweds, first love will indeed never die but continue to grow just as it was destined to be.
Wedding Suppliers
Church:
San Guillermo Parish
Wedding Rings:
V-Gem Jewelry 
Video Coverage:
Christian Andaya Wedding Films
Reception Venue and Catering Services:
Club Balai Isabel
Photo coverage:
Foreveryday Photography
Hair and Makeup:
Ian Lipa Hair and Makeup Artistry
Bridal Car:
Don Robert's Bridal Cars
Visit Kasal.com Supplier Directory for the contact details of these suppliers.
Comments
comments