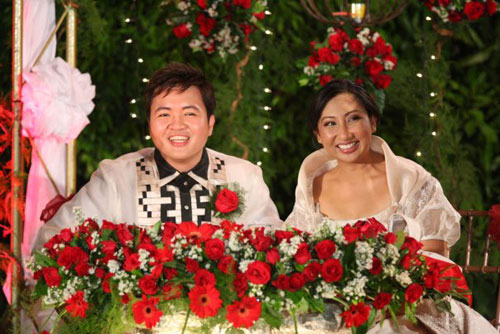 Jason Domantay and Anne Candy Maningding
by Jonathan Dionisio | July – September 2009
Planning a wedding takes a lot of the couple's time and effort. A couple has to find ample time to meet with suppliers and arrange all the necessary requirements for their special day. ABS-CBN's Studio 23 Executive Producer and TV Reporter Jason Domantay and his wife, Anne Candy Maningding-Domantay, were no exemption to this. What's more, they chose to go out of their way to make their wedding what they dream it should be.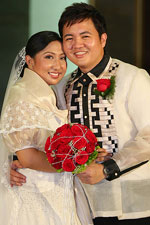 Jason and Candy were classmates in college at the University of Santo Tomas. Their characteristics are very opposite to one another; he is idealist, she's realistic. Because of this, the two were always in an argument. By constantly spending time with one another, they eventually discovered that they had similar passions – books, music, and movies. From going out with their circle of friends, to having lunch together during Saturdays, Jason and Candy drew closer to each other. And on June 10, 2003, the former enemies became a couple.
The 'Big' Christmas Gift
Last December 2007, after four wonderful years of being a couple, Jason is ready to ask the big question. He booked a room in a hotel in Makati to serve as his proposal venue. When he was done decorating the room, he met with Candy at a restaurant to have dinner. Then, Jason told Candy that they would need to pick up his 'big' Christmas gift for her somewhere. Candy agreed and the couple walked towards the hotel. When Jason opened the door, Candy saw the room filled with flowers, balloons, and candles. In the bed was an antique jewelry box. He got the box, showed her the engagement ring, and popped the question. Both were in tears when Candy gave her answer to Jason's question – a resounding 'yes'.
The two have always dreamed to have an old Manila Filipiniana-themed wedding. After the wedding day is set, they started searching for wedding suppliers who can help them bring their dream wedding theme to life. It helped that because Jason's work in the media, he has already worked with several wedding suppliers. However, the two still met some hurdles along the way.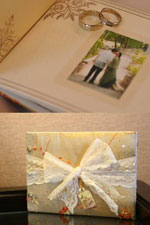 The Sacrifices
It was three months before their wedding day, yet, they are unable to find an invitation supplier who can execute the concept Candy has in mind. Thus, Candy created their invitations on her own. Candy painstakingly created each of the 80 invitations sent by the couple. Their 16-page storybook-type invitation contained their profile, their love story, and their wedding details.
To be able to do the invitations, purchase their wedding souvenirs, and to look after the preparations for the wedding, Candy decided to resign from her job in the bank two months before their wedding. Jason shares, "We talked about it a lot on who will focus more on the wedding and my wife was the one who volunteered. She was great and she worked very well with everyone and I am so privileged that I have a bride like that. But all in all, we worked as a team. I also made sure that I can allot as much time as I can for consultations with suppliers." Even with the nature of his work, Jason was able to take leave from work two weeks before their wedding day to assist Candy with their preparation.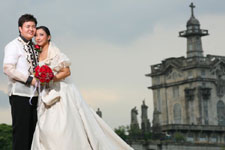 The Big Day
In honor of the day they first met and the day they became a couple, they chose June 10, 2008 as their wedding date and Santisimo Rosario Church in University of Santo Tomas as their ceremony venue. In line with their wedding themes, Jason and Candy gave indigenous products as giveaways to their sponsors and guests. Male principal sponsors received coco vinos (coconut wine), while female principal sponsors were handed Kapeng Barako (Batangas coffee) and chocolate balls or tableas from Bicol. Male members of the entourage were given lambanog (coconut vodka) while female members took home organic soaps and shampoos. Jason and Candy's guests went home with chocolate tableas.
The newlywed spent their honeymoon at Dos Palmas in Palawan. As expected, their honeymoon was cut short when Jason received a call from ABS-CBN asking him to return to work. Meanwhile, Mrs. Domantay was able to find a job at a global financial service firm after their honeymoon.
The Decision
Looking back, Jason and Candy did not regret the sacrifices they made to prepare for their dream wedding. Seeing the fruits of their labor; how the guests admired the elements of their wedding, how happy their family and friends were, and how they made their dream wedding come true, it was all worth it.
Wedding Suppliers
Hair and Make-up:
Andy Villanueva (Bride and mothers)
Metro Loft Salon (Entourage)
Cakes: Swell Sweets
Catering: Swan Catering
Ceremony: Santisimo Rosario Church
Design & Couture: Bong Lazo
Flowers & Event Styling:
Caraga Flower Shop
EV Events Planner and Swan Catering
Gift Registry: Landmark
Jewelry: My Diamond (engagement)
Cley Malapit (wedding bands)
Lights & Sounds: Altitudes
Music & Entertainment:
Sinag ng Lahi Dance Troupe
Musician: Coro de San Gabriel
Host: Sol Aragonez, Daryl Villagomez, Egay Victorio
Photo & Video:
Kenneth Uy Photography
Reception: Puerto Real Gardens
Transportation: Swan Catering
Wedding Planning: EV Event Planner of Egay Victorio
Visit Kasal.com Supplier Directory for the contact details of these suppliers.
Comments
comments