Michael Billanes and Thea Sarmiento
by Danielle Sebastian | January 2013
Michael Billanes and Thea Sarmiento had only four months to prepare for a wedding with more than a hundred guests. And even though they've had their fair share of wedding planning mishaps, they made it through and celebrated the most memorable wedding at the Iglesia ni Cristo and Sulo Riviera Hotel in Quezon City.
The Love Story
Michael and Thea's relationship started as a barkada in their office five years ago. From there, they became good friends and trusted each other with more serious conversations like past relationships and personal problems. And even if Thea moved to another company, they kept in touch and became best friends.
The couple only realized that they were in love when Michael had to help his father's business in Bacolod. The time and distance apart made them feel that they needed each other and their romantic relationship officially started.
For soul mates like Michael and Thea, no formal wedding proposal was needed. The decision to get married was a mutual one. When Michael had to study abroad, they decided that his vacation in the Philippines was the perfect time to finally get married.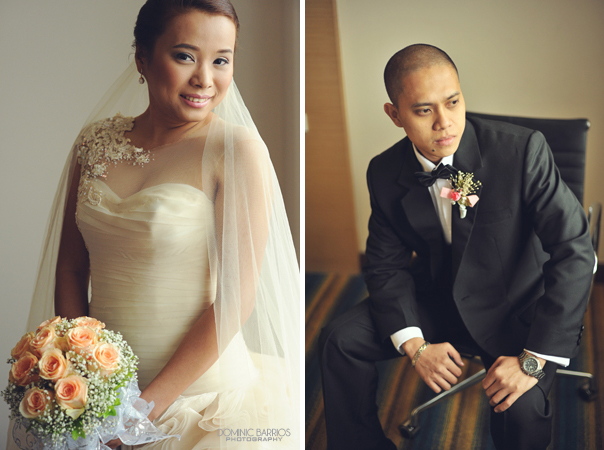 Four Months of Wedding Planning 
Michael's studies abroad posed a serious challenge to their wedding planning in the Philippines. Thea researched and met with wedding suppliers on her own while discussing every detail to Michael through daily phone calls and emails. They were able to book Philippine wedding suppliers from four months, to a month, to two weeks and even a day before the wedding! With the help of friends and family, Michael and Thea were able to successfully organize a peach and silver wedding in just four months.
Michael and Thea were especially thankful to Dominic Barrios Photography for documenting their once in a lifetime wedding, even if they were not able to meet ahead. Michael found Dominic Barrios' website and Thea immediately fell in love with his natural and unique shots. They were not able to set up a meeting because Dominic had to fly to Italy for a shoot. But they trusted the man's work and to their relief, their decision was a right one. As Thea puts it, "Dominic is kind; he comforted us even if it's just a few days before the wedding. We were comfortable with him instantly, and we knew our good feeling about him was right. He did very well. Our friends and office mates can't stop talking about how beautiful the wedding pictures are. Michael and I are very happy. We cannot wait for the post nuptial with Dominic hopefully we would do it abroad."
For their videography, Michael and Thea were already decided to get the cheapest one they could find. But eventually, they changed their mind when they saw the work of Ghe Consolacion Event Film Maker. Ghe Consolacion's beautiful videos made them feel that they should really invest in a good videographer. With only two weeks before the wedding, they were glad that they booked Ghe Consolacion.
Their wedding theme is based on simplicity and elegance without being too common. This is the reason why they chose pink peach and silver as a color motif, rather than the usual pinks, blues and reds.

In the end, Michael and Thea were very proud to be able to pull off a beautiful wedding with less than four months of wedding planning. In their hearts, they knew they were happy and the guests went home delighted to have witnessed their union in marriage.
For more wedding photos of Michael and Thea, visit their wedding album or Dominic Barrios Photography's website.
Watch their Wedding Video by Ghe Consolacion Event Film Maker:
Wedding Suppliers
Photography:
Dominic Barrios Photography
Videography:
Ghe Consolacion Event Film Maker
Flowers:
Blooms and Petals
Wedding Gown:
Cecilio Abad Couture
Hair and Makeup:
Soleil Capulong
Reception:
Sulo Riviera Hotel
Visit Kasal.com Supplier Directory for the contact details of these suppliers.
Comments
comments