Rendell Paguio and Rosalyn Nocum
by Danielle Sebastian | March 2013
Distance was never a hindrance to Rendell Paguio and Rosalyn Nocum's love for each other. And thanks to the internet, online wedding planning was possible despite the miles between them and their home country.
The Love Story
Rendell and Rose met in an on-the-job training during their college days. They were friends but never really became a couple. After graduation, they each went on with their separate lives. Rose went to work in Dubai while Rendell worked in the U.S.
The friendship was only revived when Rose chatted Rendell up on Facebook in 2010. Both of them were going through a rough patch with their own relationships and a friend who could listen was certainly a blessing to both of them. Eventually they became a couple and decided to go on a vacation to the Philippines at the same time.
After spending time with each other and their families, Rendell felt that Rose was indeed the love that he needed for the rest of his life. After six months of being a couple, Rendell proposed. To his delight, Rose said "Yes".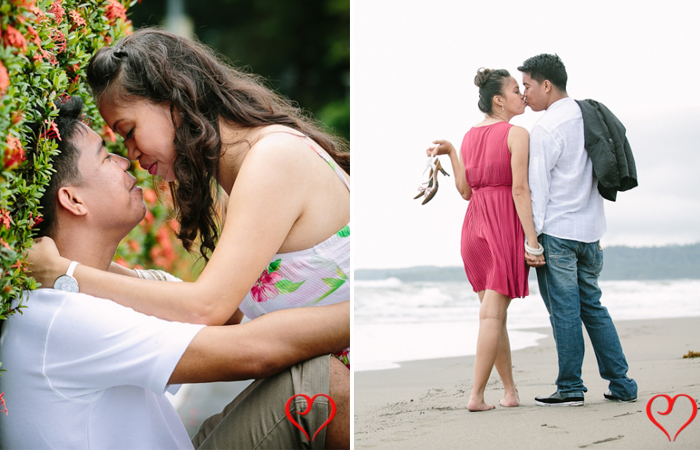 Online Wedding Planning
Because Rendell and Rose had to work in the U.S. and Dubai, their wedding planning was mainly done through online wedding resources like Kasal.com, social networking sites and wedding supplier websites. For this, they researched and emailed several wedding suppliers, listed everything they got and compared the price, quality and professionalism of each. Through the web and the recommendations and advice from friends and family, they completed the all star cast for the wedding of their dreams.
Christian Andaya Wedding Films struck Rendell and Rose with his Twilight themed wedding video. Being fans of Twilight themselves and knowing that Christian was a student of a famous Philippine wedding videographer, they knew Christian was the one for them. They were very thankful for his team's fun spirit, spunk and professionalism.
Through Christian Andaya's website, the couple also noticed the beautiful photos of Eugene Martinez Photography. Eugene and his team captured their wedding with the brand's exemplary style. They had fun during their engagement session and had even more fun with the team on their wedding day.
Watch their Wedding Video by Christian Andaya Wedding Films:
Rendell and Rose also found Go For Flowers online. They gave the couple the most beautiful fresh flowers at such an affordable rate. They were also very grateful to the team for being extra patient especially when they had so many questions and they kept changing their entourage list.
Rendell and Rose were very hands on with their wedding, hiring a wedding coordinator only for the wedding day itself. Aside from finding wedding suppliers for themselves, they also went DIY with their invitations, souvenir tags, place cards, tarpaulins and other print materials. Their DIY details added a personal touch as well as saved them some money for other wedding details.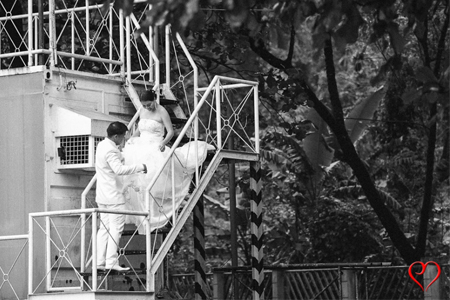 A Yellow and Purple Wedding
Despite the many challenges of online wedding planning abroad, Rendell and Rose were able to pull of the Yellow and Purple Wedding that was better than what they had imagined. They added a personal touch to their wedding not only with the details but also in their wedding program. Their bouquet and garters toss were parlor games, the kissing of the winner was done through voting and they had a kid's corner with toys, coloring books and art materials. Their wedding souvenirs were hundreds of scented candles and shot glasses from Dubai, Bubble Blowers from the US and imported wines and bags from godfathers and godmothers.

Rendell and Rose proved that a dream wedding is possible even with long distance relationships and long distance wedding planning. Through the world wide web, their love blossomed and their wedding was beautifully realized in their home country.
Planning your wedding from abroad as well? Find wedding suppliers, photo inspirations and other wedding resources in Kasal.com!
Wedding Suppliers
Photo:
Eugene Martinez Photography
Videography:
Christian Andaya Wedding Films
Wedding Florist:
Go For Flowers
Preps & Reception:
Subic Holiday Villas
Church:
San Roque Parish Subic, Olongapo City
Visit Kasal.com Supplier Directory for the contact details of these suppliers.
Comments
comments