Nat Villanueva & Edfer Lyn Quintero
by Danielle Sebastian | April 2013
Nat Villanueva and Edfer Lyn Quintero are two beautiful people who celebrated their wedding in style with a red carpet Manila wedding last December 08, 2012. It was the beginning of a life of love, beauty, class and style.
The Love Story
Nat and Lyn met in the stairway of their college where Nat was studying Medicine while Lyn was in Nursing. Maybe it was love at first sight. Maybe it was destiny. After four months of dating, they have been together as a couple for seven years.
As time went by, Nat felt that Lyn was the one. He bought an engagement ring and kept it with him for over two months. He was waiting for the right spontaneous magical moment. Lucky for Nat, the opportunity came when they checked out a bridal fair in SMX. Lyn had fun trying on several beautiful engagement rings and then she said, "the people are looking at me, we are canvassing for a wedding, however I don't have myself an engagement ring."
Fortunately for Nat, it was the night of the pyrolympics. He wanted to bring her to a restaurant for dinner with a view of the fireworks. They had a bit of a quarrel and sat by the bayside. At the right moment, Nat shared, "I gave her a card written in there" will you marry me". It was the very first card she got from me ever. While she was reading it. I showed the ring to her, and she said YES. The sky was painted with fireworks from the pyrolympics showdown in MOA. And we watched the fireworks and left the hotel for her flight."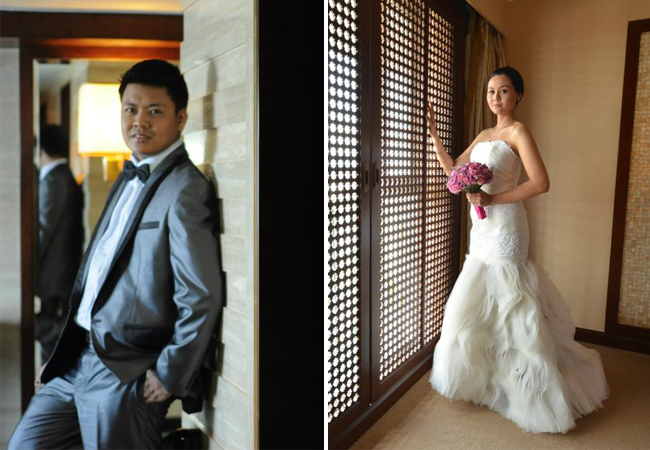 A Red Carpet Manila Wedding
With a wife who was a former beauty queen and model, the most fitting wedding theme for the couple was glamorous red carpet. The bridesmaids and groomsmen were all beauty queens and models so they were sure that it will be a beautiful affair. All guest were requested to wear long gowns for ladies and suits/barong for men. The color motif was pinks and purples.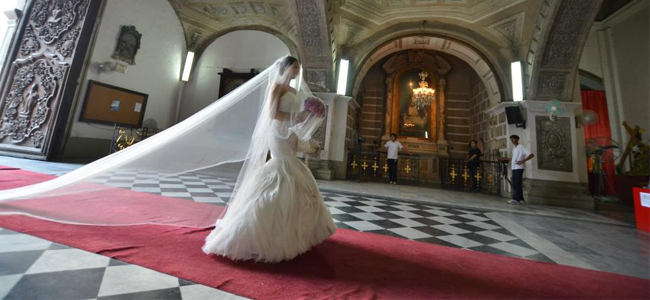 Nat and Lyn were very happy with everything that happened in their Manila wedding planning. They were even happier when they saw the fruits of their wedding labor. Even the priest at San Agustin Church gave them the most wonderful compliment. He said, "This is actually the most wonderful and beautiful marriage that I have celebrated in my life as a priest." Their guests loved their theme as well, with 99% of them coming in proper attire.
To capture the momentous event, Nat and Lyn hired only the trusted wedding photographer Nice Print Photography and Exige Weddings. They captured the couple's still photographs and on-site video.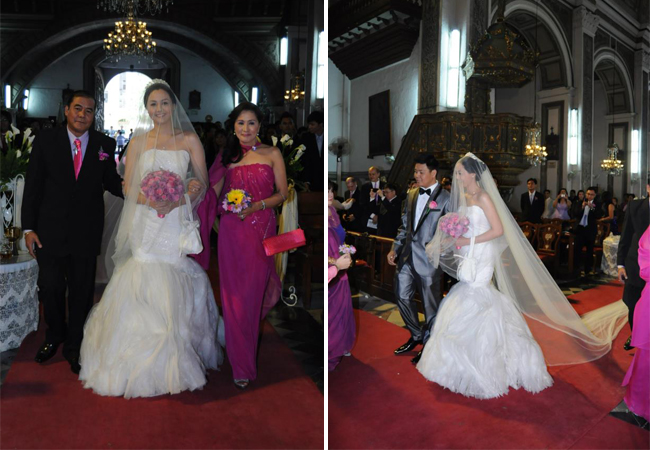 For their delicious food, they chose Hizon's Catering – a recommended wedding supplier for worry free weddings.
Watch their On Site Wedding Video by Nice Print Photography:
Nat and Lyn saved on flowers and splurged on wedding memento that they will keep after the celebration – Bvlgari rings, photo/video and the wedding dresses. They pulled off a red carpet wedding with beautiful people, glamorous ambiance, a lively program and of course, true romance.

A toast for these beautiful people in love.
For more of Nat and Lyn's Red Carpet Manila Wedding, go to Wedding Photos.
Visit Kasal.com Supplier Directory for the contact details of these suppliers.
Comments
comments