by Jett Pe Benito
October 29, 2005 marked the most memorable moment in Charlie's life. For instead of releasing butterflies at a clients' wedding, on that fateful day, he released these auspicious creatures on his very own wedding.
From Classmates to Lifemates
Charlie Gaw, the person behind Acclaim Butterflies, met Carina (nee Tuazon) in July 1999. They were classmates in one of their finance subjects in the Ateneo Graduate School of Business.
Charlie remembers, "We became group mates in one of our case studies which led us to know each other better."
Theirs is a merging of two cultures – Chinese and Filipino. Without disregarding traditions, they took a modern approach in preparing for their wedding.  They were very involved in the wedding planning, and they even built a website (www.flower.com.ph) to inform friends/relatives abroad of their wedding details.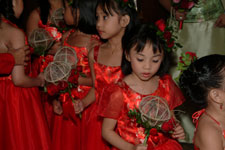 Highlights

"Our wedding motifs are green and red, representing the cross culture between a Chinese and a Filipina." Among the surprising details of their wedding include:
a. Atypical of Chinese wedding, they had their reception at The Enterprise Center, a non-hotel/restaurant venue. They chose it because of its majestic granite interior-exterior, very high ceiling, convenient location, ample parking, and good security.
b. The entourage, especially the 8 flower girls, had different cultures – Filipino, Chinese, Malaysian, Japanese.
c. They had 3 floral and event stylists – one for the church, one for the bride's bouquet and entourage, and the other one for the Enterprise, the venue.
d. They had 2 wedding cakes – one with a Chinese motif and the other cake was an 8 layer of 300 pure chocolate mini cakes and fresh roses.
e. They had a chocolate fountain which served pure white Belgian chocolate and fresh fruits for its dipping.
f. They showed a 12-minute, MTV-style video covering the pre-wedding preparations and church ceremony which were immediately shown during the reception/dinner. They even prepared 200 VCD copies of the coverage which were distributed to theguests after the video was shown. 
And of course, what is Charlie's wedding without Acclaim's butterflies? "During my wedding, we released live butterflies at our grand entrance in the reception. Our flower girls and ring bearers held butterfly-inspired baskets and scepters. We also gave butterfly unity candles to our godfathers and godmothers."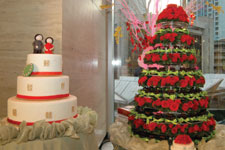 Constraints
Charlie and Carina, due to ther busy schedule, only had 3 months to prepare for their wedding. It did not help that it took them more than a month to get a final booking date in the church.
It is a good thing that Acclaim Butterflies, being in the wedding industry for 5 years, is part of a supplier network. He already knows which suppliers to tap. For other wedding needs, he turned to wedding resource portals like www.kasal.com to get information.
Insights

From a wedding supplier who has also walked down the aisle, Charlie only has the following to share:
"Try to get a good wedding provider that has a good track record. Do not be deceived by wedding providers who offer low prices but no track record to prove their service capabilities. Do take time in canvassing wedding suppliers."
"Last but not the least, attention to details is a key factor in having your dream wedding. It is through the details that your family and friends would see the effort you put to make your wedding truly special and meaningful."
Comments
comments