Joel Lopez and Mary Hazel Lace Talag
By Jonathan Dionisio | July – September 2010
Planning a wedding takes a lot of time and effort. One needs to dedicate, on a daily basis, a fraction of their time to make sure that everything turns out well during their wedding day. But how do you expect someone to plan their entire wedding if they are miles away from where they will hold their wedding? For Mary Hazel Lace Talag and Joel Lopez, they defied distance and utilized every available tool to turn their dream wedding to a reality.
Serendipity in Doha
Hazel and Joel are both overseas Filipino workers based in Doha, Qatar. The two met during an audition for dancers for a concert where Hazel served as producer and organizer. She approached Joel and invited him to watch the concert. During their first meeting, sparks flew but were immediately disregarded since at that time, they were both in a relationship. Their second meeting five months would turn out to be the beginning of an amazing journey.
In May 2004, she returned to Doha after a short vacation in the Philippines. At this point, she and Joel were both single. Since she had no permanent residence in Doha, Hazel needed a room to stay. She met one of Joel's friends and told her about Joel's uncle who has a room for rent. Turns out, Hazel found herself knocking on Joel's door. When he opened the door, Joel remembered her while she didn't. As roommates, they quickly grew fond of each other and in July 2, 2004, Joel popped the question and she accepted it. In December 2, 2004, they exchanged vows in a secret civil marriage ceremony at the Philippine Embassy in Qatar.
When they returned to the Philippines, they got married again in Manila on December 5, 2005. Before their first marriage, their families have never met each other. Their second civil wedding served as a way to formally introduce each other to their new families and 'legalize' their marriage.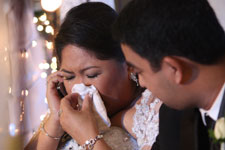 'I Do', Take Three
Four years after their Philippine civil wedding, after all the incidents and marital woes they've experience, they felt that something was lacking in their relationship. After finding a good job in Doha, (Hazel as a Senior Finance Administrator and Joel as a Data Encoder) they decided to have Philippine church wedding ceremony as a way to seek God's blessing and thank Him for all the blessings He has given them.
On July 2008, they started planning their wedding. Hazel's mother-in-law and aunt served as their initial wedding organizers. Since they were overseas, the internet served as their primary source of information. "As an OFW bride na napakalayo sa pagdadausan mo ng kasal, it [Kasal.com] [served] as a very informative site and lahat nadoon [like] suppliers…everything is there", shared Hazel.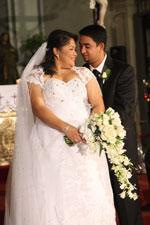 Communicating with wedding suppliers was a challenge for Hazel and Joel. As a couple based overseas who will get married in the Philippines, they had to make expensive phone calls every now and then to make sure that everything ran smoothly. With the help of their wedding representatives, Joel's mother, Hazel's aunt, and a family friend, they were able to attend to the other needs of the couple that required their physical presence, like food tasting. Despite having representatives, Hazel, like other brides, was still hands-on with their wedding planning. While working as an accountant, she would make phone calls from her office to suppliers and to her family regarding updates on their wedding. She would email suppliers regarding their contracts and send it back to them. By July 2009, they were finished with all their initial wedding preparations.
On December 16, 2009, Hazel and Joel met up with all their suppliers for the very first time. She did her final fitting for the gown, turned over all souvenirs, which they bought from the Middle East, and wedding related items to their on-the-day wedding coordinator, and settled all payments.
Joel and Hazel professed their love for each other and said their 'I Do's' for the third time last December 20, 2009 in front of their family and friends.
As the saying goes, when there's a will, there's a way. For Mr. and Mrs. Lopez, they went out of their way to make sure that the day they finally face the Lord in Holy Matrimony will not only be well-planned, but simply memorable. With the use of modern technology, particularly the internet, they were able to bridge the gap and finally, make their dream wedding come to life.
Wedding Suppliers
Hair and Make up Services
Bambi Fuentes Salon
Catering
Eloquente Catering Services
Ceremony: Catholic Church
Shrine of our Lady of Correa Immaculate Conception Parish
(San Agustin Church)
Ceremony: Preparation Venue
Pan Pacific Hotel
Design & Couture: Bridal Fashion
Edward Teng (Bridal Wear)
Kitz Fashion Trends Apparel (Entourage)
Design & Couture: Men's Attire
Pierre Cardin
Flower & Event Styling
The Manila Blooms Flower Shop (Church)
Bulaklak by Joel De Leon (Entourage)
Amarantheus Florist (Reception)
Invitation
Card Prints (Invitations)
Print Divas (Missallette Cover, Menu Cards)
Jewelry
Sky Jewellery
Lights and Sound
Sound Level Audio & Lights Rental
Music & Entertainment: Musician
JJS Music Entertainment
Music & Entertainment: Host
Norly Dizon
Photo & Video: Photography
Treasured Memories Production
Photo & Video: Videography
Treasured Memories Production
A.G. Garza Video
Reception – Alternative Venue
La Castellana
Special Effects
Butterfly Acclaim Butterfly
Dragon Fireworks
Transportation
Don Robert Bridal Cars
Wedding Planning
Loi Villarama Events Management
Visit Kasal.com Supplier Directory for the contact details of these wedding suppliers.
Comments
comments