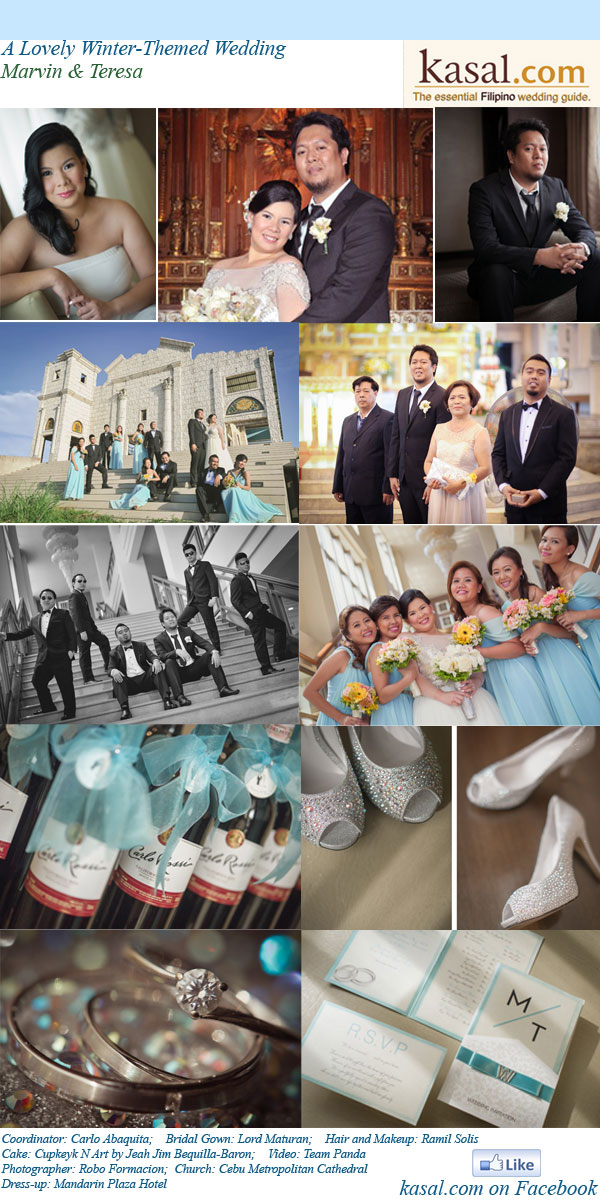 Tere and Marvin met when they were still in college. They were introduced by their good friend Jennylyn. They dated a couple of times until Marvin introduced Tere to his family on his birthday. Eventually, they formalized their relationship.
Since the very beginning, they already knew they were the ones for each other. Though they could not explain things, they could feel it. No wonder, after 10 years of being together, they finally decided to tie the knot. That time, Tere was already 26 while Marvin was 28. They both had decent jobs, so they thought it would be a great time to start a family.
The preparations was not a joke, though. Good thing, Marvin was so hands-on. First, he created and designed a website for their wedding. He also did the same thing with the invitations. Everything was according to what Tera had wanted—a fairytale winter wedding. It happened last May 20, 2014, at the Metropolitan Cathedral. The reception was held at the City Sports Club Cebu.
They chose the color blue. It was Tere's favorite. They were also inspired by the photos they saw on the website of their coordinator Carlo Abaquita from Unique Wedding and Events. Sure, the coordinator took note of all the details they wanted for their wedding, particularly Tere's preferences. And he executed all of the details really well. It was also hassle-free. The couple was so thankful to him, most especially because they just asked him to decide when it comes to the other suppliers.
The photographer was an exception, of course. They made sure to book only Robo Formacion Photography, as he was recommended by their friend Sheena. Having heard a lot of good things about Robo, Marvin and Tere did not hesitate to talk to him. When they saw his portfolio, they fell in love with his works and understood why their friend was so impressed with him. They made the right decision, really. Robo was the best photographer in town.
His skills were so good that every moment was captured perfectly, most especially the most unique part of the wedding, which was when their little nephews and neices presented their talents during the wedding. Even the faces of thefamily members, whose presece made the wedding more special, were captured in the best way possible. He was also good enough to capture simple details in the wedding, even made more beautiful by the flawless winter-themed decorations. In the end, the couple was so happy. They loved everything about it.
They even forgot some dramas that took place before the wedding day because of the outcome. Even though they were so worried about some of their guests who could not make it, things still ended up perfect.
This is why, Marvin and Tere advise other couples to choose their coordinators and photographers wisely. "You only get married once," they said.
The couple would like to thank their suppliers: Unique Wedding and Events (Coordination), Team Panda (Videography), Lord Maturan (Lord Maturan), Ramil Solis (HMUA), and Robo Formacion Photography (Photography).
Comments
comments