Ray Montaniel and Belle Rivera
by Danielle Sebastian | December 2012
Bonnie and Clyde are the notoriously well-known robbers and outlaws who traveled the 1920s Central United States with their group known as the "Barrow Gang". Belle Rivera and Ray Montaniel recreated the American folklore through their very exciting and very sensual prenuptial shoot with Bogs Ignacio of Vignette Photography.
The Love Story
Belle was always the third wheel every time she went out with her family friend and his girlfriend. Realizing that Belle needed someone to be with on their night outs together, they set her up with Ray. The first time they met was in February 2008 in Tomas Morato where they immediately clicked. From then on they knew they found the love of a lifetime. They went out every day until they officially became a couple a month later.
After four years of being together as a couple, Ray popped the question on the day of their anniversary. Belle was very surprised because she felt that Ray no longer needed to propose with a ring as they have always known that they will get married someday. But Ray disagreed and said, "I wanted to give you the moment that every girl dreams about." For Belle, the proposal was magical.
Bonnie and Clyde vs Belle and Ray
Bonnie and Clyde were introduced to the media and the public when the police got hold of a photo of the criminal lovers. Clyde Barrow and Bonnie Parker's tandem was characterized by being wild, young, free and sexual. Clyde supplied the guns while Bonnie supplied the sex appeal that catapulted them to new criminal superstar levels in American folklore.
The story of Bonnie and Clyde has always appealed to Belle and Ray. Ray has always wanted to experience being a gangster whereas Belle always wanted a vintage prenup. The Bonnie and Clyde theme was perfect for their prenup. Not to mention, Belle (being a former EB Babe) also had the beauty, sexy bod and appeal that can match Bonnie's anytime.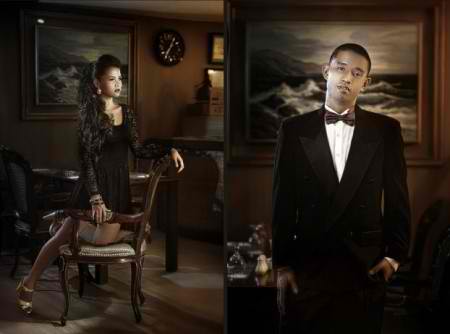 Very hands on with their wedding planning, Belle and Ray handled everything they needed for their prenup shoot – attires, hotel location, guns, money bags, play money and cigars. The styling was also done by the couple with a help of a friend. And just as the pictures show, their Bonnie and Clyde prenup was executed flawlessly with Vignette Photography.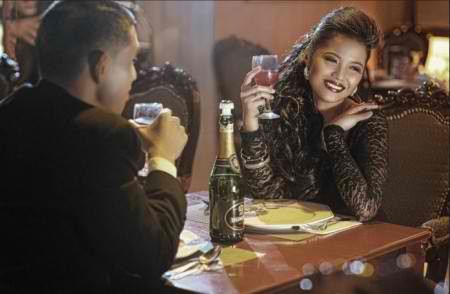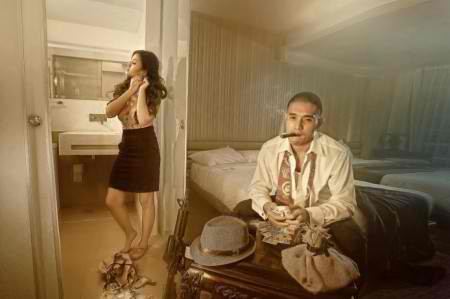 Choosing the Right Photographer
Ray and Belle were very grateful to their professional wedding planner for introducing them to Vignette Photography. Meeting Bogs Ignacio of Vignette Photography, they were impressed with how humble and kind he was. He talked to them like they were long time friends which helped in making them comfortable for the shoot. Despite the sensuality of their poses, Bogs kept them at ease and made the shoot as fun as possible.
But Ray and Belle was more impressed with Vignette Photography when they saw the outcome of their prenup shoot. As Belle puts it, "Mabait na, magaling pa. Lalo kaming na-in love sa Vignette."[He is a good person and skilled in photography as well. We fell in love with Vignette even more.] Choosing the right photographer was a major reason why Ray and Belle's Bonnie and Clyde turned out as perfect as it is.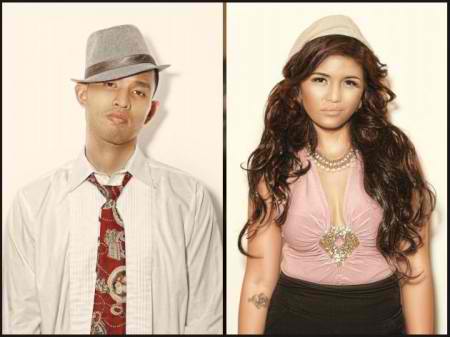 Wedding Advice
If you also want a Bonnie and Clyde prenup, you can easily do so with simple props like guns, play money, money bags and cigar. For the location, any hotel room and/or building rooftop and hallways would do. For a 1920s attire, the groom can wear a fedora, black tux and a bow tie whereas the bride can wear something sexy (like a black laced dress) and pearl accessories. For Ray and Belle's Roaring 1920s wedding theme, they chose the colors red wine, nude and blush with mafia attires for the male entourage and lots of pearls and flappers for the female entourage.
Personal advice from the bride? "As much as you want your wedding to be perfect, you cannot control everything when you're already there. You should be prepared to expect the unexpected because not everything can be perfect. That moment you exchange your wedding vows and everyone's happy for the both of you, that is what's perfect and magical."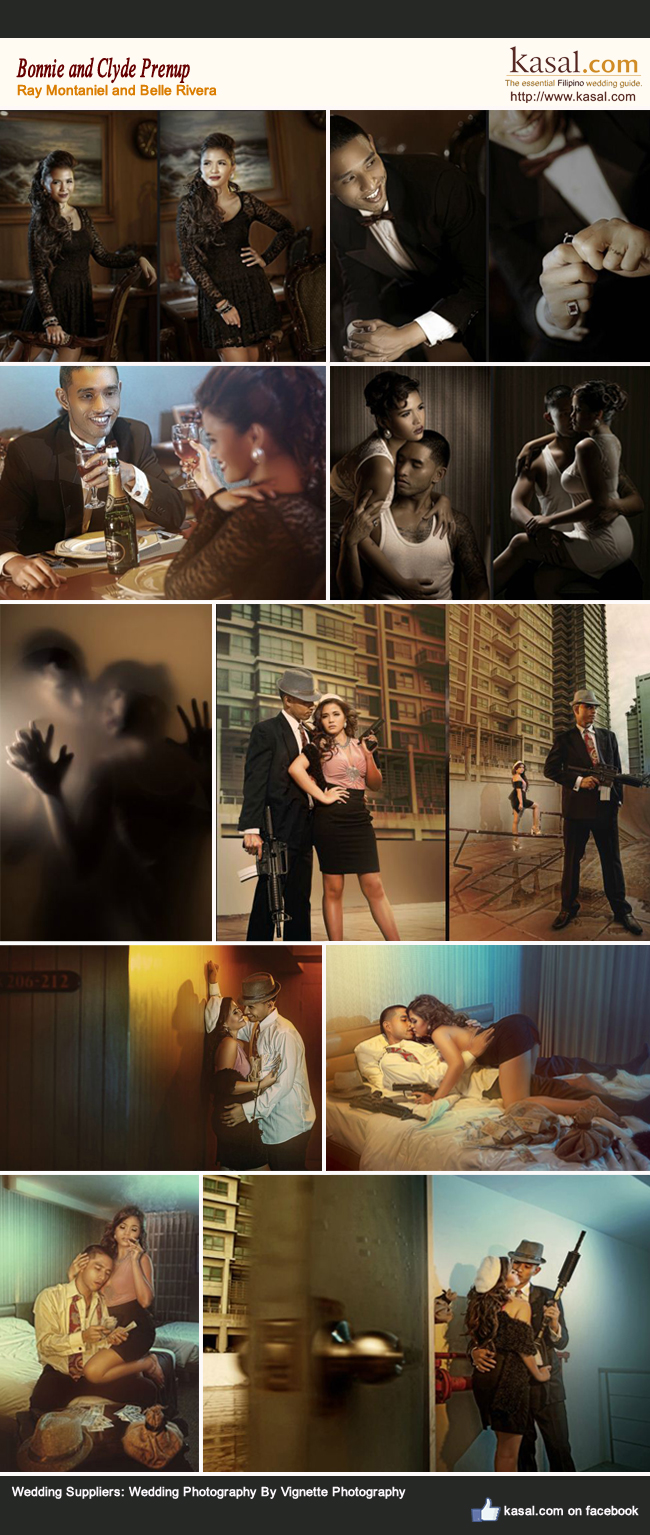 Want a Roaring 1920s Bonnie and Clyde themed prenup as well? Choose Vignette Photography.
Visit Kasal.com Supplier Directory for the contact details of these suppliers.
Comments
comments