By Jett Pe Benito
If in the hustle and bustle of the city, the concepts of harana (serenade), a mahinhin (shy) Filipina woman, and a long panliligaw (courtship) are things of the past, it is reassuring to know that city-savvy people still believe in the age old custom of pamamanhikan.
From the word panik (which means to ascend or to climb a house's flight of stairs), pamamanhikan is "the asking for the girl's parents' permission to wed the affianced pair." The custom symbolizes honor and respect for the parents, seeking their blessing and approval before getting married.
Contrary to popular belief, pamamanhikan remains to be an integral part of any couple's plan, even in a metropolis like Manila. The following are anecdotes of two couples who have undergone this unique baptism of fire.
Joel and Loida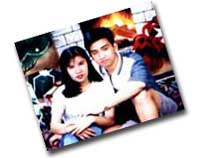 Theirs was a relationship that lasted for five (5) years before they got married. Both of them lived in their own apartments in the city with Loida working as an accountant for CATS in Greenhills, EDSA while Joel was a seaman. When Loida and Joel decided to finally take the big plunge into marriage, they knew that pamamanhikan was a necessity.
Joel, who was on a ship at that time, asked his mother to talk to Loida's parents first. As soon as he got off from his assignment that night, Joel set off for Loida's house the next evening.
"Kakausapin pa ba tayo nyan? "(Will he still talk to us?) commented Loida's parents, as the night drew on with not one sound from Joel. All of them had finished the dinner Joel brought and were waiting for him to start the conversation. Loida, unable to bear the silence, finally spoke and started the ball rolling.
Marcelo, Loida's father, read excerpts from the Bible as they talked. While Prima, Loida's mother kept silent.
To Loida, Marcelo reminded her that although she was a working woman, she should fulfill her duties and make the family her priority.
All throughout the talk, Joel and Loida held hands to draw strength from each other (and to keep Joel's hands from shaking).
Overall the couple, particularly Joel, survived the custom with the usual nervousness and apprehension, all worth it with what he has now—a happy marriage with Loida and Ashley, their two-year-old daughter.
Babet and Cristy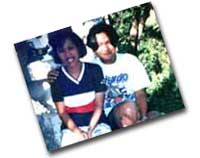 Babet was a classroom facilitator in a computer school in Cainta while Cristy worked in the city hall. Both were used to the city life, with all the independence and nightlife it had to offer, but both realized that their relationship should lead to only one conclusion – marriage.
Babet would characterize his pamamanhikan as what would be expected of the occasion, except for a few comical incidents.
"Friends have said that my choice of day for the pamamanhikan was a stroke of genius," he laughingly shared.
Babet, with his parents and two brothers, chose to do his pamamanhikan on the day of the town fiesta.
"That way, with all the festivities, the pamamanhikan would be seen as a small diversion and would not be as nerve-wracking." joked Babet.
Since he was accepted in Cristy's family, having been with her for three years and making her
four brothers and uncle his drinking buddies, he was sure that this pamamanhikan would be finished in no time.
Of course he failed to consider Cristy's grandfather and his concept of a dowry.
It was a good thing that Cristy's mother intervened and explained to the old man that the custom was not practiced anymore. Needless to say, Babet did not have to go scouting at animal breeding farms.
"I was laughing at that time because I thought that Cristy's grandfather was joking when he said I had to give a carabao as my dowry." reminisced Babet. " It turned out that I was the only one laughing because the grandfather was dead serious."
What would remain memorable of that occasion was that Cristy's family offered to contribute to the expenses of the wedding, making Babet realize even more that he married a good woman and now part of a terrific second family.
Comments
comments