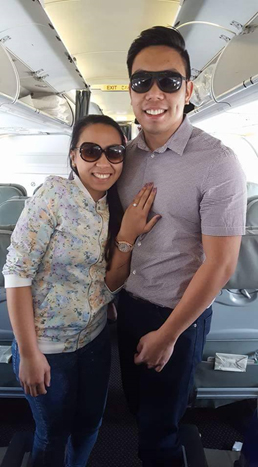 on april 24, 2016
my grandfather died.. but still my boyfriend managed to lift my spirit up…so high that it has to be in an airspace…..a perfect timing for me!
at exactly 2:20pm above 32,000 feet, Bahrain Airspace..
bagong gising.. i cant even remember what he said that time..ung question lang na 'will u marry me?' ang natatandaan ko.. and he will not repeat it until we' ll get married…
oh well, just so excited on that day…
i hope it's our lucky year!
btw, it's our 7th anniv on mrach 20,2017
and our 88th monthsary on our wedding date(which we only realized 6mos after we booked the church for ceremony..first choice kc ang july 8 but booked already..but then it feels more special when we realized its our 88th monthsary )
will be sending the video and pic.. after this..
WATCH THE PROPOSAL VIDEO: 
https://www.facebook.com/kasalcom/inbox/?selected_item_id=10154876480300056
Sender: Aika Brier
Names of the engaged couple: Paulsen Cruz and Maricar Brier
Target Wedding Date: JULY 20, 2017
When & Where the Proposal was held: Aprial 24, 2016 Bahrain Airspace.
Comments
comments