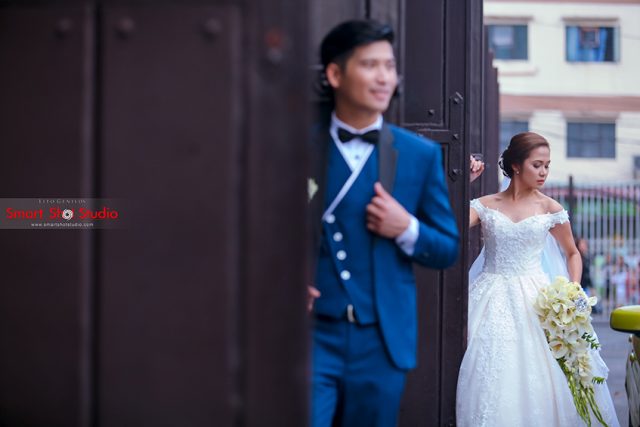 For some, wedding is nothing but a realization of a fairytale where everything is lovely and perfect. But of course, there are still couples who are so realistic and straightforward. They know that despite its beauty, a wedding may come with challenges and struggles that come in form of problems particularly during planning.
Randy and Jhonamy are fine examples of lovers who think this way. They have been so straightforward and practical from the very beginning. They have always been aware of what's in store for them, too. In other words, they were ready for the crazy ride and weren't even scared of it.
These two met through social media. According to Randy, he was able to immediately tell that Jhonamy was the one for her. He felt that she was the woman he'd spend the rest of his life with.
Unlike other couples who had dramatic proposals, they made their decision to finally tie the knot in the most pragmatic way possible—by asking themselves if their joint investments were already enough for them to start a family of their own. And since they felt that whatever they had could already give them a great start, they gave marriage a go.
The practicality was never lost, even in the course of planning. Sure, they hired a wedding coordinator to help them with the planning. But it did not stop them from being hands-on, even with the littlest of details about the wedding. In fact, they made sure that everything would be reviewed by them thoroughly. They met each wedding supplier in person and made sure that every detail was communicated to them properly.
And yes, they remained calm when faced with challenges. There even came to a point when they felt so overwhelmed with all the ideas they had, that even some of them already seemed to clash. But of course, they didn't let these differences got in the way. At the end of the day, they were able to realize that they were simply after for what was better. Whatever would work should be followed; someone just had to give way if it meant ensuring the success of the wedding.
This strategy worked so well for them. In the end, they were able to have a lovely rustic-themed wedding with tiffany blue, peach, and gold as their motifs. They were also very satisfied because their handpicked suppliers met their expectations. They are ever grateful to everyone for having done a great job, especially to their wedding coordinator, caterer, and their official wedding photographer—Smart Shot Studios. According to them, Smart Shot Studios has impressed them from the very beginning. The moment they saw its past works in a bridal fair, they were already sure of hiring the team.
With the success of their wedding, the couple wanted to give soon-to-weds some pieces of advice. "There's no perfect wedding," Jhonamy said. "May mga pagkakamaling maeencounter like weather. Part yan. Ang mahalaga, kayong dalawa–kayong magcecelebrate ng marriage ninyo. Mahalaga yung pagcecelebrate ninyo ng samahan ninyo." She added.
Randy also advised soon-to-weds to still enjoy despite the problems. "Wag ninyong hayaan yung stress ng preparations yung mangibabaw. Ang dapat mangibabaw ay yung happiness ninyo sa pag-prepare ng future na maging magkasama. Gaano man kasimple, kaengrande, isa lang ang ending nyan—ang maikasal kayo sa simbahan at magsama habangbuhay. Kaya sa mga nagpaplano ikasal, good luck. Sana kahit anong pagtatalo ninyo, kahit anong hirap ng pagprepare, i-enjoy ninyo kasi sabi nga nila yung kasiyahan nagsisimula sa first step ng planning. Enjoy, gaya namin, nakaraos din, naging successful, masaya. Official. Married."
Comments
comments