George Semilla Jr. and Kristina Lorraine Rito
by Danielle Sebastian | October 2012
From occasional "bus mates", to friends and then to lovers, George Semilla, Jr and Kristina Lorraine "Raine" Rito became a married couple last June 15, 2012 at the Sweet Harmony Gardens in Taytay, Rizal.
The Love Story
Both Raine and George were engineering students at the Mapua Institute of Technology. They met in a class on their 2nd year and occasionally rode a G-Liner bus home together. From simple conversations on the bus, their friendship blossomed into love. They have been a couple for 11 years when they decided that it was finally the time to tie the knot. As George puts it, "We've been through a lot and one thing is constant, we always want to be with each other thru hardships and happiness. That's why every time I look on what we've been through and what we've become, I can always say that we're made for each other."
Raine agreed with George when she said, "…I know that he's THE ONE for me. I can say that he's a blessing, a gift for me from God. I want to grow old with him."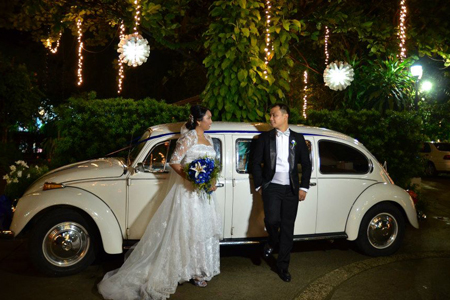 The Wedding Planning
Being together for 11 years, it was difficult for the couple to tell when it was really the time to get married. Since 2010, they have been planning their wedding but the decision to set an actual wedding date was when George proposed last October 2011.
First on their wedding checklist was the wedding ceremony and reception venue. Lucky for them, they were able to reserve a slot with Sweet Harmony Gardens in Taytay, Rizal. It was perfect for their dreams of having a garden wedding ceremony and reception venue all in one place.
Raine was a really hands-on crafty DIY bride. Aside from looking for wedding suppliers online, she also took the time to design and create their souvenirs, wedding invitations and headpieces of the female entourage. She was also the one who conceptualized the reception styling, with the help of her sister and the helpful staff of Sweet Harmony Gardens.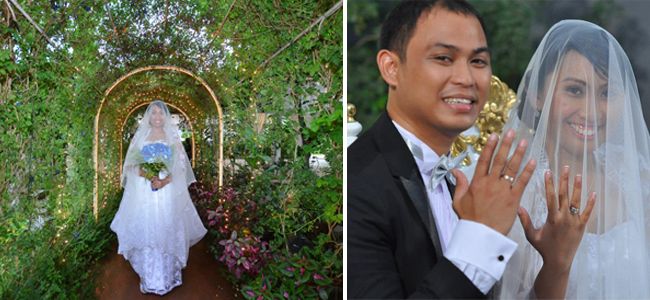 The Royal Vintage Garden Wedding
Like most brides, Raine was also a fan of the Royal Wedding of Prince William and Duchess Catherine Middleton. The female entourage headpieces hand-made by Raine were patterned after the headpieces worn by the Royal Couple's guests. Raine's wedding gown was also designed after Kate Middleton's wedding gown with her removable lace sleeves. Their invitations were made out of paper and cardboard but were intricately designed with lace. The venue was decorated with birdcages, lamps and candles to execute the vintage feel of the reception. And to pull the theme together, they chose Royal Blue and Silver as their wedding colors.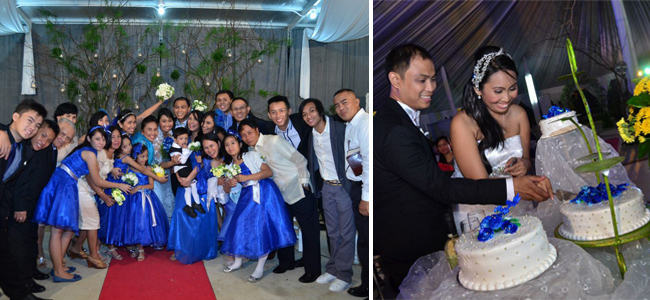 They cannot thank their wedding suppliers enough for helping them breeze through their wedding planning. Their special thanks go to Art of Sweet Harmony Gardens. Aside from the ambiance being perfect for their Christian wedding, Art especially took care of their concerns and helped them immensely in executing their wedding theme.
Paul Calvin's, the catering partner of Sweet Harmony Gardens, also delivered them great food for their wedding. Guests couldn't stop commenting on how tasteful and good the food was.
Nice Print Photography was also present for the photo and video coverage of Raine and George's wedding. According to the couple, they were very good and professional. Their on-site video and photos exceeded their expectation.

Armed with an 11-year strong foundation, Raine and George know that marriage is only the beginning of a new chapter in their lives. Whatever it is that may come their way, they can always look back at the vows and the wedding that cemented their relationship for a lifetime.
Wedding Suppliers
Photo and Video:
Nice Print Photography
Ceremony Venue:
Sweet Harmony Gardens (Sonata Grandioso)
Reception Venue:
Sweet Harmony Gardens (Tent Green Garden)
Food:
Paul Calvin's
Wedding Gown:
Donna Mae's Bridal
Groom's Suit:
T & M
Make-up:
Imelyn's Make-up
Bridal Car:
Beetle Limo
Music:
Leggiero Strings
Lights and Sounds:
Orange Lights and Sounds
Photobooth:
Happy Click Photobooth
Visit Kasal.com Supplier Directory for the contact details of these suppliers.
Comments
comments