Mark Ace Mangilit and Gilsie Savedia
By Diane Dominique Ting | January 2012
Not so many months away, the eyes of the world turned to London when Prince William and his bride Kate Middleton finally tied the knot. Now since the royal couple apparently forgot to invite some of their Filipino counterparts, Gilsie Savedia and Mark Ace Mangilit decided to make a royal wedding on their own.
Every detail of the royal wedding was top-secret and the media was going gaga over the what-was and what-was not in the wedding. But when a beaming Kate stepped out of her carriage for the whole world to see, everyone simply agreed that the anticipation was worth the wait. Soon-to-be brides and young little girls then had a glimpse of what it would take to marry a true to life Prince. Gilsie was but one of millions of girls gushing on their TV screens when a fairytale-like story became a reality. But in Gilsie's reality, she had already found her prince.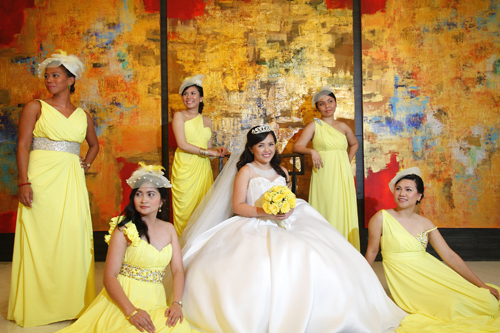 Gilsie would remember how Mark stood by her worst during her allergies. Despite a swollen face, bulging eyes and days without a bath, Mark would kiss her and assure her that she was still the 'fairest of them all'.
The couple decided to tie the knot the same year the Royal British couple did. It was then but natural for them to pick a theme so close to the wedding of the year – a Royal Wedding. Although The Queen had to decline their invitation due to prior engagements, some of the couple's closest family and friends attended the wedding complete with headdresses and hats.
Gilsie had her heart set on St. James Church in Ayala Alabang early on so the first thing that they did once they were engaged was to secure a day. However, things did not turn out as easy because Mark is a Methodist and Gilsie is a Roman Catholic. Luckily, their dream wedding Church allowed them to marry as long as proper documents were submitted in advance.
Much like how Cinderella's fairy godmother fashioned up an amazing ball gown for her, Bill Calubaquib of Dream Maker created Gilsie's bridal gown fit for a princess. Gilsie had her hair done the same as Princess Kate's and wore a crown to match her gown.
Although royal weddings are typically known to be uptight, Mark and Gilsie's wedding proved nothing but the opposite with their happy and cheerful yellow motif color. And much in the same way the newly titled Duchess of Cambridge was hands-on in her wedding, Gilsie was also very much involved in hers. After all the planning, booking and trips to Divisoria, Gilsie even personally glue gunned details of the wedding such as the boutonnieres of the male sponsors and the headdresses for the female entourage.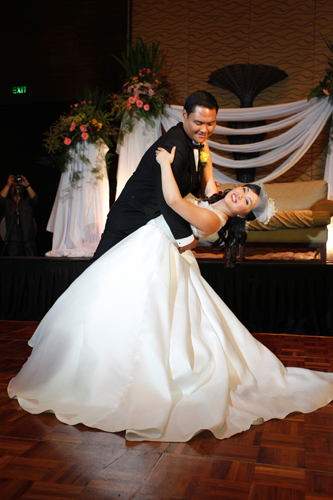 But no matter how perfectly planned weddings are, every bride knows that sometimes, not everything goes according to plan. Gilsie recalls how days before the wedding, their chosen wedding singer had no accompaniment. Gilsie chose a very unique Bridal March song entitled "Bumuhos Man Ang Ulan" and she took the effort to edit some of its lines to fit her wedding motif. Luckily, her wedding singer managed to work out the problems with the accompaniment at the very last minute. In fact, her bridal song was so touching that several of the guests and even her prince charming cried upon seeing her walk down the aisle.
The celebration continued in a grand hotel in Alabang where guest tables were labeled according to the places the couple had been to. Pre-nup pictures were also pinned on each of the table napkins for guests to write their messages and well-wishes. Although most of us did not see Kate and William dance during their wedding, Gilsie and Mark elegantly danced a waltz number. Guests were also in for a surprise as the couple suddenly grooved to Justin Bieber's "Baby" to seal their first dance as man and wife.
And while Cinderella had a little help from her animal friends and Kate had a lot of help from her entourage, Gilsie shares how important it is to never leave the wedding decisions to other people. "The more hands-on a couple is with respect to the details of their wedding, the more they will appreciate and treasure their wedding day".
There may be no perfect wedding even the royal wedding itself, however, perfection is but in the eyes of the happy bride and groom. When a high-spirited and beaming couple sees their wedding as a perfect one, it will definitely be a wedding that the Queen herself will have to approve of.
Wedding Suppliers
Bridal Hair and Make-up:
Princess Misa Hernandez
Wedding Ceremony:
St. James Church, Alabang
Bride's Attire
The Dream Maker (Wedding Gown)
Charles & Keith (Bridal Shoes)
Groom's Attire
Onesimus (Tux)
People are People (Groom's Shoes)
Wedding Florists & Stylists
Full Blooms under Inah Hubillar
Wedding Host
Francis Day
Wedding Singers, Bands, Choirs
Bernie Pasamba
Wedding Photographer
Raymond Fortun Photography
Zye de Guzman and Miko Miraflor
Wedding Planner
Social Connections
Wedding Videographer
Chug Cadiogan 
Wedding Reception
Bellevue Hotel, Alabang
Visit Kasal.com Supplier Directory for the contact details of these suppliers.
Comments
comments