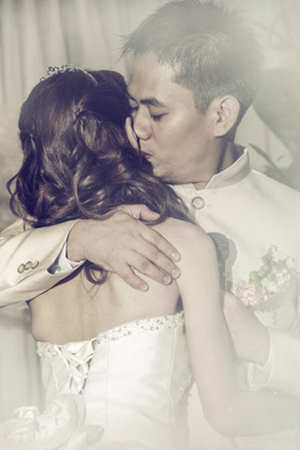 Janelle Mariano and Hubert Viernes
by Danielle Sebastian | October 2012
Janelle Mariano and Hubert Viernes have known each other since college. Hubert has always loved her from a distance while Janelle found her way to him only two years after graduation. After 7 years of being a happy couple, they got married last September 15, 2012 at Our Lady of the Abandoned Parish in Marikina City.
The Love Story
Janelle was a stunner and a woman of form and substance. She easily captured the heart of Hubert even from a distance during their college days. Hubert knew that studying was her priority and so he waited for the right time for their love story to take place.
After graduation, Janelle taught at a university where Hubert was studying law. Every once in a while they saw each other but it was only after two years that their friendship blossomed into a relationship through God's grace.
Their engagement and marriage was an answered prayer. It came at a time when both of them felt they could no longer breathe without the other.
The Proposal
It was in May 5, 2010, their 5th anniversary, when Hubert proposed to Janelle during a romantic garden dinner in Tagaytay. Fortunately, she said "Yes!" and from them on, the lucky couple felt that they were on a journey to everlasting love. Their two-year engagement allowed them to prepare for a happily married life.
To the tune of "Marry Your Daughter" by Brian Jr. and Niko McKnight, Hubert, together with his parents, formally asked Janelle's hand in marriage from her parents. This was the start of their whirlwind wedding preparations and the beginning of a fairytale that came to life.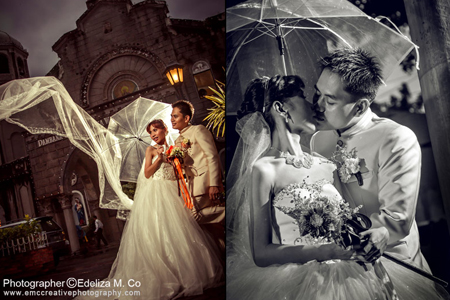 The Wedding Planning
The Janelle and Hubert tandem was very hands-on with their wedding planning. Janelle literally scoured the internet to find wedding suppliers who will fit with their wedding needs.
The main challenge in wedding planning was squeezing in the time for meeting suppliers while having to work throughout the week. Their after office hours were suddenly dedicated to talking with suppliers while their weekends were still a marathon of meetings with potential wedding suppliers. But all their hardwork paid off when they saw how their Royal Fairytale Wedding was beautifully executed and appreciated by family and friends.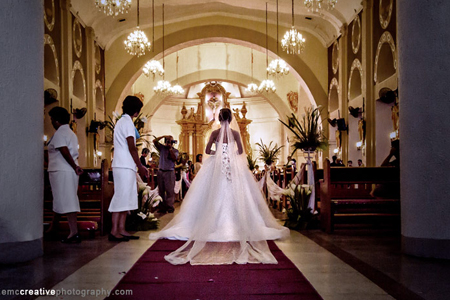 Janelle and Hubert were especially thankful to the wedding suppliers who helped them through their journey to a beautiful wedding. One of the many right decisions they made was choosing EMC Creative Photography as their wedding photographer.
As Hubert and Janelle puts it:
"When we visited their website where their works were featured, the quality of their output struck us the most. The photos captured through their lens reflect a learned artist's handiwork. EMC Creative Photography's unique artistic sense distinctively sets them apart from others in their craft. Their expertise made us feel that we are in good hands. This is the reason why after our first meeting we never doubted to book them as soon as possible to reserve the date."
"The couple, Mr. Allan Co and Mrs. Edeliza Miranda-Co, was both highly professional. The forces of nature are no obstruction at all to their craft. They made us feel that everything even beyond the scope of their services will be taken cared of and that we have nothing to worry. Promptness, reliability, and the artistic quality of their obra maestra photos and lay-outs are the hallmarks of their service and work output which were delivered to our full satisfaction. Thank you so much, Sir Allan and Ma'am Liza! "
The bride and groom were also very pleased with their reception venue, Water Nymph Resort. The guests loved it because its lush greens perfectly complemented their fairy tale wedding theme.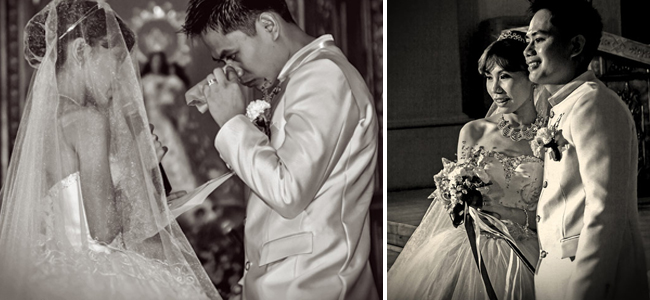 A Royal Fairytale Wedding
Wedding planner, Passion Occasion Events Management (POEM) helped Janelle and Hubert find and execute the right wedding theme. As theirs is a love story built on dreams that became reality, the couple chose a Royal Fairytale Wedding.
To execute this theme, Hubert picked a Royal suit while Janelle chose a Princess-type ball gown wedding dress. They came up with a fairytale storybook wedding invitation, treasure box favors, wand bouquets for the bride and female entourage, fairy wings for the flower girls, a grand royal banquet set-up, majestic table names and theme-inspired escort cards.

As they start their journey to a happily married life, they can always look back to a beautiful wedding. With faith in the sanctity of marriage and love to bind them through forever, nothing can go wrong. Janelle and Hubert can't wait to begin their happily ever after, always with God in the center of their relationship.
Wedding Suppliers
Photo:
EMC Creative Photography
Video:
MUV Films
Food:
Evelyn's Catering
On-The-Day Coordination:
Passion Occasion Events Management
Emcee/Host:
Mark Cuevas
Reception/Venue:
Water Nymph Resort
Groom's Suit and Bridal Gown:
Luisa Sebastian's Bridal Gown
Wedding Singers:
Efren Vallejo and Company
Visit Kasal.com Supplier Directory for the contact details of these suppliers.
Comments
comments