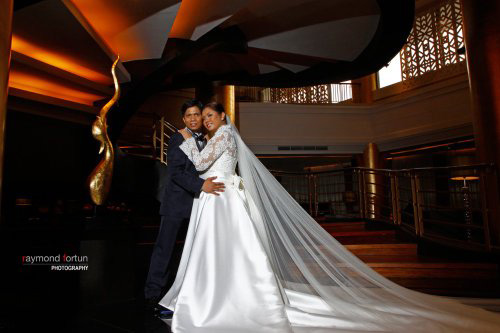 Ian Villamora and Tahnia 'Tani' Dulay
by Jonathan Dionisio | October – December 2009
What makes a wedding more memorable is the story behind it, particularly their journey in planning their wedding. For Ernesto Ian Villamora and Tahnia 'Tani' Dulay, their wedding preparation story written through Tani's blog served as their diary of this momentous event in their life.
The First and Second 'I Do'
Ian and Tani met each other at the University of the East – Ramon Magsaysay Memorial Medical Center during a gathering of their fraternity and sorority, Mu Lambda. First impression: nothing. They simply didn't like each other. As Tani describes it, "I found him too goody-goody, while he found me too easygoing." But time has a way of dealing with things, including their relationship.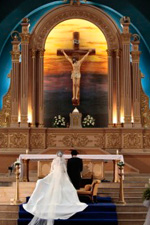 After an out-of-town trip in Puerto Galera with their brothers and sisters in the fraternity, they realized that they liked each other. And before they knew it, they were standing right next to each other in a secret civil wedding – far from the lavish wedding Tani had always fantasized about.
A few days after the ceremony though, Tani started worrying by the thought that the flames of passion and commitment would be extinguished in three years or so. However, after six years and two children, the couple managed to withstand numerous challenges in their relationship. From marital woes to financial priorities and mindsets, Ian and Tani have continuously held on to each other amidst these trials. And in celebration of their sixth wedding anniversary, the two have decided to formally tie the knot on January 24, 2009. The soon-to-wed chose the National Shrine of St. Therese of the Child Jesus in Villamor Air Base, Pasay City since it is near the hospital where Ian and she did their medical internship, Air Force General Hospital.
Sharing The Experience
As a blogger since 2006, Tani simply intended her blog to be a "launch pad" so that she could comment on other blogs. When people started reading her entries and making comments on them, she was motivated to keep on. She and Ian would often joke about her blog being one of her legacies to her children and grandchildren.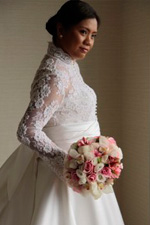 As expected, her blog served as their wedding chronicle when they decided to tie the knot again. From visiting bridal fairs to food tasting, and booking suppliers, Tani wrote it all. At times, she would even ask her readers, composed of her friends and other soon-to-weds, about her ideas for her wedding. She would also give tips and advice to her readers on how to go about in planning their wedding.
Through her blog, Tani shared every aspect of her wedding preparation, even the ups and down. In one entry, Tani wrote, "Twelve days before, major adjustments have to be made on my maid of honor and matron of honor's gowns. A bridesmaid's gown needs to be adjusted as well. We still haven't bought ties for the male members of our entourage. Our misalette is not yet done. I forgot crew meals when we finalized our contract with the caterer. We still haven't gone to confession and the guest list is driving me nuts."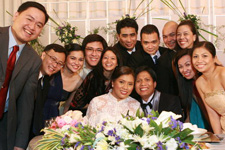 In one of the bridal fairs she attended, the Dream Weddings and Destinations: Before I Do Bridal Fair 4th Edition held last November 23, 2008 at SM Megatrade Hall 3, she joined the event's blog writing contest. Her blog won her and Ian a three-day and two-night accommodation at Hotel Vida in Clark, Pampanga and gift pack from pH Care Intimate Wash. They also won wedding bands made of 14 karat yellow and white gold, one which has diamonds totaling 0.55 carats courtesy of My Diamond and Metro Weddings' "My Diamond Love Story" Contest.
Even after getting married, Tani continued to write about her wedding. She gave her rating for each of her wedding supplier and how was her and Ian's experience working with them. Up to now, she updates this section and adds important details to help other soon-to-wed couples in planning their wedding. More than just a 'legacy' to her children, her wedding planning story written in her blog gives any soon-to-wed couple an overview on how to plan their own wedding, and help them surpass all the challenges they will face in the process.
Wedding Suppliers
Hair and Make-up:
The Makeup Studio Team
by Madge LejanoCakes:
Cakes by Alex Franco
Catering:
Josiah's Catering
Ceremony:
Shrine of St. Therese of the Child Jesus
Design & Couture: Bridal Fashion
Stephen Victoriano Couture (Bride)
Imelda T. Lansang Bridal Boutique (Entourage)
Leen Dayrit (Entourage)
Bobby Novenario (Entourage)
Design & Couture: Men's Attire
Lito Tiongco
Design & Couture: Shoes and Bags
Perfect Match Shoes and Ties
Flowers & Event Styling:
April and Karen Yu
Boy Mahusay
Janea Flowers and Balloons
Invitation
Paperflair By Adworksgrfx
Jewelry
My Diamond
Light and Sound:
Segue Lights and Sound
Music and Entertainment: Host
Missy Ferrer-Litao
Music and Entertainment: Musicians
Sound Salad Band
Photo and Video: Photography
Wally Gonzales Photography
Raymond Fortun Photography
Photo and Video: Videography
Bob Nicolas Videography
Preparation Venue
Dusit Thani Manila
Reception: Alternative Venue
Blue Leaf Events Pavilion
Souvenirs
Partypics
Transport
Don Robert's Bridal Car
Wedding Planning
A Magical Event
Visit Kasal.com Supplier Directory for the contact details of these suppliers.
Comments
comments