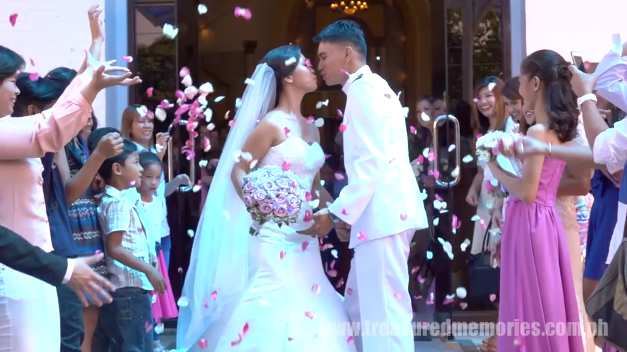 Leslie Ann Villamor and Christian Glenmore Mata Wedding
By Mina Deocareza | May 2016
Do you still remember the Uber bride? She's Leslie Ann Villamor-Mata. Her story became viraon the first day of March, after she had shared her experience on social media.
A white 1990 Mercedes Benz was supposed to take her to the Holy Child Chapel in Taguig. However, the key to the said car, which she rented from a bridal car company, was left inside the compartment. Instead of panicking, she kept her cool and decided to book an Uber ride.
After a while, a black Innova arrived. Its driver Ernesto was shocked upon knowing that his passenger was actually wearing a bridal gown. Immediately, Leslie's bridal manager and assistant makeup artist transferred the flowers from the Mercedes to the Innova.
She rode the Innova and after 15 minutes, she arrived at the church. Ernesto even waited for the whole entourage to get inside the church before he left as though he were a real bridal car driver. Her bill? It was Php101.
Their Love Story
Leslie met her groom, Christian Glenmore Mata, in the academy. Christian was from batch 2009 while she was from batch 2011. She had a crush on him. He, on the other hand, hasn't told her how he started to have feelings for her. Although, he would say that he fell in love with her when she cooked pancit canton for her while they were on a duty. Leslie thought it was a lie, though.
At first, she never thought things would be serious between them. She had no plans to take things seriously and thought it was just a fling. Yet, two months into their relationship, Christian went to her home and introduced himself as her boyfriend. She was surprised. She also realized that the guy must be really serious. In 2013, Christian proposed to her.
The Wedding
Leslie thought of having a civil wedding to save money. However, some of their relatives were coming home from abroad and they didn't want to disappoint them. So, they went for a church wedding.
She was hands-on when it comes to the planning. To find the best suppliers, they even attended expos and read online reviews. Leslie also made sure that she had thought about things well enough before she could decide on specific suppliers. When asked, she said, "I think I developed a minor OCD when choosing a particular team for a certain category. I would spend three weeks before I could decide on a supplier for each category."
All the effort, time, and energy paid off, of course. The couple was able to have a lovely wedding with lilac as their motif. They are ever grateful, especially to their amazing suppliers.
Coordinator: Absolutely Knot
Emcee: Darlene Tan-Salazar
Couture: Rommel Espera
Hotel: Victor Hotel
HMUA: Val Villarin
Entourage Flower: Armani Florist
Bands, Lights, and Sounds: Madz and Dzhei & Rejectkrew
And of course, they had Treasured Memories for photo and video. It was this team that perfectly captured all the priceless moments on their big day. Like Leslie, the team members kept their cool throughout the event.
Uber Bride's Advice to Soon-to-Weds
"Carefully plan your wedding team. Read reviews online. Do no stall on deciding something. Even the simplest detail should be decided on the earliest date possible. This is the only time when you are allowed to worry a lot."
Maintain stability even when under pressure. I think there will always be glitches on your wedding day. What matters most is at the end of the day, you get to marry your best friend. When life gives you lemons, make lemonade!
Leslie, indeed, is one cool bride. She is a perfect example of someone who chooses to look at the brighter side of things instead of focusing on the mishaps. And yes, we will always remember her as the awesome Uber bride. She's a real inspiration and we are glad that she's happy with her happily ever after.
Comments
comments