Behind Nice Print Photography and Exige Weddings Lenses
By Danielle Sebastian | November 2012
You may have seen the Carmina Villaroel and Zoren Legaspi wedding on TV but did you know what actually happened behind the scenes? To let you in on the scoop, we interviewed Charisse Tinio of Nice Print Photography and Exige Weddings – the official wedding photographer of the most talked about wedding this 2012.
44 Days Before the Wedding
Before anybody knew about Zoren's plans for Carmina, Charisse Tinio was already in on the secret. Without much idea about wedding planning, Zoren approached her and the team whose niche is Philippine celebrity weddings.
With only 44 days before the wedding, Charisse was not entirely sure if he could pull it off. But Zoren insisted, saying, "Carmina and I have been together with the twins for twelve years and I don't remember a single big thing that I did for her….She deserves this." Touched by Zoren's reply, Charisse agreed to help. Nice Print Photography committed to be the photo and video team for the big event and she helped Zoren build the right wedding team to make the surprise wedding possible.
"When you love something so much, the universe will conspire to make it happen"
Organizing a surprise wedding for a big celebrity couple is no easy feat. But as the saying goes, "when you love something so much, the universe will conspire to make it happen". Charisse shared with us some hiccups and challenges Zoren and the wedding team encountered:
Keeping it a secret.
In an industry that thrives in secrets and gossip, keeping the wedding news a secret in the showbiz industry required a lot of planning. Some of the celebrity guests were invited only five days before the event while others were not even told what event they will be going to! Only the principal sponsors and the chosen wedding suppliers knew about Zoren's plans.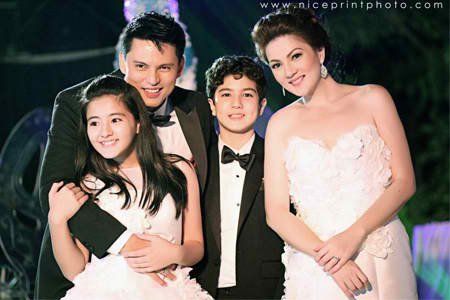 Another major challenge was keeping it a hush in the Manila wedding industry where almost everybody knew each other. Meetings with Zoren were always in secluded areas like private function rooms and it was a no-no to even share the couple's names with the staff. They even used codes like "commercial" and "Project X" when talking about the wedding. If he's with Carmina, Zoren had to hide in the bathroom to speak with wedding suppliers on his mobile.
Finding Wedding Suppliers.
Most couples plan their wedding a year before their wedding date but Zoren and the team did it in less than two months. Fortunately for them, they were able to book everything just in time, including the officiator who they booked with just three days left before the wedding.
The Set-up.
With everything booked and in place, how will they get Carmina and the kids to be at the right time and place? With the help of ABS-CBN, they organized a wedding-themed commercial shoot for an endorsement which included Zoren and the twins. Before the endorsement shoot started, Zoren was quarreling with a production staff when all of a sudden, the twins and the G-Force dancers started dancing around Carmina. The bride was ushered towards a spot with cherry blossoms where Zoren proposed. Mavy and Cassy then came out and urged their parents to get married that same night.
Carmina was very surprised when the curtains went down and her friends from showbiz, from high school and her barkadas were there. The wedding was all set and all Carmina needed to do was walk down the aisle and say "I do" to the man who set-up the most wonderful surprise.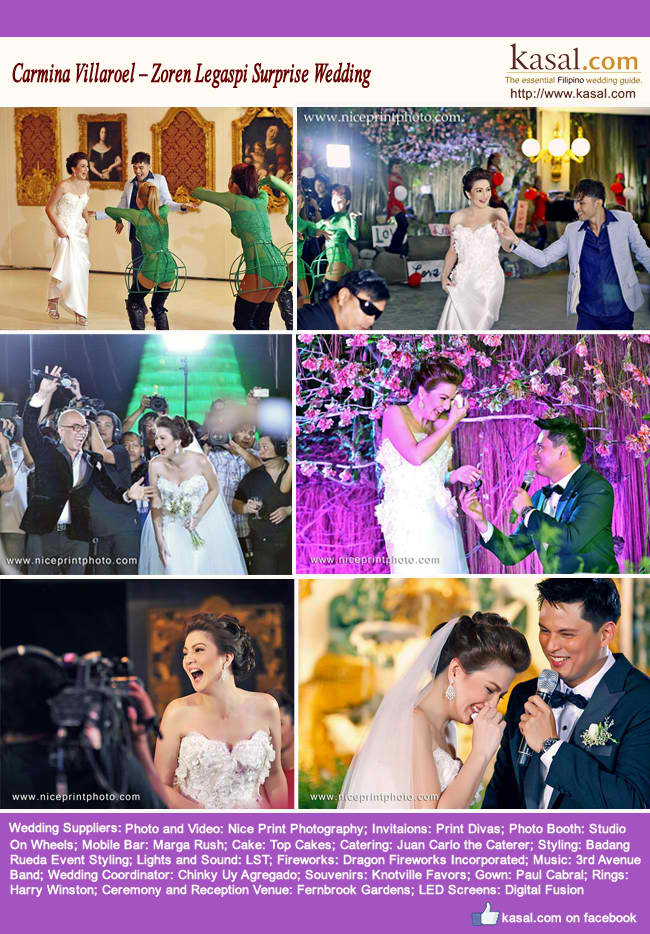 The Team Behind the Lenses: Nice Print Photography
Having thousands of weddings covered, Charisse Tinio of Nice Print Photography thought that she had seen it all – the different shapes, sizes and forms of love and weddings. But seeing a fairytale become a reality opened her eyes even more to the limitless possibilities that unconditional love brings to life and marriage. It is, to date, the most memorable wedding that she and the Nice Print team have covered.
It was no easy task to cover a surprise celebrity wedding. It entailed working with the media and a whole production team from a big network. Nice Print Photography proved once again that they can be trusted in capturing the best of dream weddings, even with the greatest obstacles.
To the Nice Print team, the surprise wedding became viral not just because the bride and groom were celebrities. It was because Zoren had a noble dream – to marry the mother of his children in the most romantic way he can. Somehow, he gave all of us a speck of hope to believe once again, in romance and unconditional love. It came in the form of a loving family we all admired and aspired for.

Like Zoren, let's chalk one million pogi points up as well for Nice Print Photography as they made one of the most memorable celebrity weddings in history a reality. Know more about Nice Print Photography and Exige Weddings in Kasal.com!
Comments
comments