Ogie & Regine Wedding: Through Their Wedding Photographer's Eyes
By Danielle Sebastian | March 2011
Having waited a long time to share a lifetime together, celebrity couple Ogie Alcasid & Regine Velasquez wanted their wedding memories to last forever. Thanks to Charisse Tinio of Nice Print Photography, they got what they wanted. Charisse Tinio tells Kasal.com how shooting Ogie & Regine's wedding made their work as wedding photographers even more meaningful.
Getting the Wedding Deal
Nice Print Photography has had a number of celebrity clients and one of the most famous ones is Ogie and Regine. Catering to each specific and unique requests of their clients, the Nice Print team has built a reputation of professionalism, skill and technique that can handle even challenging shoots for high profile weddings.
Almost all photographers wanted to cover such a famous wedding but Nice Print Photographybagged the deal. Claudine Baretto, Charisse Tinio's closest friends, referred Nice Print Photography to the couple. This only got their foot at the door. Their sample works got them the deal as right there and then of the first meeting, Ogie and Regine liked their wedding portfolio.
Ogie and Regine in Focus
"They are just lovely!" Spending four months with the couple, Charisse and the team have become endeared to them and vice versa.
For Charisse, Ogie and Regine were the perfect clients. They had thoughts on what they like but were always open to their wedding suppliers' thoughts and ideas. It also helped that like other soon-to-wed couples, they were excited and very much in love. Both being comic individuals, Ogie and Regine were laughing all throughout the pre-nuptial shoot as they kept teasing each other like kids. Their puppies, John and George, whom the couple loved dearly like their own kids were also stars in the pre-nuptial and wedding preparations shoots.
The Nice Print team just wanted to really capture the emotions Ogie and Regine feel for each other. Since they were already very much in love, there was not much directing to do. As Charisse puts it, "the bride was radiant, ecstatic and in love in all her photos. The groom was at peace, in love and just anxiously waiting for this perfect day." If you look at the pre-nuptial photos, it just shows.
Charisse easily described their wedding as "Magical. A dream come true not only for the couple but for us suppliers. Destiny waiting to happen. It was perfect."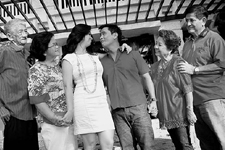 A Bride's Requests
Charisse also shared some details regarding the bride's special requests on her wedding day. She told us that it has always been Regine's fantasy to get married on a beach and say their "I do's" as the sun sets. To Regine, this was a huge wedding detail that was non-negotiable.
Unlike other weddings, Regine also wanted their portrait shots as couple, with entourage and with family members to take place the day before the wedding instead of the same day. She wanted to do this ahead of time so that the reception program can immediately start after the wedding ceremony.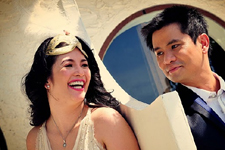 Behind the Wedding Scenes
For the Nice Print team, all weddings are special; celebrity or non-celebrity, they had to work hard for each and every one. The celebrity status of Ogie and Regine only made their feat much more challenging and fulfilling.
Given four months to prepare starting August 2010, the Nice Print team had to work fast and efficiently to give the very best for the couple. They had to carefully plan their meetings and shoots with Ogie and Regine as each had very hectic schedules due to their individual showbiz commitments. Plus, wedding preparations had to be made hush-hush and confidential.
The team also had to work with several groups since it was a full production wedding. They had to work with GMA7 and its director Mark Reyes, Aria Productions for the concert production, and the rest of the wedding suppliers. They made sure that everything would go smoothly as planned by holding several meetings with all the team players months before. Most importantly, they made sure that they got what the couple wanted which was for the photos and video to be as candid and as non-traditional as possible.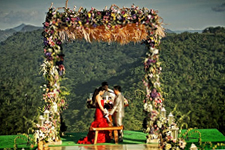 The Nice Print team was also challenged by the fact that it was to be held in the romantic outdoor wedding venue of Club Punta Fuego in Batangas where there were no roofing or tents. Charisse Tinio recalls feelings of constant anxiety due to the possible rains. But as she puts it, "God blessed their day with the perfect weather" and all was great. At the end of the day, the wedding, the photos and the video was a success.
One More Happy Bride and Groom
Wedding photography is about bringing back and conveying once again the overwhelming emotions felt during that special day. Pictures are made to capture and immortalize every meaningful detail. On their very first night as husband and wife, Ogie and Regine played the onsite video and photos once again in their room. They shared, to Charisse's delight, that it was the first activity they did as a married couple and both of them shed tears while watching them. For the Nice Print team, this truly made all their hardwork more meaningful. It was all worth it.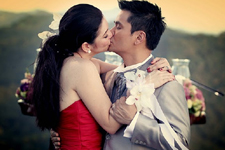 Visit Kasal.com Supplier Directory for the contact details of these wedding suppliers.
. . . . . . . . . . . . . . . . . . . . . . . . . . . . . . . . . . . . . . . . . . . . . . . . . . . . . . . . . . . . . . . . . . . . . . . . . . . . . . . . . . . . . . . .
Comments
comments