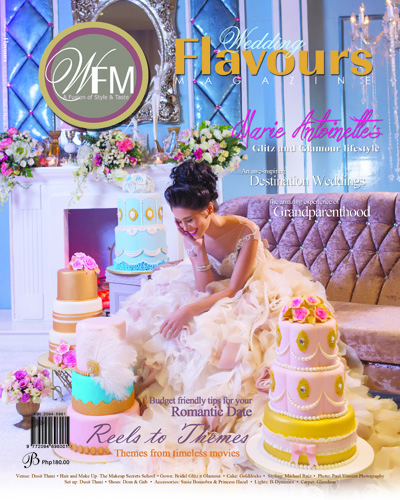 Metro Manila – The 9th Edition of Wedding Flavours Magazine brings the most glamorous, stylish, and sophisticated Marie Antoinette theme. The creation was executed at the heart of Makati's Business Centre where Dusit Thani Hotel lies with the collaboration of renowned event stylist Michael Ruiz. A new born designer Aira Cabanding of Bridal Glitz n Glamour, The Makeup Secrets School, Dom & Gab Shoes who dolled up Marie Antoinette, a luxurious cakes by Goldilocks and a lavish desserts by Dusit, lights by B-Dynamex and Paul Vincent Photography whose shots were precisely detailed in accordance to the royalty concept.
Also, the highlight of this issue is "The Reel to Themes" where timeless and classical movies come into wedding themes as event stylists headed by Sonny Francisco, Drew Menor, Stylento and Henry Pascual interpreted and show their own versions of each movie. In "At Close Range" section, another batch of dedicated wedding suppliers shared their notable passion to their work.
And the Food for Thought section features recipes specially made to food loverscooking enthusiasts –in-one.
Articles such as Dating Tips and Rules and The Wonders of Grandparenthood are just some of the newest "must-have" reads to complete this grandiose issue.
Comments
comments