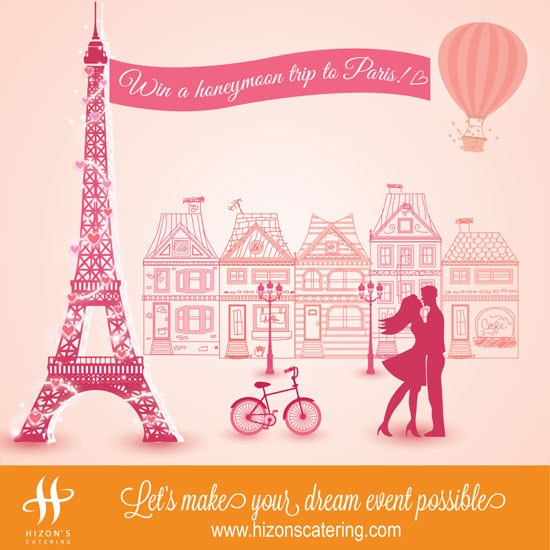 Who said you can never go to Paris?
Now, you have a chance to visit the "City of Love" with the love of your life. All you need to do is join "Win a Honeymoon Trip to Paris Promo", brought to us by Hizon's Catering.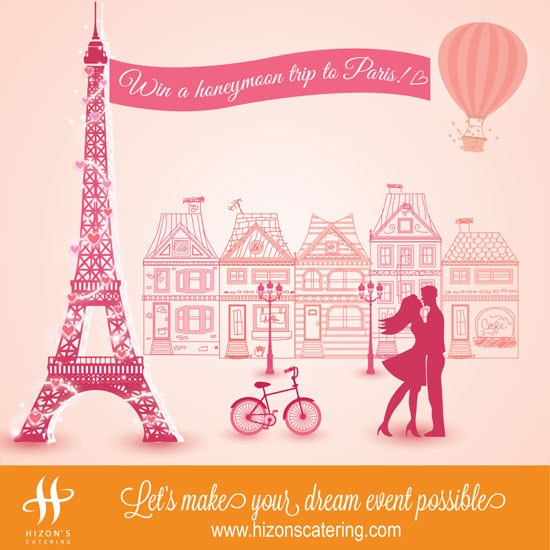 Mechanics
How can you get raffle entries?
Register online within the promo duration to get raffle entries. One raffle ticket is given to every soon-to-wed couple.
Wedding dates are eligible for the promo? Wedding date must be from March 2016 and onward to be eligible for the raffle.
How should you accomplish the raffle entry?
Type your complete name and email and indicate your wedding celebration date.
When is the deadline of entry submission? How about the raffle draw?
Deadline of submission of entries will be on July 10, 2016. Raffle draw will be on July 11, 2016. The raffle draw will be announced on our social media accounts and on our website at the "PROMOS" tab.
How will the winner be notified?
Winners will be notified through registered mail. To claim the prize, winner must present a valid ID (SSS, Driver's License, Passport, or Voter's ID), the notification letter, and Marriage Certificate dated March 2016 onward.
When can the winner redeem the prize? How about the venue of redemption?
Redemption period will be within 60 days from receipt of notification. Winner can claim and process his/her prize at Hizon's Catering Office, 22 Renowned Lane, Sanville Subdivision Project 6, Quezon City from 9am to 5pm, Mondays to Saturdays. Look for Marketing staff. If the prize is not claimed within the prescribed period, it will be forfeited.
Who will shoulder the travel expenses?
Winner will shoulder all the travel documents expenses. Passports, visas and other essential documentation.
Who are not qualified to join the promo?
All employees of the Hizon's Catering, suppliers, and their relatives up to the second degree of affinity and consanguinity are disqualified to join the raffle. For more information and to register, click on this link: http://goo.gl/8IT8wr
Comments
comments