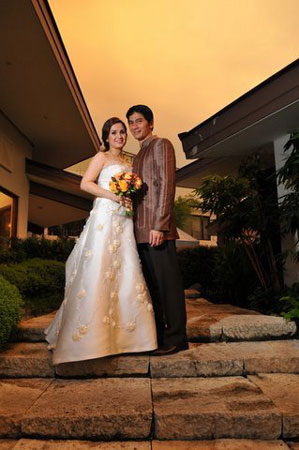 Jonathan Dionisio | April – July 2009
To choose among numerous suppliers for your wedding day is already a grueling task for most couples, let alone plan it. For professional wedding planners Ariel Atendido and Karen Marek, they have virtually prepared for their wedding without even knowing it.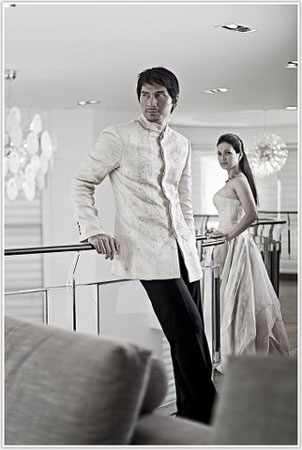 Ariel and Karen first met in 1997 through her former manager when Karen was still active in show business. During that time, Karen was busy promoting her self-titled album. Their group needed the service of Renee Salud as a fashion consultant for the album cover and pictorial. Ariel, a professional model, introduced Karen's manager to Mr. Salud. It was just coincidence and as Karen recalls, "no sparks flew at that time". Five years after, in May 25, 2002, they saw each other at the wedding of a common friend. This time, the two were drawn to each other. They started texting each other and on June 12, 2002, they officially became a couple.
During their relationship, Ariel and Karen were very much involved putting up fashion shows and corporate events, including weddings. Karen and Ariel came across the idea of putting up a wedding planning business. She consulted her long time friends and church mates, Maya Madarang –Tababa and Cielo Villegas. Soon, Blushing Bride was established in October 2005, carrying the tagline, "We do your I do".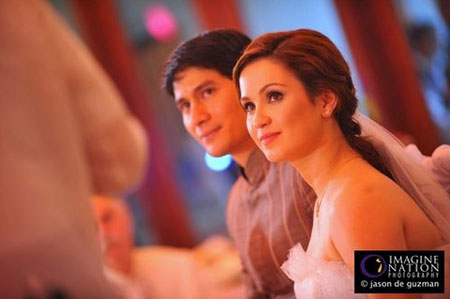 Five years after, Karen and Ariel continue to work together as professional wedding coordinators. Last February 14, 2008, after their Valentine's Day dinner, the two, out of the blue, wrote down all the Saturdays of August and September and picked a wedding date. They drew lots and Ariel got August 23, 2008, Karen's birthday. Although the couple did this for fun, they knew that they were going to get married soon.
On their sixth anniversary, Ariel and Karen were unable to celebrate their special day since they had to coordinate the wedding of Bernadette Sembrano and Emilio "Orange" Aguinaldo IV. Little did Karen know, Ariel has cooked up something special for her.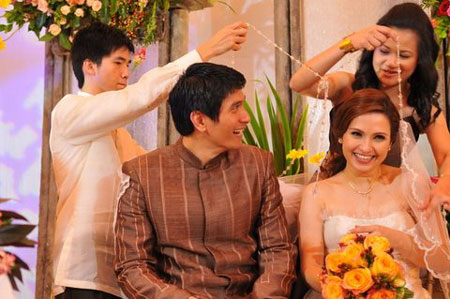 The couple has initially decided to celebrate their anniversary the day after their client's wedding. Karen shares, "…to my surprise, after the event, he made some plans pala. He did a set up at Sonya's Garden. [The venue of Bernadette and Orange's wedding]. There was a mini gazebo where he arranged a small table with a beautiful table centerpiece and there were four small chocolate muffins with candle votives around them." She never expected what transpired during the next few minutes. Ariel gave Karen one muffin, and to her surprise, atop the chocolate muffin was an engagement ring. Her first reaction was to laugh and cry at the same time saying "Is this real?" She answered him with a 'yes' as soon as Ariel popped the question, "Will you marry me?"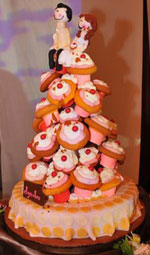 With their years of experience in wedding planning, Karen and Ariel knew exactly what to do for their own special day. "It wasn't difficult for us because we already knew what we needed." said Karen. For their wedding needs, Karen said, "We got the best suppliers that would fit our style and budget. We've worked with [these suppliers] already and knew their work very well. ". The wedding planners turned soon-to-wed couple chose their suppliers based on their track record and credibility.
Support from their friends in the industry helped them a lot. Karen shared that as soon as they spread the news, their wedding supplier friends offered their services to them on a discounted price ors as a wedding gift. The soon-to-wed couple was overwhelmed with the support from their co-suppliers. There were instances that they had to turn down the offers of some suppliers as they have made prior commitments.
The couple chose chocolates as their wedding theme (owing to their fondness of this confection), with choco brown, cream, mocha and gold as color motif. Their wedding planning partners, Maya, Cielo, and the rest of Blushing Bride served as their coordinators for their wedding day – August 23, 2008.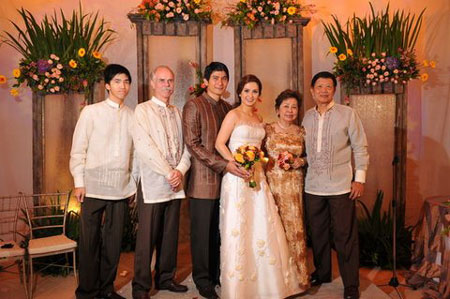 For the first time, Ariel and Karen felt what their clients felt during their wedding day. They felt excited, worried, anxious, and happy at the same time.
Karen revealed that during her wedding, she was thinking of "walking down the aisle with a headset on" just to make sure that the wedding ceremony will run smoothly. As for Ariel, he was still giving last minute instructions to their lights and sounds before the wedding ceremony. But like what they preached to their clients, they soon let go and trusted their 'wedding planners' to handle and take care of everything. At that point, they were not wedding planners and organizers. They were simply a bride and groom, set to take each other hand in marriage and spend their life together forever.
"Being a wedding planner prior to getting married helped us a lot and it gave us more wisdom when we experienced being the bride and groom. Now, I could say that I can relate more with our clients. We now know everything our client feels during their wedding," shared Karen.
Wedding Suppliers
Hair & Make up- Ney Guese of L'Oreal, Cherry Pacheco Uy
Ceremony & Reception Venue – The Blue Leaf Events Pavilion, Dusit Thani Manila
Catering – Josiah's Catering
Cakes – Claycakes, Joy San Gabriel
Design & Couture – Nono Palmos
Flower & Event Styling – Henry Pascual, Eve & Co.
Invitations – Adworks
Jewelry – Matus Jewelry
Lights & Sounds – Strada Audio
Host – Monique Lopez
Photography – MangoRed, Imagine Nation Photography
Videography – Threelogy
Equipment Rental Projector – Denns Sy
Souvenirs – Pose & Print
Bridal Transport – Don Robert's Bridal Car
Wedding Planning – Blushing Bride
Comments
comments