Danniel Benosa and Marinel Santos
By Danielle Sebastian | May 2013
Kasal.com met Dan and Marinel when they won the Studio Namu Prenuptial Giveway. The lucky couple we met was a fun, quirky and good looking pair who was not just lovers but also the best of friends. Their beautiful DIY garden wedding last April 2013 is an inspiration to all soon-to-wed couples on a budget.
The Love Story
Dan and Marinel met through a common friend in the same company they were both working for. They met but did not instantly click the first time around. It was only a year later when fate brought them back together. Dan pursued Marinel for a second time and she got to know him better as a diligent, honest, nice guy. "We knew we were the one for each other when things would just fall into place when we're together."
They decided to tie the knot in 2013 when they just suddenly talked about marriage and spending the rest of their lives together.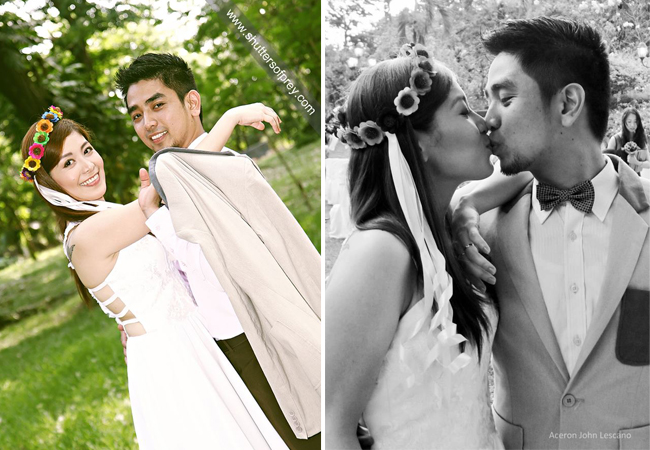 The DIY Garden Wedding
The first thing Dan and Marinel did was to set a wedding budget. Originally, they planned to spend only up to P150,000 but the final count was P170,000. Both of them were really hands on in their wedding planning not just to be able to save but also to get to spend time together as a couple. Hand in hand, they designed and created their own invitations, souvenirs and venue decorations. Friends and family were all a great help. The result of all their wedding planning and team work is an inspiration to all soon-to-weds. If you want to know how they did it, here are some of the details:
FLOWERS. Interestingly, the guys were in charge of the flowers. Dan and his best man (brother) and Dad went to Dangwa the day before the wedding and bought an array of different summer flowers. They (with the girls) arranged these flowers using old bottles and jars as vases. These came from junk shops and from a friend.
CATERER AND VENUE. For the garden wedding ceremony and reception venue, Dan and Marinel chose the University of the Philippines' University Hotel in Quezon City.
CAKES. The hotel package included a wedding cake but they didn't want an ordinary wedding cake. Instead, Marinel asked her maid of honor to buy several cakes from the best cake makers in town.
PHOTO/VIDEO. The photo/video they chose had affordable wedding packages because they were just starting in the business. Through a friend's recommendation, they were able to find a photographer that suited their needs.
BRIDAL WEAR. Even the bouquets, head dresses and the bride's gown is DIY. For the accessories, they bought wooden flowers from Divisoria at P1.50 each and brought them together. The bridal dress was designed by the bride and was made by Serge Jimenez.
Dan and Marinel admit that it was not easy planning and creating almost everything from scratch but it all paid off. Their DIY wedding showed their teamwork as a couple and the little details made the wedding an extra special one for all of the guests. It was a beautiful day for a beautiful DIY garden wedding.
Dan and Marinel proved that with a lot of creativity, your wedding budget can go a long way and turn into a beautiful garden wedding of your dreams.
For more Real Weddings, visit Kasal.com Real Weddings today.
Wedding Suppliers
Photo and Video:
Shutters of Prey
Prenup Photo:
Studio Namu
Caterer and Venue:
UP University Hotel
Bridal Gown:
Serge Jimenez
Cakes:
Dulcelin, Chocolate Kiss Café, Gayuma ni Maria
Customized Aisle and Tote Bags:
Marlo "Bio" Nieves (Artist)
Lechon:
Elar'sh
Visit Kasal.com Supplier Directory for the contact details of these suppliers.
Comments
comments