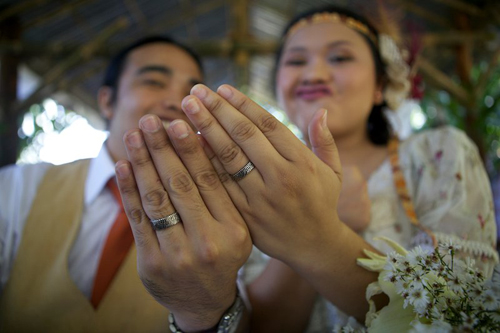 Wilson George Sison and Kei Mamangun
By Danielle Sebastian | 15 October 2011
If most couples dream of glamorous formal weddings, this pair of newlyweds we got to know definitely doesn't fall within the category. After 15 years of being acquaintances, 10 years of being best friends and 5 years of being a couple, Wilson George Sison and Kei Mamangun-Sison finally decided to tie the knot in the most exciting and adventurous way they could – a camping vacation.
Both being adventurous types, they decided to share a part of themselves with their friends and family through CAMP KASAL – a three-day celebration of their wedding in Negros. Delicious food, good accommodations and exciting activities, an unforgettable wedding experience awaited their guests.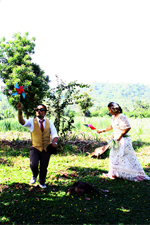 Welcome to CAMP KASAL
As soon as the wedding guests arrived at Buenos Aires Mountain Resort, they were served Visayan specialties like yummy Batchoy, Inasal, Kadios, and Apan Apan. Central to Camp Kasal is to give enjoyment to its guests who flew all the way to Negros for their special day so food and accommodations were absolutely well-taken care of.
The first day at Camp Kasal was the time for rest and relaxation as more activities await them for the upcoming wedding day. Their itinerary for the next day requires well-rested, energetic guests who are ready for some fun.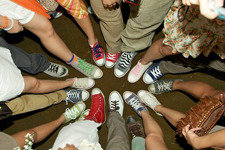 Wedding Ceremony in Rugged Outdoors
Definitely thinking out of the box, the creators of the Camp Kasal concept brought their wedding guests to a campsite in Lanao Springs at the foot of Mt. Canlaon in Ma-ao, Bago City for their main wedding event. They started moving as early as 4:30 AM for the 6:30 AM wedding ceremony.
The wedding ceremony was quite a sight especially with their laid back wedding theme of Chuck Taylor sneakers (heels were a no-no!), brown or khaki corduroy pants (or skirt/dress for females) and plaid polos in earth colors. The bridesmaids carried fresh picked lilies while the groomsmen brought pinwheels while walking. Their backdrop was nature's breathtaking morning view.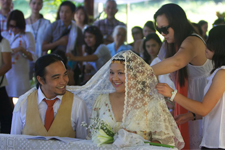 After the ceremony, there was a tree planting activity, a country breakfast, a program and then a boodle-fight lunch! Guests were served lechon, grilled fresh fish, steamed veggies and ensaladas. After lunch, all of them were swept back to the hotel via a sugar cane truck. Another highlight of the wedding adventure was for the guests to enjoy different modes of transportation rides such as the jeepney, taxi, airplane, bus and the sugar cane truck.
Guests who opted to rough it out were provided with tents so they could stay overnight at the campsite.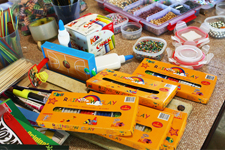 DO IT YOURSELF Wedding
Another unique trait of Wilson and Kei's wedding was its do-it-yourself wedding theme. There were no wedding souvenirs to be distributed because guests had to make their own!
A DIY station was instead put in place for guests to make their own wedding souvenirs. Beads and other art materials were available for the guests so they could make a souvenir they would like. It was a nice way to make the souvenir a memorable and meaningful one for the guests.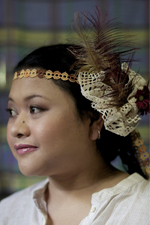 Crossword puzzles, Sudoku, clay, paper airplanes, and coloring books were also available for guests as they enjoyed nature and the company of Wilson and Kei's family and friends.
There was also no need for a professional wedding photographer as picture taking was also DIY! The DIY Snap Station was provided with polaroid cameras, analog SLRs and lomo cameras for the enjoyment of the guests.
Other DIY parts of the Camp Kasal wedding were the bride's headpiece which was a crocheted lace made into a flower with feathers; the ceremonial cord which was made from different yarn colors and rope; as well as their wedding invitations and their save-the-date video. These personal touches made the wedding their own masterpiece.
Strictly "No Crying" Wedding Affair
The groom grooved in to the wedding reception with the song "Here Comes Your Man" by The Pixies while the bride swayed in with the song "My Girl" by The Temptations played live by the Baguio-based band, The Edralins. Happy sixties, seventies and eighties music were played by the band throughout the wedding reception. As Kei puts it, "This was no crying affair."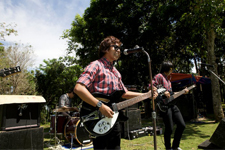 There was absolutely no time for crying as the wedding reception was kicked off by The Edralin's music followed by an exciting program with games and surprise numbers from the wedding guests themselves! Married couples played the Kissing Game and the Newspaper Game with a dance host choreographer.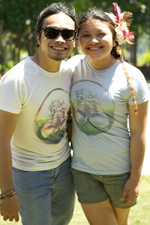 With guests coming from different places like Baguio, Manila and Los Banos, each group definitely brought something unique to the table even though the performances were literally "surprise" numbers. After the performances, it was a night of music, singing, dancing, and partying!
A Standout Wedding Celebration
On the last day of Camp Kasal, the newlyweds and their guests arranged to tour the city before leaving for their next destinations. It was a nice cap off to the three-day wedding celebration as guests were given time to explore the city and buy pasalubongs.
Wilson and Kei's Camp Kasal is definitely one of the most stand out, unique weddings we know of. It was an all-in experience for the couple and the guests as they experienced bonding time with friends and family, communing with nature and art, camping, a taste of local delicious food, and of course, a fun party! They also proved that having an out-of-the-ordinary wedding is possible without spending extravagantly.
We look forward to hearing more of stand out unique weddings from other newlyweds!
Wedding Suppliers
Hair and Make-up:
Kris Belle Paclibar
(bride's sister in law)
Ceremony: Camp Lunao,
Mt. Kanlaon
Design & Couture: Bridal Fashion
John Abul
Design & Couture: Groom's Attire 
H and M (for the pants)
Linea Italia (for the polo)
Music and Entertainment: Host
The Edralins
Music and Entertainment: Musicians
The Edralins
Photo and Video: Photography
Jojo Mamangun
Leo Vision
Photo and Video: Videography
Leo Vision 
Reception: alternative Venue Camp Lunao, Mt. Kanlaon
Visit Kasal.com Supplier Directory for the contact details of these suppliers.
Comments
comments