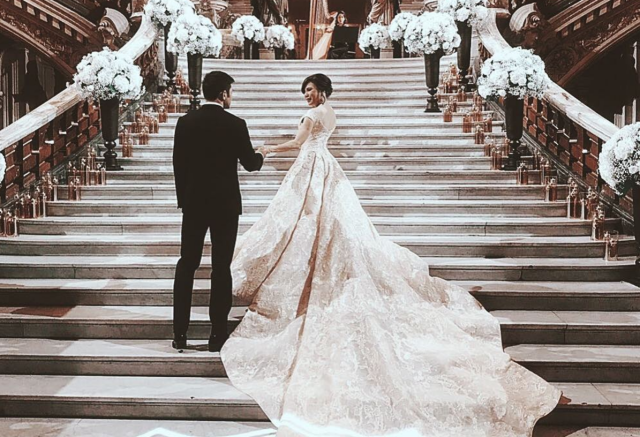 "Sa hinaba-haba ng prusisyon, sa simbahan din ang tuloy."
This famous Filipino saying proves to be true in the case of Dr. Vicki Belo and Hayden Kho who had a grand church wedding last Saturday in Paris.
The wedding was lovely in many aspects. Besides being held in a breathtaking venues, such as the American Church in Paris (ceremony) and Opera Garnier (reception), it was also packed with breathtaking wedding details which we thought we'd only see in dreams.
Even Vicki's Michael Cinco wedding dress was so stunning that she looked like a queen in it. Her daughters Cristalle and Scarlet Snow also looked great in their respective dresses.
Yet, apart from the lovely details, this wedding could also be seen as a source of inspiration for many couples, especially those have been tested by fate for so many times.
Love conquers all
Anyone who has fallen in love could testify that it's not always rainbows and butterflies. In fact, love sometimes involves a lot of complications.
Vicki and Hayden have had their own share of these challenges. They have already faced a lot of intrigues. They even broke up in the past.
Yet, they found their way back to each other's arms again and have managed to stay together. Their love for one another must be so strong that it has helped them conquer it all.
Everything is possible in God's will
Indeed, their relationship could be compared to a roller coaster ride.
For over a decade, Vicki and Hayden have made us smile, swoon, and cry. They have taught us the true meaning of forgiveness, as well as the importance of changing for the better in order to be the best person for the one you love.
And, most importantly, they have given us hope. They have proven that everything is possible in God's will.
Congratulations to the newlyweds!
Comments
comments