Von Masaga and Raks Lim
By Diane Dominique Ting | February 2014
Perhaps one of the hardest things to deal with in a wedding is the budget. While many couples would set a realistic budget before all the wedding preparations, most couples would end up spending more than what they initially planned for. When the ideas get crazier and the expenses roll in, many couples become helpless in giving in. However, a certain couple did a pretty impressive job sticking to their wedding budget.
First Impressions Don't Always Last
Von and Raks' paths crossed six years ago during their praise and worship team practice in their Church. However, sparks did not immediately fly between the two as Von's initial impression of Raks was a demure snob. But first impressions never do last as friendship between the two emerged during the time they spent together in Church. Soon enough, Von became Raks' confidant and adviser about the realities of life and everything in between. Despite the established friendship, Raks thought nothing of Von romantically. Little did she know that all of Von's intentions were just a front as he was already sharing his feelings for Raks to some of his best buddies.
Fast forward to a few years later, Von realized that his feelings were more than just a crush and pursued Raks intently. When Von was scheduled to go to Dubai for work in 2012, they decided to get married the year after. The decision to get married proved to be a good one as this gave the couple more than enough time to prepare for the wedding. As a result, Raks planned 90% of the wedding without the help of a coordinator. Instead, she relied on good friends with exceptional tastes to help them.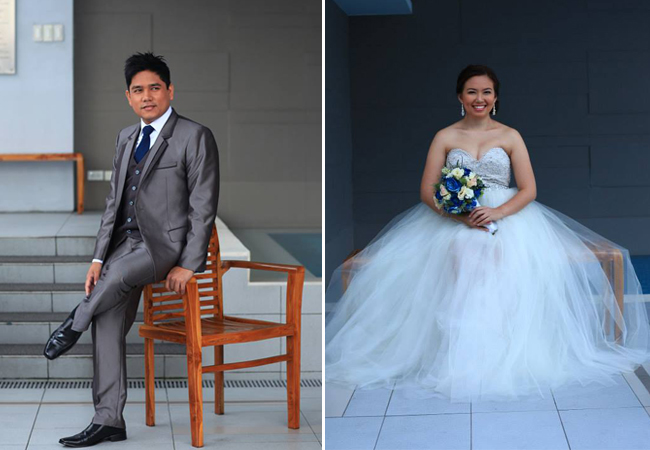 The Budget Plan
When it came to budgeting the wedding, Von and Raks had a good game plan in mind. Fifty percent of the budget was to go to the food while the other half was to the other wedding suppliers. Fortunately, Raks was introduced to Mr. Clive Chua of Weddings and Beyond which proved to be of great help when it came to recommending wedding suppliers that did not fail to impress. One of which was Center Table Catering which offered 5-star services despite their budgeted wedding."Aside from helping us come up with a menu acceptable to our budget, I was amazed at how beautiful they arranged everything during the event. The food was also delicious from the appetizers all to the desserts. Many of our guests could not stop raving about the food."
Amazing Touch Floral Design was also one of the couple's choices basically because of their passion for flower arrangement. "Their works are truly amazing as they aim to give you amazing looks even on a budget. The staff were also kind, humble and dependable making us truly satisfied clients". Raks also noted Amazing Touch Floral Design's passion for flower arrangement as it really came out in their final products. Other notable wedding suppliers of Von and Raks include One Love Wedding Photography, Ricky Ferolino for Make-Up and Roxy Bagano who designed her wedding gown.
Acts of Love
But while most of the couple's wedding suppliers did a fantastic job during the event, it was the effort of people close to the couple that made the wedding even more special. All of the couple's wedding coordinators were Raks' closest friends along with close family members of the two. While the couple did not have to pay for their services, the couple gave them tokens of appreciation after the wedding. Raks' mother-in-law even made the effort to plant 150 pieces of ashitaba plants six months before the wedding to give away as wedding souvenirs. Money trees were also planted and were given away to their principal sponsors to allow them good fortune. Today, many of the couple's guests boast that they grew their own plants taken from the wedding.

The Secret to Budgeting
Von and Raks share that the key to sticking to a wedding budget is to be wise with every single expense. "Go to wedding expos to take advantage of promos, discounts and raffles. My wedding cake was actually bought with a 50% off voucher which I won as a raffle prize. A minimum preparation time of one year before the wedding will be needed. It will also be important to stick with kind, patient and open-minded wedding suppliers." With weddings with a limited budget, a lot of communication between the two parties will be needed. Look of suppliers that will be willing to sit down and work within your means to help you get the best value for your money.
Surprisingly, Von and Raks experienced little to no challenges during their wedding preparations, mostly because they had plenty of time to prepare. Von and Raks prove that getting married does not have to mean extravagant set-ups or over the top suppliers. Getting married means being realistic about your expectations and a little extra effort in the planning process. Add the fact that the couple was surrounded by more than enough helping hands and hearts, it was truly a wedding event made with love from close family and friends.
Wedding Suppliers
Flowers:
Amazing Touch Floral Designs
Ceremony/Reception Venue:
Elements at Eton Centris
Caterer/Event Stylist:
Center Table Catering
Photographer:
One Love Wedding Photography
Make-Up Artist:
Ricky Ferolino
Gown Designer:
Roxy Bagano
Visit Kasal.com Supplier Directory for the contact details of these suppliers.
Comments
comments