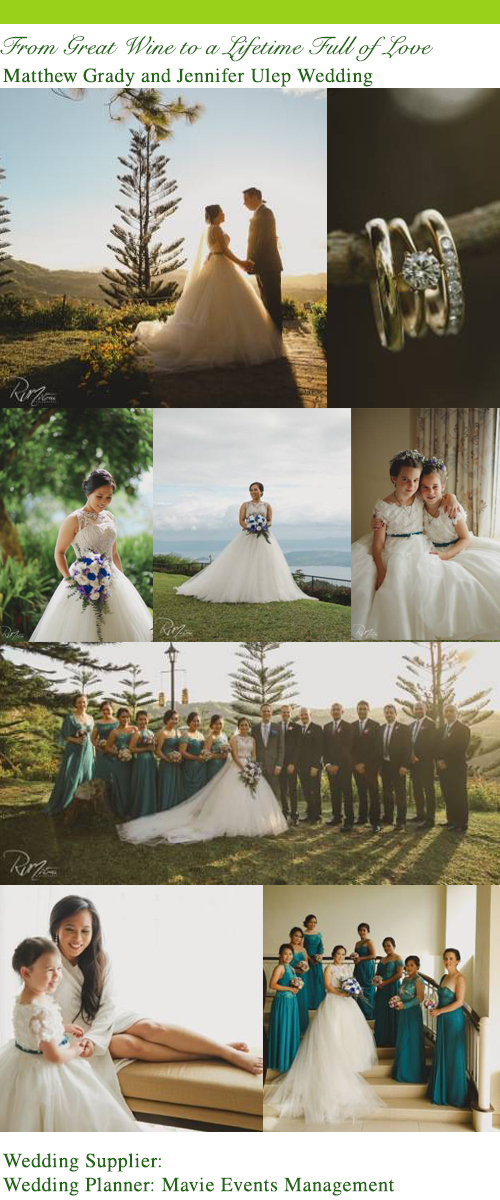 Matthew Grady and Jennifer Ulep Wedding | By Mina Deocareza | January 2016
Matthew never thought his frequent visits to his favorite bar in Shanghai would lead him to his forever. Fond of the wine served here, he kept coming back until he met Jennifer. She was managing the bar then and she, too, was clueless about the things that were bound to happen.
After having ample time to get to know each other, they decided to take things to the next level. Then, around two years ago, they realized how much they would love to spend the rest of their lives together' they decided to get married. They decided to have the wedding here in the Philippines where they could also celebrate properly with their children.
Preparations were challenging, though. Since they were far from their chosen venue and they invited people from different parts of the world, they had to find someone who could help them. Good thing, they found out about Mavie Events Management. Its owner Mavie Macalindog and her team of highly professional wedding coordinators helped them a lot, particularly in communicating with other clients who were also based here. Mavie also came up with lots of great ideas and suggestions. She was also very flexible and patient.
No wonder, the couple were able to have a lovely wedding on December 1, 2015. It was despite the challenges they faced concerning logistics. They were happy and lucky to have worked with their chosen suppliers, too. They had great wedding photos and videos, thanks to RV Mitra. Their event stylist/florist, Manuel Sony Francisco, did a very great job as well. Everyone loved his tasteful execution of their wedding motif, which was traditional with a modern touch. He also did well playing with their chosen color, which was teal.
Even their other suppliers were of great help to make the wonderful event possible. They included Glenn Gonzales (outfits for the entourage), Richard Agtarap (emcee), Sound Salad (live music), WINK (invitations), and Chocolate Confections (chocolates). Their chosen venue, Taal Vista Hotel, was also very warm and welcoming. Of course, they also loved those who helped Jennifer look her best on the wedding day. She wore a very stunning wedding gown created by Michael Leyva. Meanwhile, professional hair and makeup artist Terence Buenaventura helped highlight her best features with his superb makeup application and har styling skills.
In the end, both the couple and the guests were happy about the wedding. They loved everything about it, particularly the Caleruega Transfiguration Chapel. Sure, their foreign guests who was visiting the Philippines for the first time then instantly fell in love with the country as well.
Having had a successful wedding, the couple wants to give soon-to-weds an advice. According to Matthew and Jennifer, couples have to make sure that they only invite people who are close to their hearts and will be there to support them on the big day. That's because they believe that apart from hiring the right wedding suppliers, couples should also choose the right people to spend that special day with.
Focusing on the positive side of things will also be a great help. Instead of obsessing a lot on perfection, that usually result in some negativities, couples should simply look at the brighter side of things and count the blessings, enjoy every moment.
Comments
comments