Erickson Orbon and Rudilicia Espiritu
By Danielle Sebastian | 15 December 2011
With the couple having time-consuming professions in Manila, having a wedding in Bicol surely presented a dilemma to the couple Erickson Orbon and Rudilicia Espiritu-Orbon. But armed with an intense desire to celebrate their once in a lifetime wedding with family and close friends, nothing could stand in the way of their Bicol wedding.
Were they successful? With God, family and friends as their witness, they could not ask for a more perfect celebration of their "I dos".
A Heavenly Match
Erickson and Rudilicia knew each other since they were schoolyard kids in their province in Bicol. With families as friends, both grew up together and became classmates all throughout grade school and high school.
Eventually, they lost contact and never saw each other in college. It was only in Rudilicia's last year of law school that they once again met. They rekindled their friendship and the rest, as Rudilicia puts it, "is history".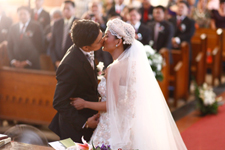 Asked about how they are as a couple, Rudilicia admits that they are extreme opposites. Erickson is the mysteriously silent type who plans for the future. Whereas she is the talkative and fashionable one who only cares about the present. But love is love and being opposites turned out to be an advantage.
"It is these differences in us that kept the excitement in our relationship and kept us solidly together… we truly are a match made in heaven."
The Right Timing
Both with blossoming professional careers, their decision to finally get married was perfect for both. Call it planning or just the right timing, a year after Rudilicia passing the Law Bar Examinations and Erickson's one year stint in New York as an architect, both were ready to settle down and build their own family.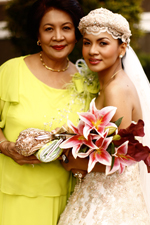 One early morning, Rudilicia was surprised to wake up with a ring on Erickson's hand. She said yes and voila! The planning for a Bicol wedding started.
Planning a Wedding in Bicol
Happy to learn about the couple's engagement, family and friends were excited to witness the couple say their I dos. But distance was a factor since most relatives of the couple resided in Bicol. So the couple accepted the challenge and decided to celebrate their very special day in their province.
Having a Bicol wedding was truly a challenge for the couple since they were both based in Manila. Choosing and meeting up with wedding suppliers in Bicol was difficult. But Rudilicia's great tip to all soon-to wed couples is to involve family like your mothers. She was especially grateful to have her mom represent her in some meetings she could not go to.
It was very essential for the couple to hand pick wedding suppliers that can live up to their expectations yet fit into their wedding budget. She made sure that they were involved in the nitty gritty details like the design of her bridal gown and the entourage, hair and makeup, catering, decors and others. Though they were planning the wedding from Manila, they trusted their chosen wedding suppliers to do a good job.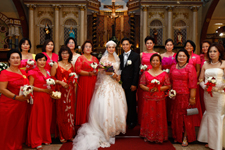 True enough, the couple handled all of the planning aspects of their wedding. They only got an on-the-day wedding planner to ensure the perfect execution of what they had planned.
Some Advice
A tip from experience, Rudilicia encourages couples to have a splurge and save list. Spend on things that will be kept for a long time. These are most probably the wedding photographs and videos. On the other hand, save on those that can have affordable alternatives like flowers and souvenirs.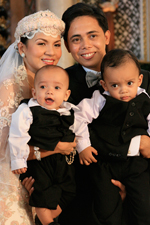 But being a fashionable bride, on top of her list is quality bridal makeup. All eyes will be on the beautiful bride and it would not help if she look washed out on your wedding day. As she puts it, "you wouldn't want to look back and see yourself in photographs and videos looking like a zombie."
A New Beginning
Overall, planning her Bicol wedding was fun, challenging, and all worth it.
"Seeing everything my hubby and I planned and worked for being beautifully carried out on the day of our wedding, being with all our love ones and saying "I do" to the one person I love so much and I want to be with for the rest of my life with God and all our love ones as witnesses [made our wedding complete]."
On December 19, 2010 at St. Anthony of Padua Parish Church in Iriga City, the beginning of their married life started. And up to now, it has been a joy in their family life. Rudilicia is forever grateful to God and her new family.
"I must have done something so good for God to give me the gift of you and our sons; and every day I thank God for that."
Comments
comments