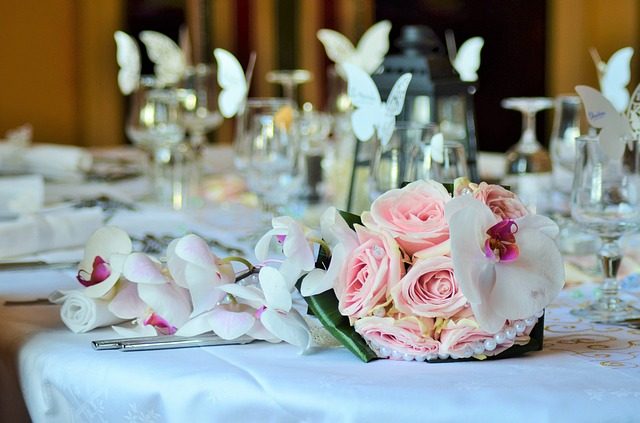 1. Welcome – The emcee welcomes everyone, including the bride and the groom. He also introduces himself.
2. Wedding Prayer – After the welcome and the introduction, the emcee invites everyone to stand and calls on to the leader of the prayer.
3. Introduction – The emcee introduces the parents and the entourage, in the following order:
Parents of the Bride
Parents of the Groom
Matron of Honor
Best Man
The Bridesmaids and Groomsmen
The Bride and Groom
4. Father of the Bride's Speech – The emcee introduces and invites the father of the bride to deliver his speech. A prayer of grace will also follow.
5. Dinner – The emcee announces that it is dinner time. He may also give instructions about the serving process or who is going to stand yet, if it is a buffet.
6. Cutting of the Wedding Cake – The emcee may tell something about the cake, especially if it was baked by someone dear to the couple. Then, he invites everyone to pay attention as the bride and the groom do the cutting of the wedding cake. He also tells everyone that they are getting their share of the cake.
7. Best Man's Toast to the Bride and Groom – The emcee introduces the best man and tells everyone what's special about his speech.
8. First Dance – The bride and groom is introduced for their first waltz. The emcee may also talk about the importance of the first dance and what it signifies.
9. Bouquet Toss – The emcee may start by giving everyone some information about the significance of this tradition. Then, he invites all single ladies to move forward and wait behind the bride. At the count of three, the bride throws the bouquet and the ladies try to catch it. Afterwards, the winner is announced.
10. Garter Toss – The emcee also explains the significance of this tradition. Then, he invites the single guys to come forward and join the game. He tells everyone that whoever catches the garter meets with the winner in the bouquet toss. The emcee also facilitates as the guy slides the garter up the leg of the girl.
11. Message from the Newly Weds – The emcee invites the newlywed couple to give a message.
12. Closing – The emcee congratulates the couple and thanks everyone for coming. He also wishes everyone to go home safely.
Comments
comments