Jerameel Mendoza Cruz and Carmina Flores Cruz
By Danielle Sebastian | May 2011
Weddings are celebrated events in many different cultures way back then up until today. Wedding celebrations have continuously evolved and changed into a celebration not only of family and love but also of cultures.
For couple Jerameel and Carmina Cruz, they chose their wedding to be a fusion of traditional Filipino flavours with a twist of modern day elements. Just like them, their wedding is a combination of the old and new. They want their married life to be like those of our Filipino ancestors, strong and unyielding, but also modern, where love is based on openness, growing together and mutual respect.
Jerameel and Carmina shared with us how they transformed their wedding celebration into a modern Filipiniana themed wedding.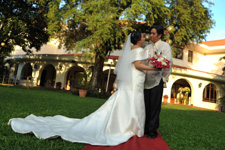 The Filipiniana Wedding Elements
Carmina has always wanted to be married in a small chapel. She especially wanted a Catholic Church wedding. Jerameel on the other hand was not fond of the beach wedding idea. Thus, both of them agreed to have a traditional Catholic Church wedding with a Filipiniana theme.
Central to the Filipiniana wedding theme were the wedding attires of the couple. Carmina wore a conservative but elegant Filipiniana wedding gown while Jerameel wore a Barong Tagalog. Adding to the theme were the guests who also participated and wore Filipiniana gowns and barongs.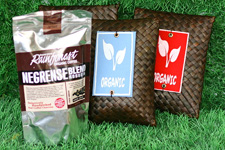 To make the wedding celebration more Filipiniana, the wedding favors for their entourage and sponsors were made from native products. Female sponsors received wedding souvenirs of native spa sets (lemon grass scent body oil & chamomile (manzanilla) tea while the male sponsors were given organic coffee both of which were packaged in a box of pandan leaves. These wedding favors of spa sets and organic coffee were both sourced from Bacolod. The female entourage, on the other hand, were given as wedding souvenirs mother of Pearl bangles from Palawan in a box personally made by Carmina. The male entourage's wedding favors were personalized pens inside a native pencil case made of abaca from Baguio.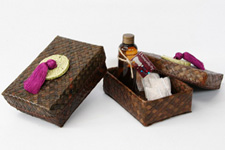 With family from Canada and friends from abroad, their Filipino wedding gifts and theme were new and interesting to their wedding guests. Months after the wedding, family and friends are still going on and on about their wedding from choice of menu, to the wedding souvenirs, the wedding songs of the string ensemble and even the match a sponsor used to light a candle! Every detail was well thought of and planned to make the guests enjoy their wedding.
The Filipiniana theme added a Filipino cultural charm to their wedding as they exchanged their vows and the guests were toasting for their success in life and in marriage.
The Modern Wedding Elements
Now the wedding will not be Jerameel and Carmina's if it didn't incorporate their modern personalities. Carmina is into wedding planning while Jerameel is a graphic artist. Both of them are into artistic and outgoing endeavours that reflect their modern and fun Filipino personalities.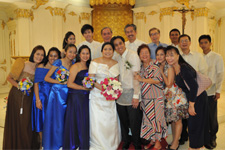 To create a complement to the Filipiniana wedding theme, the couple chose an elegant modern color motif which was cobalt blue and silver. Some guests opted to wear gowns and dresses in line with the wedding's color motif. It was a refreshing contrast to the Filipiniana wedding theme, a match of the old and the new.
Jerameel also designed a logo for their modern wedding invitations and other prints such as menu cards, signages & table cards.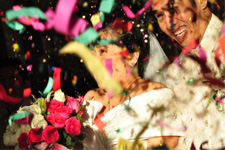 Jerameel and Carmina especially wanted their guests to have fun at their wedding too. So instead of the traditional rose petal or confetti, guests were able to choose what they wanted to shower the couple with after the wedding mass. Choices were petals, party poppers and lots of bubbles. Children playing with bubbles also greeted them at the chapel door.
Another mix of modern and traditional was their audio-visual presentation of thanks. Filipino wedding couples usually express their gratitude at the end of the wedding reception. Jerameel and Carmina made an extra effort to prepare an AVP of thanks for their beloved family and guests.
The Unforgettable Wedding Experience 
Adding all of these traditional and modern features of a wedding, Jerameel and Carmina Cruz got their unforgettable wedding experience. Their bold decision to incorporate traditional and modern all in one wedding surely paid off. They got their dream wedding and their guests were as happy as they can be.
As Jerameel and Carmina proved, weddings are much nicer and meaningful when traditional and modern cultures are entangled into one joyous and unforgettable event.
Comments
comments