Zaira Mae Tayco and John Dela Cuesta
by Danielle Sebastian | November 2012
Zaira Mae Tayco used to refer to her husband as "Sir John". Little did she know that some years later, she will be saying "I do" to this man she calls "boss". Last June 30, 2012, Zaira Mae Tayco and John Dela Cuesta, celebrated a beach civil wedding in the beautiful beaches of Boracay for less than P30,000.
The Love Story
Some may call it destiny or fate, when John was sent to Boracay for a three-month assignment in a bank. There he met a staff named Zaira whom he immediately fell in love with. Luckily, Zaira felt the same for John.
Not wasting any more time, John proposed marriage to Zaira. She admits to being a bit young for marriage but true love pushed her into the right direction. Though John is thirteen years her senior, their compatibility and love for each other has been undeniable. Their tandem has been proven to withstand challenges even in wedding planning.
The Wedding Planning
With only a month's time to prepare for a civil wedding, wedding planning was a whirlwind. Zaira was very hands on and did most of the wedding preparations herself in order to reach their June 30 wedding date. John was living in Iloilo at that time and could only visit her on weekends.
Both of them wanted to get married in the island of Boracay because the place held a special meaning in their hearts. A Boracay venue did not intimidate their tight budget because they were originally planning only a small Boracay wedding and dinner for their close families.
But the small ceremony became a grand civil wedding when Zaira, being an enthusiastic bride, kept coming up with more and more wedding ideas. Fortunately for them, Zaira was a crafty bride and John was an artistic groom. Their DIY wedding saved them a lot of time and money.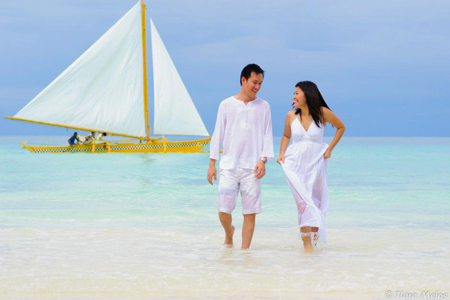 The Wedding Details: Budget
It is amazing, even impossible to believe that Zaira and John were able to organize a wedding for less than P30,000 and in less than one month. They share with us their wedding planning details.
The Bridal Gown and Suit were designed by the bride and sewn by the groom's mom. They only spent money on fabric and materials which cost around P750 for the bride and P900 for the groom. The Bride's Bouquet was lovingly made by the groom while the wedding souvenirs were bought in Cebu. The wedding cake was also designed by the groom and was bought for only P500 at a local bakeshop.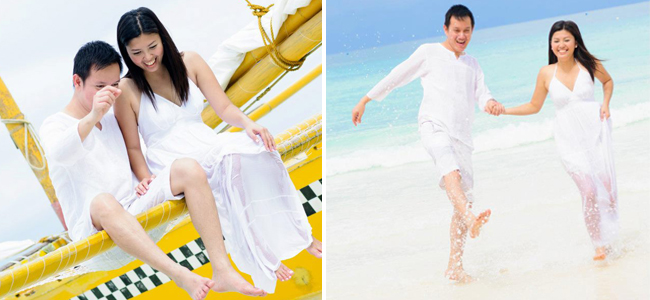 The ceremony set-up was designed by the bride and executed by her and the hotel staff. She recalls, "An hour before the wedding, I was still at the garden fixing the area!" They only paid an additional P500 at the venue for floral centerpieces.
A bulk of their expenses was for catering wherein they spent P15,000 for 60 people. They got the price at a discounted rate because the hotel was their company's client. Photography and makeup on the other hand were free because they were friends and relatives of the bride.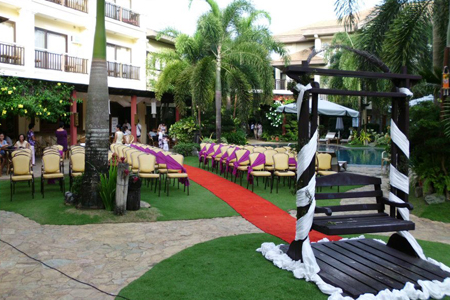 A Garden Boracay Wedding
Given their tight budget, Zaira and John were able to make their dream wedding come true through their own creativity, street smarts and hard work. They plan a bigger Church wedding in the near future but they are truly happy with the wedding they had in Boracay.
Zaira advices her fellow brides to not be afraid to "dream big and make it happen". You can always stick to your budget without losing your vision of a dream wedding. Don't forget to seek the best free helping hands you have – relatives and friends. Their special thanks go to their relatives, friends and the wedding suppliers who gave them great deals.

Zaira and John proved that dream weddings need not be expensive. With the right amount of positivity, creativity and quick wit, even the tightest budgets can go a long way.
Wedding Suppliers
Venue and Catering:
Best Western Boracay Tropics Hotel Photography:
Tiara Mejos Photography
Make-up:
Job Flores
Wedding Ring:
RJ Karat Gems & Jewelry Company
Cake:
Queency's & Daily Buns
Visit Kasal.com Supplier Directory for the contact details of these suppliers.
Comments
comments