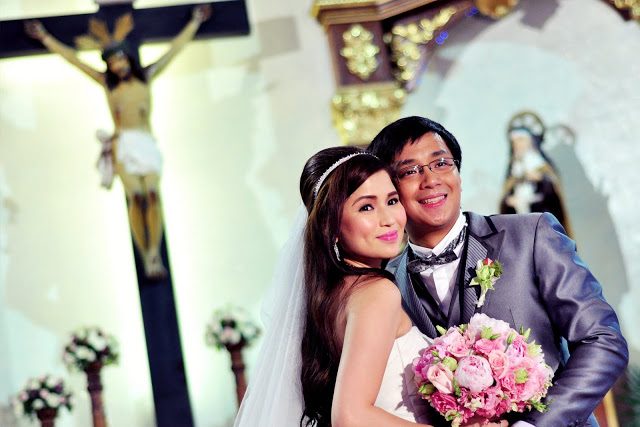 Say Alonzo – Ryan Tordesillas Wedding
By Danielle Sebastian | July 2011
Once upon a time in a crowded city, a princess met her match, they got married and they lived happily ever after. Too fast? Well, that's how one can sum up the wonderfully perfect love story of ex-Pinoy Big Brother's contestant Say Alonzo and non-showbiz Ryan Tordesillas who got married last June at Our Lady of Lourdes Parish in Tagaytay. Say Alonzo happily shared with Kasal.com how they began their happily ever after as a princess in her dream wedding.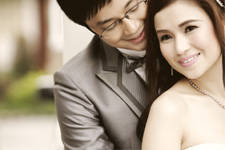 Love At First Sight
"I knew he's the one the day I met him," said Say Alonzo of her hubby. Say and Ryan met through a common friend, John Lozano, who was a stylist for ABS-CBN. One date at a time, the two got to know each other and Say discovered that Ryan was a responsible, caring and very patient man. After their first date, they had dinner out almost every day. Even with Say's busy schedule with tapings, Ryan would wait for her to finish so they can have dinner together.
One day, Ryan asked if he could take care of her for forever. She said yes and a couple of years later, he proposed marriage.
A Fairy Tale
Preparing for their dream wedding, the Say and Ryan wedding planning experience was close to a fairy tale. Through the helpful care and concern of their wedding suppliers, early preparations and a lot of luck going for them, their fairy tale dream wedding became a reality.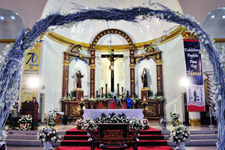 Starting a year before their wedding date, first on their list was to book a church and a reception venue. They got the Our Lady of Lourdes Parish and Ville Sommet in Tagaytay. Wedding coordinator, Kutchie Zaldarriaga, helped them throughout their wedding preparations but they were still pretty hands on with the wedding details.
And because they had a whole year to prepare for their wedding, they had more than enough time to meet and talk to their wedding suppliers. Another thing going for them was that all the wedding suppliers they chose were very accommodating so they were easily able to explain how they wanted their wedding to be.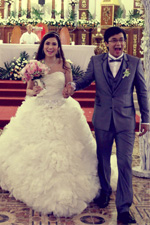 Say is very thankful to all her wedding suppliers including two of Kasal.com clients wedding photographer Nice Print Photography and wedding caterer Josiah's Catering.
"Charisse Tinio [of Nice Print Photography] is super maasikaso with us…she really calls us to ask us what we want, she gives us suggestions."
"I love how the whole family of Josiah's Catering is always there during our meetings with them, and especially the food tasting! The food is also superb… From the cocktails, salads, main course, to the dessert – we've never tasted food like that," Say exclaimed.
Her advice for soon-to-wed couples in dealing with wedding suppliers – "Be calm, tell the suppliers what you want so you can have the wedding of your dreams. Be open to suggestions also."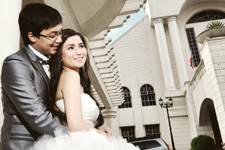 Modern & Romantic
Say admitted that she has always wanted to be a princess for her wedding. This is why they came up with a modern romantic wedding theme where Say can dress up as a fairy tale princess. Her favorite color, Pink, was also chosen as their color motif.
Adding to their wedding theme was the ambiance provided by their reception venue, Ville Sommet. The glass house was perfect including the deck and the breath-taking view of the lake and the landscape.
All the wedding preparations provided for a fun and intimate wedding the couple so desired. Guests' testimonials said that it was the best wedding they have ever attended. From the bride's point of view, Say definitely felt like a princess beside her prince charming who took care of her and whom she will love with her whole heart. Their happily ever after has just begun.
Visit Kasal.com Supplier Directory for the contact details of these wedding suppliers.
. . . . . . . . . . . . . . . . . . . . . . . . . . . . . . . . . . . . . . . . . . . . . . . . . . . . . . . . . . . . . . . . . . . . . . . . . . . . . . . . . . . . . . . .
Comments
comments