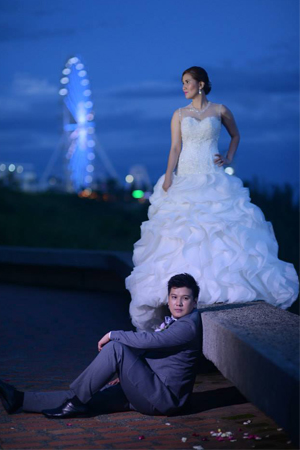 Al Francis Francisco and Jobelle Adajar
By Diane Dominique Ting | January 2014
Home can mean many different things to a person. But typically, home is a safe place where people are comfortable and safe being in. Familiar places and people can bring about comfort and hominess, regardless of the actual location. For overseas Filipino workers, Al and Jobelle, home means the Philippines despite their already lengthy stay in Singapore. So when the couple said that they wanted to get married back home, it was a decision that did not need any explanation.
Sealed With A Promise
Al and Jobelle's love story started in the Philippines when work brought them together as they worked for the same company in SM Marilao. "We saw in each other qualities that we wanted for the perfect husband and wife." Al was not only serious but smart about his intentions as he decided to seal the deal early on knowing that Jobelle was the perfect wife to be. Al proved to his future wife his sincerity when he gave Jobelle a ring during their first year anniversary. However, this was not an engagement ring, but rather a symbol that Al's intentions were true. The ring served as a symbol that Al wanted Jobelle to be his wife in the future. Jobelle, on the other end, keeping the ring all this time meant that she wanted Al to be her husband as well.
The ring proved to be of great importance to the couple especially with the trials that they had to go through. Al and Jobelle were in a long-distance relationship for about a year to pursue Jobelle's job opportunities abroad. The distance proved to be quite a challenge as with any other couple. After some time, Al decided to follow the woman of her dreams by quitting his job and following Jobelle in Singapore. After five years of being together and a month in a new country, Al finally popped the big question.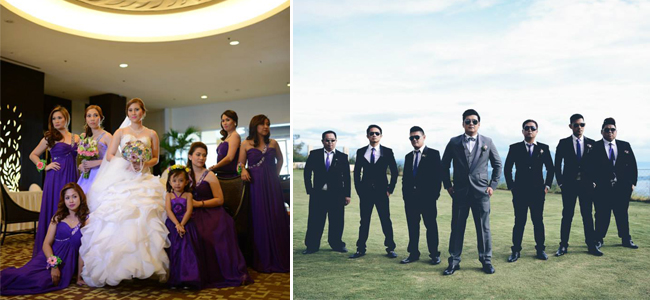 Wedding Preps Miles Away
While getting married and the preparations that come with it are all exciting, planning a wedding from another country proved to be a great dare. Al and Jobelle had their respective job commitments in Singapore so planning a wedding across the borders was nearly impossible. The couple needed all the help they could get, starting with a wedding coordinator. Rolette Frias of Call Centered Events helped Al and Jobelle with wedding preparations for about year. This meant constant communication from both sides to discuss details such as the invitations, flowers, souvenirs and the prenup. Although both Al and Jobelle were miles away from their wedding suppliers, they tried to be as detailed as possible to help turn their wedding into a success.
Al and Jobelle loved to travel so having a travel-themed wedding was but fitting for the memorable event. Although having a certain theme for a wedding is difficult to execute in nearly every detail possible, the couple seemed to pull it off quite well. From the cake to the souvenirs, everything was connected to traveling. But what made the wedding extremely unique was their passport invitation. With a written cover named "Passport to Happiness", guests surely knew from the invitation alone that they were in for a memorable wedding event.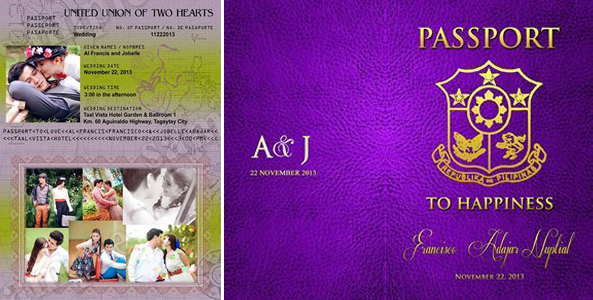 The wedding venue itself proved to be a memorable location as the ceremony was held in Tagaytay. Jobelle shares that Tall Vista's garden had one of the best views of the Taal Volcano which served as a beautiful backdrop to their wedding. Nature also decided to give Al and Jobelle a picturesque backdrop to work with blessing them with clear blue skies on a cool and sunny November day.
A Little Help from the Experts
Although most people would think that planning a wedding from abroad would be more difficult and stressful, Al and Jobelle enjoyed the wedding preparations just as much. However, their stress-free wedding preparations can mostly be attributed to their amazing list of wedding suppliers who did a great job. Jobelle shared that a lot of their wedding ideas and suppliers came from the Kasal.com website that proved to be of great assistance to their wedding planning.

While all of Al and Jobelle's wedding suppliers did a fantastic job, Jobelle had to specially mention their wedding coordinator, Rolette Frias of Call Centered Events. "It was really organized and there were no dull moments during the entire wedding ceremony and reception." It was Rolette who also suggested Edward Teng to Jobelle who in turn, created a stunning wedding gown for the bride. Jobelle recalls how so many guests complimented her on her gown which also came with an extremely worthy price tag.
Today, both Al and Jobelle are back to their lives in Singapore, but the couple could not help but still beam about their Tagaytay wedding. Getting married in another country was never an option as the Philippines is and will always be their home. With close family and friends present to shower their well wishes, the couple couldn't have asked for a better wedding day "back home".
Wedding Suppliers
Bridal Gown:
Edward Teng
Groom's Suit:
Edward Teng
Make-up Artist:
Diana Santos Makeup Artistry
Coordination, Entertainment, Styling & Special Effects:
Call Centered Events
Photo/Video:
Icebox Imaging and the Rewind Media
Florist:
Flowers of May
Host:
Rolette Frias
Cake Supplier:
Tourist Cake
Souvenirs/Photobooth:
Penshoppe, Fotorazzi and Frame Me
Visit Kasal.com Supplier Directory for the contact details of these suppliers.
Comments
comments