Cristel Calopez and Mikhail Palacio
by Danielle Sebastian | November 2012
From batchmates to officemates and then to lovers, Cristel "Yeng" Calopez and Mikhail "Mek" Palacio is now ready to take their relationship to another level. Yeng and Mek have finally said their "I do's" last September 8, 2012 at the Santuario de San Antonio in Makati with a wedding receptionat the Pergola.
The Love Story
Yeng and Mek met each other in the telecommunications company they both work in. Both engineers, they were batch mates in a cadetship program.
Yeng fell in love with Mek when she saw the kind of man Mek was. "I knew that he's the one when I saw him as a SON, very responsible and loves his mom so much. He was also very patient that not even once he complained about how long he travels going to my house in Muntinlupa from his home in San Mateo, Rizal. He's the first and only man that I ever introduced to my family."
Mek, on the other hand, felt deep in his heart that Yeng was the right woman to marry. "She really makes me want to be a better man. She inspires me to reach greater heights. She motivates me to excel in whatever I do."
Because of the undeniable attraction and the deep love they felt for each other, Mek decided that it was time for him to pop the question. He asked Yeng's mom for her approval. When she gave him her blessings, Mek proposed to Yeng at their favorite coffee shop.
The Wedding Planning
With a long engagement, Mek and Yeng had a lot of time to prepare for their wedding. They had the leisure of taking the time to ponder on all the wedding details. "We probably argued about everything, and we mean everything… when we can't agree on something, we usually take a time out; go out on a date or do something we enjoy first until our minds were clear enough to resume the preparations. Of course, compromise was a big help. We wanted very different things but we always agree to meet halfway."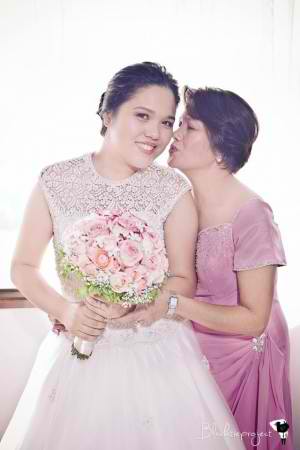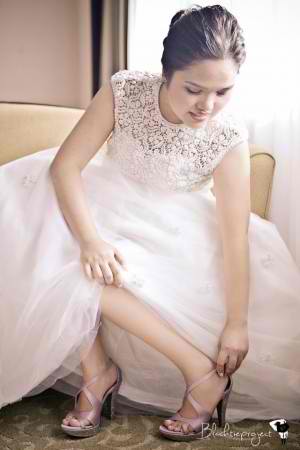 One of the major hiccups in their planning was when the Manila Cathedral was renovated. "At first, we were really disappointed because that's where we really wanted to get married." But fortunately for them, they were able to transfer to Santuario de San Antonio in Makati.
Her advice to others planning their wedding? "Plan early. You'd be able to save a ton of money if you book your suppliers long before the wedding date, plus you would have the luxury of actually enjoying the very stressful task of organizing your wedding. Most importantly, don't forget to plan for what happens after the wedding…marriage."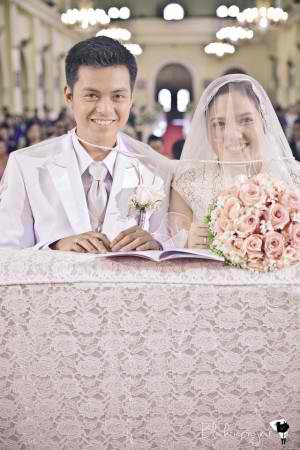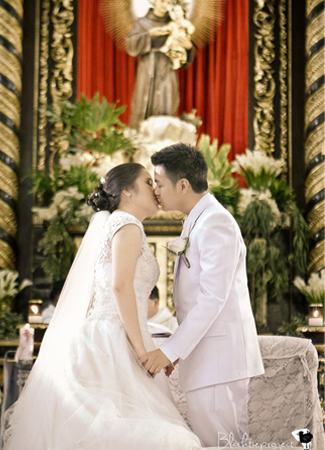 A Pastel Pink and Gray Wedding
Both Yeng and Mek wanted a simple but classy wedding to remember. There was no need for over the top motifs as they wanted to stick with something lovingly simple and intimate as opposed to loud and extravagant.
They are especially thankful to the wedding suppliers who made their dream wedding come true.
Black Tie Project's sample wedding photos won the hearts of Yeng and Mek. They appreciated their creative shots and so they booked them for their prenuptial shoot and wedding. Their prenup was shot at two of the most memorable places they love – the office rooftop and the coffee shop where Mek proposed. Added to their photography skills was the team's fun attitude. As Yeng puts it, "They were very easy to get along with. Our photo shoot sessions felt more like a barkada outing rather than a pictorial."
The Pergola events venue was a top choice for Mek and Yeng because they saw that it was well-maintained and affordable. And because they were spending their hard-earned savings for their wedding, they really wanted wedding suppliers that would give them value for their money. The guests also loved the food and classy set-up by Juan Carlo, the Caterer – an accredited caterer at The Pergola.
Tease Coordination served as their wedding coordinator but they also provided makeup and a photo booth. Our Little Kitchen, a business owned by one of their colleagues, provided them with home-made cupcakes for souvenirs.

In the end, Yeng and Mek were triumphant in organizing the wedding of their dreams. Even with a limited budget and some minor glitches, they proved that weddings will always be perfect as long as it is celebrated with the right love and the overwhelming support of family and friends.
Watch their wedding video by Black Tie Project:
Wedding Suppliers
Photo and Video:
Black Tie Project
Ceremony:
Santuario de San Antonio
Reception:
The Pergola
Caterer:
Juan Carlo the Caterer
Coordination, Makeup & Photobooth:
Tease Coordination
Wedding Gown:
Bridal Glitz and Glamour
Bouquet:
Ver Flower Shop
Hair:
Tease Salon by Joan Uy Dacio
Groom's Attire:
Bridal Glitz and Glamour
Entourage Attire:
Bridal Glitz and Glamour

Visit Kasal.com Supplier Directory for the contact details of these suppliers.
Comments
comments