by Jett Pe Benito
Merlene Marcelo has been in the business of creating beautiful wedding gowns for fifteen years now and has built her business to include 60 workers.
To Merlene, "The wedding gown has the power of imbuing the woman who wears it with a magical allure. Perhaps this is because it is an image tied to the most unique of traditions, or because it is truly difficult to resist its romantic charm. Wearing it on that big day, which should be a once-in-a lifetime event, is like entering a marvelous fairytale.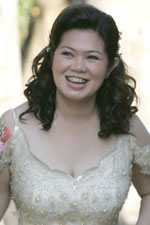 Last April 10, 2005, it was Merlene's turn to become the bride.
Merlene saw herself as the "princess" for that once-in-a-lifetime event, the concept of which was reflected in the gown, the entourage, the flowergirls, even the venue with its cascading flowers and draperies.
Merlene recounts that designing a bridal gown for herself is not easy because her imagination cannot have the free rein she had with all the other gowns she has made. "As a rule, I wanted my gown to be unique, not ordinary. I wanted to emphasize my assets and hide my flaws. Creating, at the very end, the 'perfect gown' that I would be proud to wear and 'show-off'."
True enough, the color by itself is completely unique: champagne organdy with duchess silk backing, with 3 dimensional artwork designs with exquisite details which she got as an inspiration from her recent trip to Rome, Italy.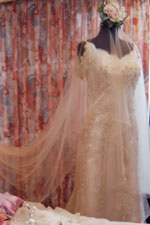 As for an entourage fit for a princess, she had one matron of honor, one maid of honor, three secondary sponsors and…eleven flower girls and ring bearers. Yes, that's right…all because she wanted the
little princes' and princess' look for all the kids in different sizes, ages, and heights. "I had a flower girl as small as six months old, up to 12 years old…all the kids were connected either to me or to Willy, my husband. The girls were nieces, cousins, daughters of good friends, so it was fun."
The girls' motif was in different shades of pink. The artwork used for her wedding was reflected on her whole entourage. The men wore barongs. The little boys got the small version of the Mao collar barong of the groom, while the rest wore standard collar barong. She also made the wedding clothes of her family, her close friends, some relatives on Willy's side, and even her office staff.
"It was a fashion show of the 'Merlene Look'. It was my way of saying thank you, too for helping me prepare for my special day."
Once Upon a Time…
Merlene met Willy (William R. Veto, Jr.) during college at the debut of her cousin. They kept in touch after and became good friends.
Willy left the country for the U.S. to take his MBA at NYU then his law degree at Fordham University. Eventually, he settled in New York and worked there. Through the years, however, they kept in touch through emails, phone calls, and he even made a trip to Manila to visit her.
"Two years ago, he proposed to me and we got married on April 10, 2005 at Our Lady of Transfiguration, Caleruega in Tagaytay."
Pixie Dust for Problems  
Through her years in the wedding industry, she made new friends with co-suppliers. They share booth space in fairs and refer clients to each other. It is no surprise then she would trust these same suppliers for her big day.
"We have to this very day maintained good friendships and even became godparents to their newly born kids. Ours is a bridal network where professionalism and respect for each other is maintained."
With good supplier friends at the helm, her wedding became her fairy tale come true.
For now, since the wedding, Merlene and Willy get to see each other every three months. She would stay in the U.S. for 3 weeks, then come home to Manila to continue her work. "Willy knows how passionate I am with my craft and I'm very blessed to have continuous work, even getting clients in New York from my last trip."
Her tips to brides-to-be? "I guess, looking back at it, we just have to get things organized. The bottom line is to delegate to have a relatively stress-free wedding. Final word of advice is to have fun and enjoy the whole event."
Comments
comments