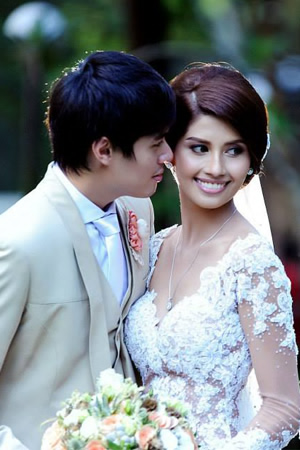 Most of us know her as a beauty queen but Shamcey Supsup was the beautiful bride of groom Lloyd Lee on a beautiful December day. Shamcey and Lloyd had a Christian wedding at the Church of the Risen Lord in U.P Diliman, Quezon City. While their wedding was adorned with beauty queens and vintage embellishments, their love story is nothing short of romantic.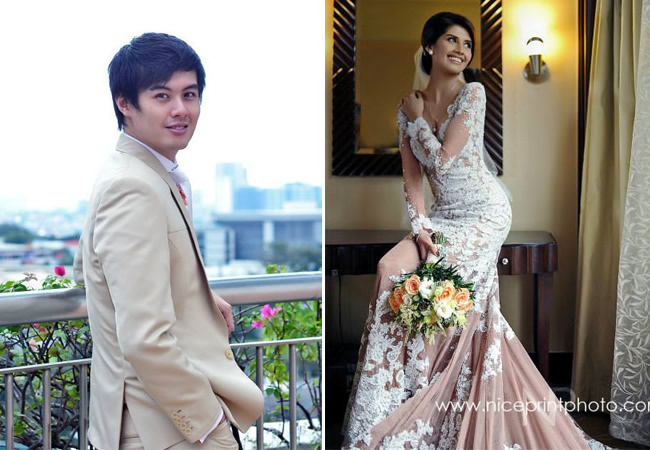 First Impressions Don't Always Last
Like many relationships, Lloyd and Shamcey were introduced by a coming friend. Lloyd, a businessman, is the cousin of Shamcey's fellow Binibining Pilipinas candidate. While Shamcey's first impression of the tall and charming bachelor was a ladies' man, Lloyd proved Shamcey wrong. Soon enough, Shamcey found that Lloyd shared the same conservative values with her on relationships, which proved to be one of the many other things they have in common. In a whirlwind turn of events, the two got romantically involved a week after they met and even had talks about their future together. Soon enough, Shamcey realized that she was not only saying 'yes' to her first boyfriend, but 'yes' already to marriage.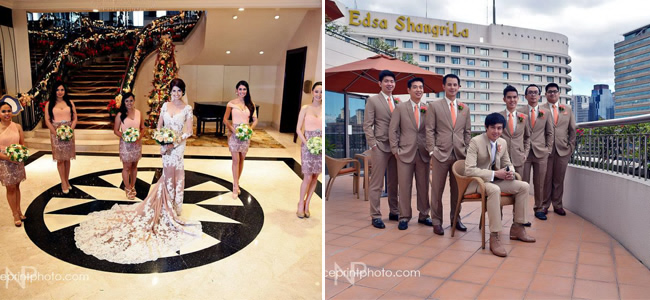 While the couple initially planned for a simple and intimate wedding, the guest list soon grew to a thousand people. Because the wedding was a first for both families, it was natural for close relatives to be excited for the occasion. Both Shamcey and Lloyd were extremely hands-on regarding the details of their wedding day together with their wedding coordinator, Christine Ong-Te. As detailed as how big the font on their wedding invites should be, Shamcey was as excited in the wedding preparations as any thrilled bride-to-be would be.
While the pressure for Miss Universe is extremely different from preparing for a wedding, Shamcey explains that a wedding is a happy event. "While in Miss Universe, I still had to compete, this time, I'm already a winner. The prize is already there. There are no judges to impress here. It's just me, my future husband and God."
Beauty Queen Turned Beautiful Bride
While Miss Universe 2012 3rd runner-up Shamcey is used to wearing stunning long gowns, she looked like an exquisitely beautiful bride ready to marry the man of her dreams on her wedding day. In her Chantilly lace wedding gown by Cherry Veric, Shamcey arrived in a white limo. The classic champagne gown had elegant adornments from the neckline all the way down to the hem. Her dapper groom, on the other hand, arrived in a sharp champagne three-piece suit by Levison Rodriguez.
Shamcey walked down the aisle with Christina Perri's 'A Thousand Years' playing in the background. It was apparent how Lloyd became extremely emotional as her future wife walked towards him. Shamcey shed tears of joy as she held her groom's hand throughout the ceremony. The love between the two became much more abundant as an outpour of emotions flooded the altar as the couple exchanged their weddings vows.
Tons of well-wishers were present during the couple's wedding day including fellow beauty queens of the bride namely Bianca Manalo, Ariela Arida, Venus Raj, Bea Rose Santiago, Pia Wurtzbach, MJ Lastimosa and Queenie Rehman. Guests threw petals and released yellow balloons outside the church as the couple took their first steps as husband and wife.

A Thousand Guests and More
Reception followed at the EDSA Shangri-La Hotel where 1,500 guests were waiting for the couple's arrival. The long guest list proved to be a challenge to the couple as not many hotels in Metro Manila could accommodate such a big number. Fortunately, Shamcey and Lloyd made it happen by having two different ballrooms to accommodate all of their guests. Although the newlyweds couldn't be in the same ballroom at once, they made sure to have live video feeds to keep everyone entertained. Both ballrooms were styled with fresh and modern adornments by Gideon Hermosa.
For the reception, Shamcey changed into an elaborate gown by Francis Libiran. Dishes were served Lauriat-style in keeping with Lloyd's family's Chinese tradition. With classic pieces and pastel colors, the sophisticated taste and love between Shamcey and Lloyd were articulated in the smallest details. But the festivities did not end there as a post-wedding and reception party was held a week after the wedding in Shamcey's hometown, General Santos City. With the coming together of two people bound by love, it was certainly something worth the grand celebration.
Comments
comments