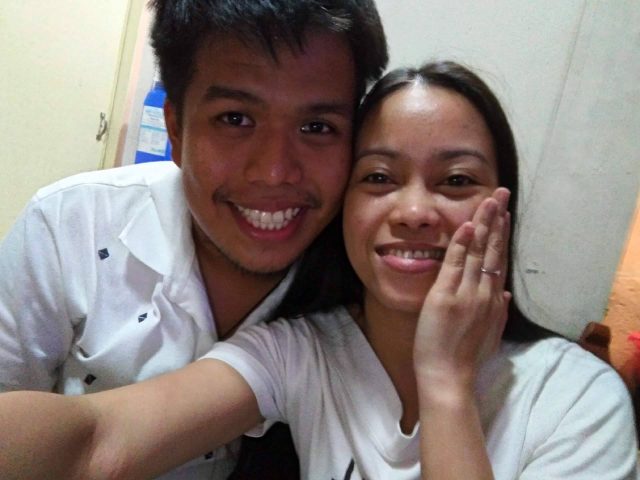 The chorused barking began just as we were about to round the corner into the narrow eskinita in front of their gate.
As they always do, Pochi, Asul and Paloma were there to usher me in noisily, ready with sharp woofs and hushed growls, swinging paws and fuzzy noses, and what seems to be an unwavering desire to munch on me. That isn't true, I know, but I can't help being a little jumpy. The purpose of my visit was already nerve-wracking, blood-chilling and heart-stopping in itself (oh the fear!) that the thought of getting cuddled at that moment by a bundle of snapping black and brown fur was just not particularly inviting nor comforting.
(Of course, Jas was oblivious to that hidden agenda and, to me, that was just perfect.)
So, as she (or, sometimes, her brothers or Mama Josie herself) would always do, Jas came to my rescue, herding the furry band into their respective nests so that I could get in. Straight through the gap I dashed, covering the short span of cement in three strides, tapping old Paloma on the head as I passed by. I quickly took off my shoes and daintily stepped into their neat, quaint living room.
However, unlike every other instance I visited their home, this afternoon seemed a little gloomier than usual. Perhaps it's the time of the day (it was almost five in the afternoon), or maybe it's because we were out in the sun almost the whole morning and a better part of the afternoon.
I surmise it's the latter. Jas and I and Mama (we'll call her Mama Lyn) spent the entire morning going to, and whiling away the time, in Quiapo. Beforehand, we agreed to attend the 10:00 o'clock mass. The plan went this way: Jas will come from Punta, Sta. Ana, while Mama Lyn and I will come from Mandaluyong. We will meet in Stop & Shop and, from there, take a jeepney together to Quiapo.
Well, that was what we did. Unfortunately, mid-morning traffic in the heart of Manila was heavy, even on a Saturday, so we reached Quiapo around 30 minutes late. So much for being able to attend the 10:00am mass. We agreed to roam around a bit and come back for the 12:15 mass.
And that approximately one hour interval was a blur of people, bright sunlight, crowded streets, colorful wares, ponkans, marked-down polo shirts (for me, to my delight), more ponkans, glassware, utensils, even more ponkans, fastfood, and a whole lot of chatting, reminiscing and laughing. You see, Mama Lyn knew Quiapo very well as she used to study in one of the big universities in the area. And Jas knew Quiapo very well too since she was a child. That was one thing I love about Jas.
To cut the long story short, it was a pleasant day for me. Yes, especially for me. To see Mama Lyn and Jas getting along very well was all I could ask for.
On our way home after mass and after lunch, Mama asked me in the jeepney, "Does Jas know why you're going to their home today?" I smiled and whispered, "No, she only knows that I will ask Mama Josie to fix my pants."
Well, I had a plan, and back in the Cawalings, I was determined to do my best. Even if it was, as mentioned, a little gloomy.
I knew the real reason why. It's because JM, CJ, Shane and Baby Via were not there playing, running and screaming around. Jas' nephews and nieces are the most adorable things in the world, even if they are so makulit. They bring warmth, joy and life anywhere they go. Take them away, or send them sleeping, as was the case that afternoon, and the living room that was their playland was just another quiet room. It was only Mama Josie who was there. She was sitting in the sofa, holding a towel (which serves as light bedding for her and the youngsters who make a bed of the chairs), and watching a gameshow on TV.
I took Mama Josie's hand and made mano, as was the custom in their family. Jas then told her the purpose of my visit – at least that was what she knew – and out came the three pants which I asked Mama Josie to fix (two had badly torn pockets, while the other one needed to be shortened). You see, Mama Josie was a sewer, and she plans to have her own sewing shop someday. There she expertly assessed the damage taken by my favorite pants and mentally took note of their cure. Then they were safely tucked away, leaving me there sitting suspiciously near her.
The gameshow was ongoing and we watched. Mama Josie was calmly watching. Jas was sitting nonchalantly by the other sofa, also watching. I was staring at the screen, debating with myself and thinking.
Then the show paused for a commercial and no one was talking. I knew it was the moment.
I told Mama Josie that I wanted to tell her something. Firstly, I thanked her for being kind to me and my family. (She would give Mama Lyn gifts during Christmas, and Mama Lyn remembers all of them.) I thanked her for always accepting me in their home. She smiled. Then I told her that I would like to ask for her permission to allow Jas to come with us to the province for the Holy Week. Though she already knew about it, she still said yes. Then I took a deep breath and told her there's one more thing I'd like to ask.
Then Jas stood up and declared she'd go to the bathroom (which door was just next to the living room and definitely within earshot of Mama Josie and me). I suspected she was eavesdropping (later I would learn she wasn't). She had barely put her foot through the door when she said she'll go upstairs to first change clothes. I waved my hand at her and signaled for her to go back and take a seat. She asked why, but she sat nevertheless, (lovingly) complaining (as she would always) whenever she's being asked to do something.
And that was when I asked for Jas' hand.
I told Mama Josie that I would like to ask for Jas' hand. And that I love her very much. And that I will take care of her. And that I may not be perfect and I may not be rich, and I may not have been a lawyer yet, but I will do my best to be like her and like Papa Jose (Jas' father) that, in spite of all the hardships in life, did their best to raise their then family of eight. That I will love Jas and take care of her. (I'm sure I've said that more than once.)
Then Jas was crying. And she was telling me something that I thought sounded like "Nagpapaalam ka na, hindi mo pa nga ako tinatanong". Apparently, that was not what she said (she told me later that it was "Hindi mo sinabi ngayon ka pala magsasabi"), but it doesn't matter anyway. Mama said "Oo naman, saan pa ba tutungo yan". And with that, I took her hand, made mano once more, and turned for my bag.
Jas started laughing, looking at me. She was still crying. She was laughing and crying and mumbling all at the same time. I could not understand anything at that moment. She knew what was coming. And it was the moment we both have waited for so long.
I scooped the purple box that held her engagement ring, plucked the delicate thing out, got to my knees, genuflected, and reached it out to her. I told her I love her. I told her I'll take care of her. (She was laughing and crying softly.) I told her my life was a mess, but I love her very much and I'll do my best to become a better man. I knew I said some other things, but I couldn't quite remember anything anymore. I mentally brushed aside the script, one that involved certain nephews and nieces genuflecting with me and smiling around as I ask her the one question that mattered that afternoon.
At that moment, it was just Jas, me and Mama Josie in that living room, and it was our world.
"Jasmin Evangelista Cawaling, will you marry me?"
And I started laughing as well. "Um-oo ka haha".
"Oo," she managed to say.
I placed the ring on her finger. I hugged her. She cried and laughed some more. Mama Josie wiped a tear or two from her eyes. And I was smiling happily.
We ended the day with a ginisang sardinas for dinner, cooked by Mama Josie for the entire family (it was our first dinner as an engaged couple), surrounded by family and loved ones. Mama Lyn was present in spirit as well – she texted me good luck when I told her to wish me luck. I was so happy.
It was as simple a beginning as it can be to the simple life we've always wanted. And we could not have asked for anything more.
Sender: Chester Villafana
– complete name of engaged couple: Chester B. Villafana & Jasmin E. Cawaling
– wedding date or target year/month: (if no definite date has been set yet) October 7, 2017
– when and where the proposal was held: March 18, 2017, Saturday, in Jasmin's house in Punta, Sta. Ana, Manila
Comments
comments