An exotic indigenous ceremony in Bukidnon followed by a fairytale wedding in Tagaytay was the culmination of the romance between Audrey Tan and Rep. Miguel Zubiri
Photograph by Darren Tieste
Styled by Luis Espiritu
Accessories styling by Fiona Lucas
Shot on location at the Department of Tourism
Special thanks to Edu Jurque, Patricio P. Sarile, Jr. and Albert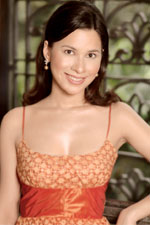 Lucky is the lady who gets to marry the man of her dreams twice. For former model and Studio 23 VJ Audrey Tan, the double date before the altar with Congressman Miguel Zubiri happened first when the couple wed civilly on December 3, 2005. This, however, was no ordinary appointment inside a judge's chambers. The wedding, which took place in Miguel's bailiwick of Bukidnon (of which indigenous people make up 40% of the population) was officiated by datus and preceded by the formal "adoption" of Miguel and Audrey into the Manobo tribe.
As traditions go, Miguel, who wore authentic and specially woven Manobo wedding garb, was escorted by datus to a hut on a stage, where his bride Audrey and the datus' wives awaited him. The elaborate ceremony concluded with a lively concert and packed lunches for all in attendance.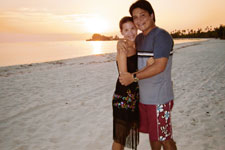 "This was our way of saying thank you to all his constituents," says Audrey. "Everyone was invited and everyone celebrated the same way: We all ate the same food and mingled with each other during the concert."
On December 17, the couple wed again, this time in Catholic rites concelebrated by Fr. Fileon Ares, Jr., Fr. John Cordero MMHC, and Msgr. Nico Bautista at the garden of the Our Lady of Lourdes Parish in Tagaytay. Owing to her modeling experience, the bride immedietly booked the people and institutions of her choice. "That's what I like about her, she's very professional," coos makeup artist Patrick Rosas, who devoted his December 17 schedule to enhancing Audrey's alabaster complexion with his famous "no-makeup makeup" touch. With commitments secured from the church, hotel (Taal Vista Hotel), photographer (Patrick Uy), bridesmaids' designer (Rajo Laurel) and other key players a year and a half ahead of schedule, all Audrey's wedding coordinators (Bridesmaids, Inc.) had to do when she approached them was make sure the bride's efforts unfolded smoothly on her big day.
The young couple's back-to-back exchanging of vows was the culmination of a courtship between crushes. Audrey was in high school when she fancied Miguel, one of the "Spice Boys" of the lower house. Although the two would meet periodically-at a party, and in Subic where Audrey and her now ex-boyfriend were having lunch with her mom-it was at a charity event at Rockwell's Dish in 2002 where she discovered exactly what he thought about her. "He took me to his friends and introduced me as his crush," giggles Audrey. "Then he asked me to go out with him on a Friday and Sunday."
Naturally, Audrey's mom Dette was apprehensive. Not only was Miguel a politician, he was also 13 years her daughter's senior. Audrey took such matters in stride. Save for the time he stood her up on a date because he was too busy filing a bill, Audrey sees Miguel "as a good man who has a genuine desire to serve others. I don't want to compete or interfere with his passion because it makes him a better person." As for the age difference, Audrey, who initially believed Miguel when he jokingly presented himself as much younger than his actual age, thinks of it "as a blessing. I guess I grew up a lot when I met him, and because of his age, he was so much more understanding and patient. Besides," says the 24-year-old bride of her 36-year-old groom, "by the time I found out how old he really was, we had already bonded."
So bonded, in fact, that when she announced in 2004 that she was going to travel alone for a year, the congressman (who months before had swept her off her feet with a romantic marriage proposal at Amanpulo) could only wish her well. "I felt it was something that I had to do," says Audrey. "For the longest time, everyone- from my mom, my friends and Miguel-were always here to support me, and I wanted to know if I could take care of myself." Audrey, who studied Communications and Economic Sectors in Spain, traveled extensively around Europe, and took serious stock of her life. "I loved my year away, I saw what my 'other life' would have been like. But it was my decision to come home and get married," says Audrey who flew back to the Philippines in June 2005. "I realized that if there was one person I wanted to spend my life with, it was Miguel."
Finding the right wedding gown was another good thing that came off the trip to Spain: Hannibal Laguna designed Audrey's gown, a long-sleeved, Mandarin-collared top with fully-laced bell skirt. The gown, chosen by the bride to keep her warm in Tagaytay's nippy weather, is the perfect match for the groom's attire-a handsome suit by Giorgio Armani. Incidentally, marrying Miguel means that Audrey will be dressing to the nines more often-a fact that doesn't faze this supportive congressional spouse at all. "Whatever it takes to help him do his job well and keep him inspired," says Audrey, who has proudly attended campaign sorties and State of the Nation Addresses with her man by her side, "I'm ready for that."
Miguel's Rules of Engagement
Romantically challenged guys can learn a thing or two from Rep. Miguel Zubiri, who pulled out all the stops for a wedding proposal that would leave any woman weak in the knees. Audrey, who was expecting to spend their second year anniversary (and Miguel's birthday) in Boracay with his friends on April 13, 2004, was stunned when the car they were riding proceeded to a private hangar, where a plane was waiting to whisk them away to another beach, the breathtaking Amanpulo. Once settled in, the couple dined before a roaring bonfire accompanied only by a personal chef and guitarist.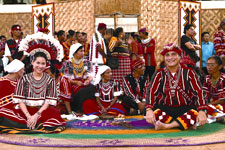 With music playing softly in the background, Miguel pulled out a poem he had written, and read it out loud to an amazed Audrey. "Something he's never done before!" she says. Elated, she stood up to kiss him and dance, but the equally smitten Miguel got down on one knee, presented her with a blue box with a 3.5-carat diamond ring inside, and said, "Audrey, will you marry me?" Of course, the tearful bride said yes. "I knew Audrey was the one from the very beginning, because I used to have the biggest crush on her. Whenever I saw her in newspapers and ads, I always wished I could meet her or get to know her better," he says. "When I finally did, my feelings changed from infatuation to a deep and unconditional love that made me do happy and crazy things. That's when I knew she was the one."
With 30,000 guests in attendance in Bukidnon, Audrey recounts their adoption to the Manobo tribe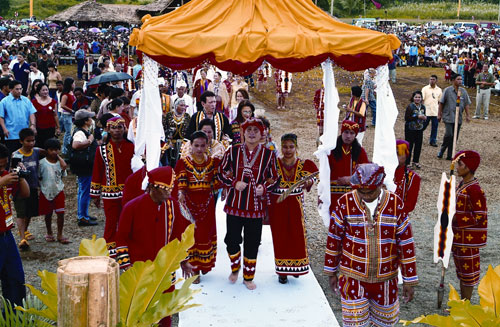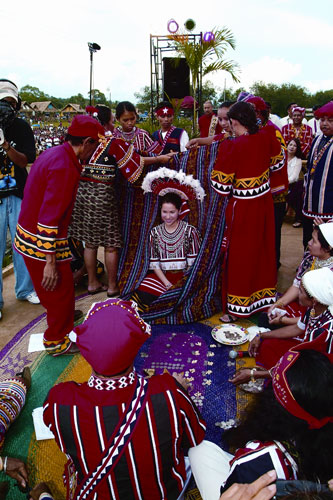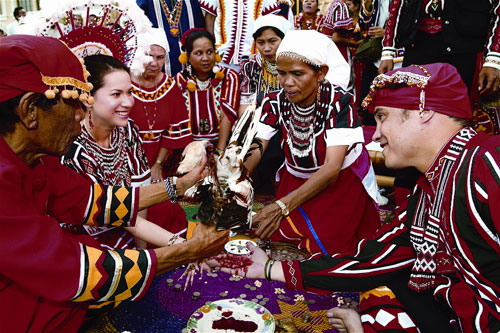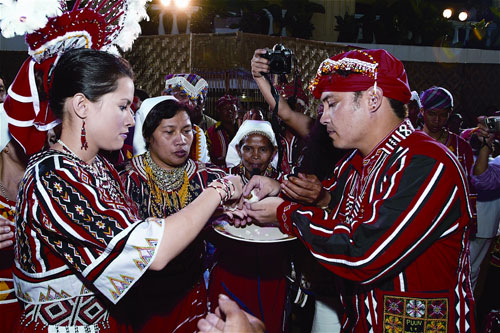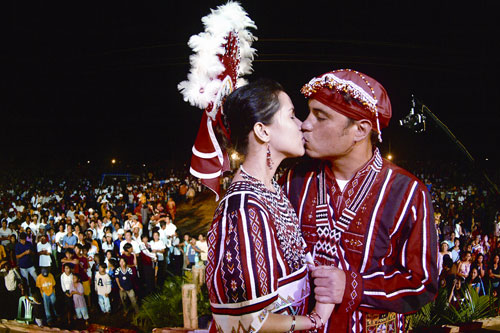 This article and its photo are republished with permission from Metro Weddings magazine.
For more tips and ideas, get a copy of the latest issue of Metro Weddings magazine, out now in leading bookstores and magazine outlets.
Comments
comments