Jeremiah Alensub and Christie Angel Balansag
By Danielle Sebastian | December 2012
Christie Angel Balansag and Jeremiah Alensub were destined to meet at a telecommunications company in Mindanao. With weird and eclectic tastes plus a passion for the arts, Tim Burton's Alice in Wonderland was the perfect theme for their wedding. Last April 20, 2012, Angel and Jeremiah had a one of a kind wedding at the Holy Rosary Cathedral and Top Plaza Hotel, Atrium in Dipolog City.
The Love Story
From the day they first met, Angel and Jeremiah have always felt like they were destined to be with each other. They met when Jeremiah was assigned to the company's Ozamiz branch while Angel was working at the Dipolog branch of the same company. They started as friends but through the help of co-workers who kept hooking them up, their friendship blossomed to love. Jeremiah would always say, "Hon? We are like "telepathically connected", because it's as if we know what the other one is always thinking."
Last August 2011, Jeremiah surprised Angel with a diamond ring hidden in a shoebox. She said "Yes!" and that was the beginning of their journey towards an Alice in Wonderland Wedding .
Alice in Wonderland Wedding Theme
Angel is in theatre arts while Jeremiah is a poet. With weird and eclectic personalities, they were both fans of Tim Burton's movies. They thought that it would be fun to incorporate Tim Burton's depiction of Alice in Wonderland in their prenup and reception. And in order for this dream to become a reality, both of them were 101% hands-on with their wedding planning, while seeking the help of family and friends.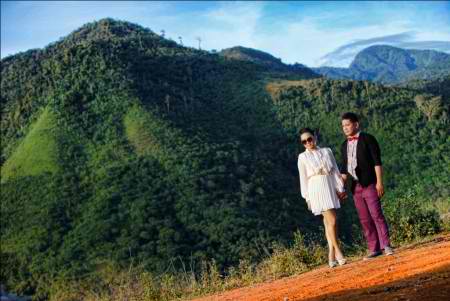 The Prenup.
For the prenup, Angel and Jeremiah went to Bacolod City for the lovely nature scenery. They dressed up as Alice in Wonderland and the Mad Hatter. They also brought with them some vintage pieces like frames and wall clocks, a mirror and a tea set. Friends, Miguel Salvania and Johnford Escalambre, helped with their styling, makeup and wardrobe. Ysabelle's Digital completed the prenup theme with their awesome photography skills, capturing every dreamy and whimsical moment.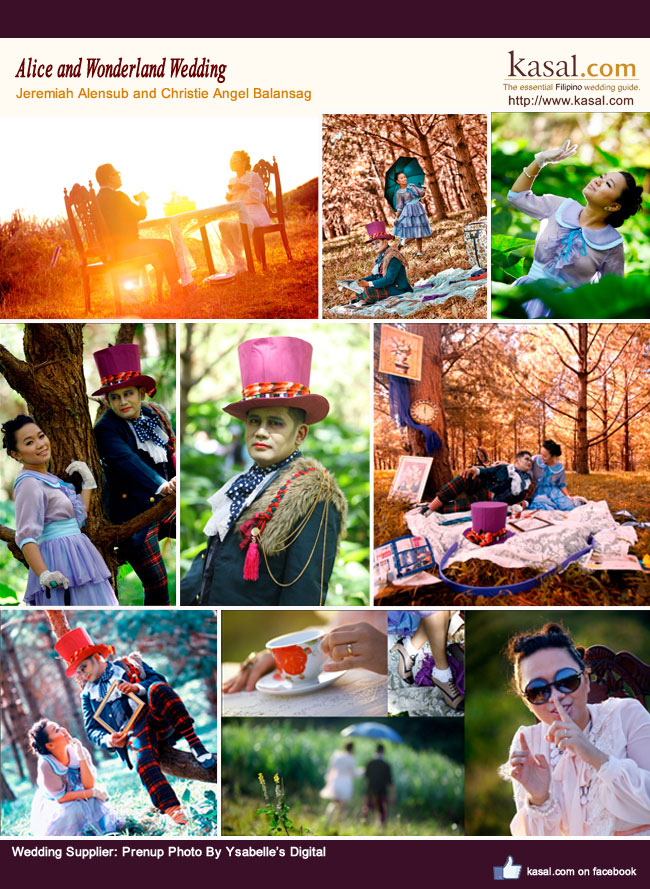 The Reception.
To transform the reception venue, Angel and Jeremiah showed a sample design to their florist. They made a huge gate to wonderland, big mushrooms and flamingos. They also transformed the reception area to look like a forest. Everything was custom made just for the wedding reception. The reception was conceptualized by Angel's Theatre Arts family and close friends from Silliman University in Dumaguete City. And instead of the regular Philippine reception program, theirs was like a variety show with a lot of production numbers and surprises. A guest said, "It was like as if I was watching a show."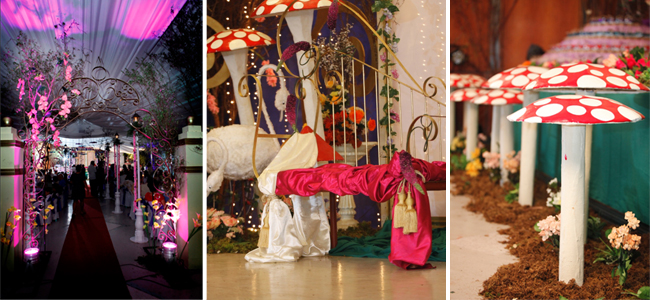 A friend of Angel's made custom invitations in three designs: a jewelry box with a key for sponsors, one design for special guests and another for general guests. The giveaways were potion bottles just like in the movie. They labeled the bottles "eat me" and filled them with a variety of colorful candies.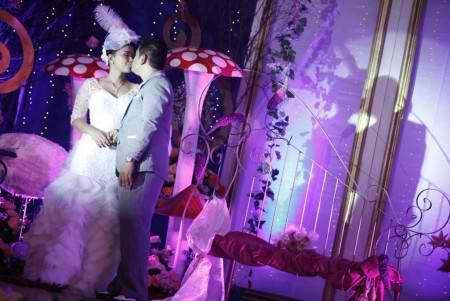 The reception was made into a tea party with nine different cupcake flavors and designs custom-made from Dumaguete. They also served coffee and juice instead of cocktails. The wedding cake was also unique and whimsical.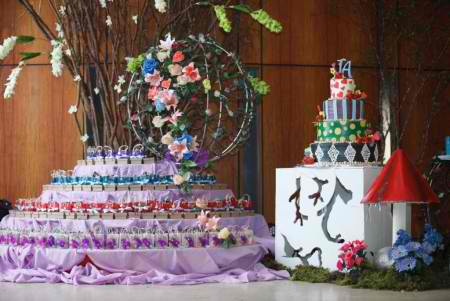 The female entourage wore vintage 50s pieces while the male entourage wore attires that resembled the Mad Hatter. The female entourage gowns and wedding gown were made by Ysabelle's Bridals in Bacolod City. The wedding gown design was made by Aiken Quipot, a close friend of Angel's.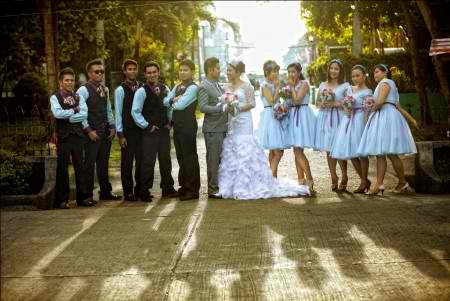 Special thanks go to Ysabelle's Bridals and Ysabelle's Digital for the wedding gown, female entourage attire and of course, for capturing the amazing one-of-a-kind wedding.
Wedding Advice
Angel and Jeremiah say that your imagination is the only limitation. If you want your wedding to be unique, all you need to do is be creative. It would be best that the bride and the groom be hands-on with the wedding preparations – from the conceptualization to all the wedding details like invitations, props, styling, flowers and everything else. Themes make weddings more exciting, meaningful and memorable to all the guests. Couples should inject their own unique personalities to the wedding and have fun in every step of the way.

For weddings as unique as Angel and Jeremiah's, your imagination is the only limitation.
For more photos of Angel and Jeremiah's Alice in Wonderland Prenup Wedding, visit Kasal.com wedding photos.
Comments
comments